1 View
Fowler Clinches Fifth Straight GNCC Championship
September 30th, 2019 9:34 AM
Share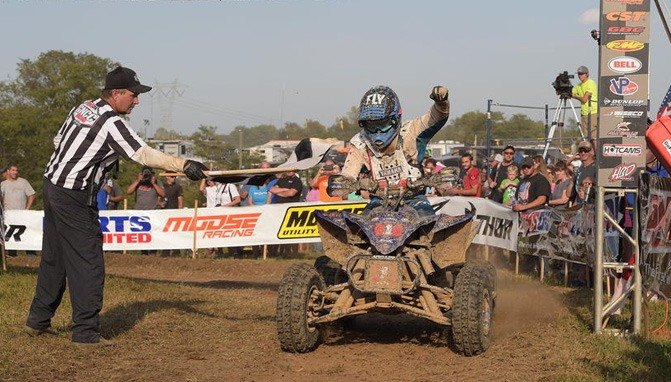 McClure, Feehan join Fowler on XC1 podium
The 2019 AMSOIL Grand National Cross Country ( GNCC) Series presented by Specialized, an AMA National Championship, kicked off racing Saturday, September 28. Higher temps and sunny conditions created dusty conditions throughout the day.
WFR/GBC/Fly Racing/Yamaha's Walker Fowler was on a mission to earn his fifth-straight national championship, but would Fowler continued to lead the way, while pushing to put a gap over the rest of the field. As the white flag flew Fowler would have a 27 second lead over second place, and one lap standing between him and his championship. As Fowler emerged from the woods he would still have over a 20 second lead, and would make his way to the checkered flag.
Coming through second for the second-straight time this season was JMR/Maxxis/Elka/Moose Racing's Jarrod McClure. After finish second in New York two weeks ago, McClure was eager to battle at the front of the pack once again. McClure worked his way from third on the first lap to running second for the remaining three laps. McClure has moved himself into fifth overall in the points standings as the series heads into its last two rounds.
Making his overall podium debut was M.R. Unlimited/GBC Tires/RJR's Devon Feehan. After running towards the front of the pack in his hometown two weeks ago, Feehan said he just had to change his mind set and be more positive coming into the last three rounds. Feehan would come through second on the opening lap, and then continue to push forward to battle for his best overall finishing position of his career.
Devon Feehan earns the XC1 holeshot award, and lands his first-ever overall podium finish. (Photo by Ken Hill)
LanMills XC/CST Tires/Houser/Yamaha's Brycen Neal started out in the sixth place position, but would steadily work his way towards the front of the pack. However, Neal would run out of time to make a push for the top three spots. As the white flag came out Neal had moved into fourth overall, where he would stay until the checkered flag flew.
Coming through fifth on the day was OBOR/Moose Racing/Parts Unlimited/McGill Mafia's Adam McGill. After running in the fourth place position, Neal would make a pass on McGill pushing him back one position. McGill would be unable to retaliate and would push to stay ahead of Ryland Johnson Racing/GBC Motorsports/Ye Olde Cycle Barn's Westley Wolfe, who came through sixth. Wolfe would manage to work back from a seventh place start on the day.
Walker Fowler (center), Jarrod McClure (right) and Devon Feehan (left) rounded out the Rocky Mountain ATV/MC Mason-Dixon GNCC overall podium. (Photo by Ken Hill)
Yamaha/AmPro/Action OffRoad/GBC's Cole Richardson, who took the win at Mason-Dixon one year ago, would come through seventh on the day after starting back in the 11th place position. Richardson would have his work cut out for him as he battled his way through the field of XC1 Pro riders.
Maxxis/Ithaca Recreation Sports/Fly Racing's Hunter Hart had a consistent day sitting in eighth place for most of it. Even though Hart would battle throughout the day, he would sit in the same place position for the duration of the day. Maxxis/Fly Racing/Ye Olde Cycle Barn's Chris Borich did not have the race he hoped for after tangling with another rider. Borich would come through in last place as the race was underway, but would soon start picking off the riders and battling his way back. However, as the two-hour race came to a conclusion he would finish just inside the top 10 with a ninth in XC1.
BNR Motorsports/GBC Motorsports/HMF Racing's Joshua Merritt would have to work his way through the pack as well after coming through 12th on the opening lap. Merritt would only be able to salvage up to 10th place in XC1.
John Glauda Jr. (center), Drew Landers (right) and Jordon Poplaski (left) made up the XC2 Pro-Am podium in Pennsylvania. (Photo by Ken Hill)
Coming through and earning the XC2 Pro-Am National Championship was Pierce Performance/Maxxis/Waynesburg Yamaha's John Glauda Jr. After earning 10 class wins this season, Glauda Jr. was able to wrap up the championship early with possible plans of moving up to the XC1 Pro class for the last two rounds of racing in 2019.
LanMills XC/CST Tires/Moose Racing's Drew Landers made his way back to the podium after two rough rounds. Landers also moved himself back into second place in the points standings. Rounding out the XC2 podium was Jordon Poplaski, who started back in the fourth place position and worked his way into third by the second lap of racing.
Dwight Pollard earned his first 4×4 Pro class and 10 a.m. overall win. (Photo by Ken Hill)
In the 10 a.m. race it was Can-Am/OBOR Tires/Derisi Racing's Landon Wolfe off to a good start along with Derisi Racing/Cometic Gasket/Savage Designs' Robbie Pecorari battling it out. However, as the riders came through on the third lap it was Can-Am/CST Tires/Tire Spine Dwight Pollard coming through in the first place position with Phoenix Racing Honda's Haedyn Mickelson and Can-Am/Schronce Powersports/Lucas Oil's Jordan Phillips rounding out the top three. Wolfe and Pecorari would have their separate problems out on the track, and be unable to finish inside the top three. Pollard would take his first overall and 4×4 Pro class win of the season.
Earning her 12th WXC National Championship after taking the WXC class win at Mason-Dixon was GBC Motorsports/Yamaha/Fly Racing's Traci Pickens. Coming off the start Pickens would have a great run off the line, as they came through timing and scoring Pickens would remain in the lead. Pickens would come through the checkered flag just 3.3 seconds ahead of Action OffRoad/Moose Racing/Fly Racing's Katelyn Osburn. After starting sixth on the day, Osburn would work her way through the pack and make a last lap pass on Stewart Boys Racing's Megan Shepherd to earn second in the class. Shepherd would make her way to second from a fifth place start on the day, but would come through to finish third in the WXC class at round 11.
Traci Pickens captured her 12th WXC National Championship. (Photo by Ken Hill)
Starting off the day was the 8 a.m. youth ATV riders. Damien Hawkins would lead the way overall, and in the YXC1 Super Mini Sr. class. Hawkins would remain in the overall lead throughout the race, and come through earning his seventh overall win of the season. Charlie Stewart of the YXC2 Super Mini Jr. class earned second overall followed by Tyler Cox, YXC2 Super Mini Jr. competitor, rounding out the overall podium. In the YXC1 class Parker Henderson and Morgan Johnson rounded out the class podium after a hard-fought battle throughout the race.
As the Specialized Turbo eMTB GNCC National Championship round 7 got underway, it was Charlie Mullins' looking to earn the first-ever National Championship in the eMTB division. Mullins' would move into the lead on the second lap and try to place a gap over the rest of the field. John E Ayers, who held the lead position on lap one, would come through second but with hopes to battling Mullins throughout the race. However, Mullins would continue to push ahead and would end up finish 2 minutes and 30 seconds ahead of the competition. Ayers would come in second with Seth Stevens pushing for a third place on the day. Mullins would also clinch the first-ever Specialized Turbo eMTB GNCC National Championship.
For more information on the GNCC series, visit the official website at www.gnccracing.com.
XC1 Pro Event Results
Walker Fowler (YAM)
Jarrod McClure (HON)
Devon Feehan (HON)
Brycen Neal (YAM)
Adam McGill (HON)
Westley Wolfe (SUZ)
Cole Richardson (YAM)
Hunter Hart (YAM)
Chris Borich (SUZ)
Joshua Merritt (YAM)
Overall National Championship Standings
Walker Fowler (316)
Brycen Neal (217)
Chris Borich (217)
Cole Richardson (198)
Jarrod McClure (175)
Adam McGill (161)
John Glauda Jr. (128)
Hunter Hart (124)
Westley Wolfe (119)
Johnny Gallagher (114)
Published September 30th, 2019 9:34 AM
Top Brands
Popular Articles