1 View
Hetrick Takes Overall Victory at South of the Border ATVMX National
March 26th, 2018 1:43 PM
Share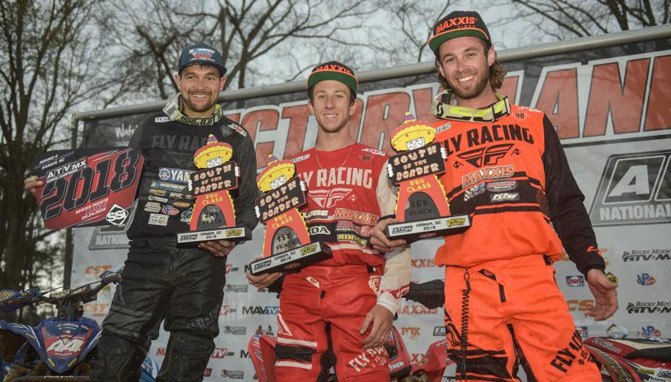 The 2018 ATV Motocross National Championship presented by CST Tires, an AMA National Championship, headed to South Carolina this past weekend, March 24-25. South of the Border Motocross (SOBMX) would play host to its first ATVMX National event, but after a cold front took over the east coast the warm temperatures riders had hoped for were nowhere in sight. The first look at the track had everyone excited to be at a new venue, and they eagerly awaited their chance to dig in and go racing.
Chad Wienen took the moto 1 win over Joel Hetrick. (Photo by Ken Hill)
Rockford Fosgate/Ti-lube/Honda's Joel Hetrick would come claim the ATVriders.com Fastest Qualifier award as he laid down a blistering lap. During timed qualifying Hetrick proved he could face adversity and still come out swinging; therefore showing he was ready to battle for the championship after his crash.
Moto one would fire off the gate with Wienen Motorsports/Yamaha/Maxxis' Chad Wienen taking the holeshot, but Hetrick was right on his grab bar. The entire pro class was seconds apart as they worked through the first few laps. Wienen and Hetrick pulled a gap on the field and started this moto's dual. Wienen looked like he was hungry and very determined to set the pace and stay out front.
Behind the top two riders battles were emerging and gaining intensity. GennUSA Racing's Nick Gennusa was forced to check up on a triple, while Ford Brothers Racing/Baldwin Motorsports' Ronnie Higgerson was committed. Gennusa and Higgerson would make contact, but it was Gennusa who would be unable to finish the race due to a mechanical issue after attempting to return to the track.
Thomas Brown went 4-4 on the day for a fourth place overall finish at South of The Border. (Photo by Ken Hill)
Hetrick and Wienen continued to pull a gap on the third place rider, JB Racing's Jeffrey Rastrelli. They held a 30-second cushion as the moto drew to its conclusion. Wienen would take the checkered flag first, followed by Hetrick in second and Rastrelli in third.
The podium interviews provided insight into the track, its condition and how well received it was by the racers who were ready to catch some rest and get back out there for moto two.
Moto two would prove to be just as exciting as the first. As the gate dropped and the pro class launched off the gate, it was Rastrelli and Hetrick who would battle it out through the first turn. Wienen had failed to put his Yamaha in gear and that mistake may have cost him a shot at the overall win. The race was on out front as Hetrick poured on the power, and he knew he had to get as much ground between those behind him as possible. Hetrick didn't know that his toughest competitor was tangled with the task of running through the pack and hunting him down, however Rastrelli was on fire as he firmly held the second place spot.
Jeffrey Rastrelli ( fought hard all day for a third place overall finish in South Carolina. (Photo by Ken Hill)
The two front-runners would remain constant until the two-lap card came out. Wienen had worked himself up to within striking distance of Rastrelli and was now applying pressure on the last lap. Wienen would make the pass for second stick, as Hetrick crossed the finish line first followed by Wienen and Rastrelli rounding out the top three. Hetrick would take the overall win with a moto score of 2-1, Wienen would finish second overall with 1-2 finishes, and Rastrelli would take a 3-3 for third overall. Wienen still holds onto the points lead, but only by three points over Hetrick.
The celebration on the podium was filled with a sigh of relief as Hetrick had done what he set out to do. Chad Wienen had indeed battled a very hard fought race in moto two and knew his mistake at the start cost him heavily. For Jeffrey Rastrelli, the satisfaction of knowing he now has the speed and physical fitness to run up front made his finish extra special as he is looking for his best season yet. The next round will take place at Underground MX Park in Kemp, Texas on April 14th.
Overall ATVMX National Championship Standings
Chad Wienen (72)
Joel Hetrick (69)
Jeffrey Rastrelli (61)
Thomas Brown (54)
Ronnie Higgerson (46)
Zachary Kaczmarzyk (39)
Nick Gennusa (38)
Wes Lewis (35)
Haedyn Mickelson (30)
Brett Musick (30)
Published March 26th, 2018 1:42 PM
Top Brands
Popular Articles