1 View
Honda of South Carolina Plant Tour [Video]
July 3rd, 2015 12:02 PM
Share
We get an inside look at the ATV manufacturing process
The 536,150-square-foot facility that is Honda of South Carolina (HSC) sits on 625 acres of fertile soil in Timmonsville, SC. Not only does the manufacturing facility employ close to 600 full-time workers, but it also has another 143 with contracts and works with seven suppliers within the state. HSC has become an institution rather than just another plant. In fact, it has been supplying the off-road industry with enjoyment for more than a decade. Since 1998, HSC has manufactured more than 2 million all-terrain vehicles.
As part of the 2012 Honda Foreman 500 4×4 launch (read here), we got a chance to visit HSC, take part in a special "Line Off" ceremony for the revised FourTrax Foreman and explore almost every nook and cranny of the impressive facility. Honda has facilities in 30 countries and 150 facilities worldwide. And HSC is one of 12 major factories Honda has around the United States. However, this one's special, as it's designated as an ATV manufacturing plant and has the ability to crank out 266,000 ATVs and 310,000 engines annually.
Get the Flash Player to see this player.
The official "Line Off" Ceremony at Honda of South Carolina was a big deal for American Honda and its role in ATV production moving forward.
In June of 2004, HSC added an aluminum wheel manufacturing division on site. This internal production branch features proprietary engineering processes (some were even too top-secret for us to see) and can churn out 1,000 wheels per day. The frames, plastic and engines are all manufactured at HSC. Some parts for the machine assembly come from local suppliers and others (like the crank shaft) come from Honda of Japan.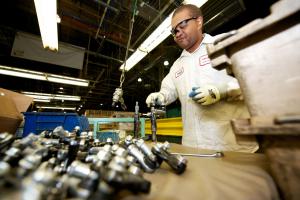 HSC Associate "Terry" checks all the ball joints for proper fitment and tightness during his stage of the assembly line.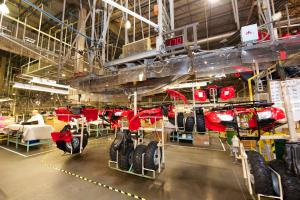 These parts all arrive to certain stations along the assembly line as a group, so they can be added to the Foreman.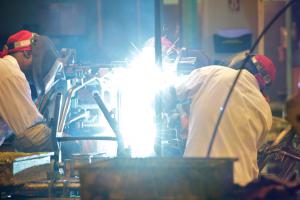 Welding is part of the assembly line process at HSC.
We watched as associates dressed in all-white uniforms assembled a Foreman 500 piece-by-piece before our very eyes, from a naked, non-powder coated frame to a fully operational showroom-ready 4×4. It all starts with a bare frame. The machine then moves from station to station and adds key parts (fuel tank, radiator, engine, electrical, plastic, etc.) and/or treatments (welding, powder coating, painting, die-casting, etc.) for certain parts along the way. The parts are all added along the line and eventually merge back to the main line where the plastic and outer façade is installed. From there, the machine rolls off the line and into a crate for delivery to a Honda dealership.
The process doesn't end there, as the company continually refines it manufacturing and even asks its associates for clever and practical ideas that can save time, money or more a more efficient approach. HSC also added a 1.4-mile test track in 2002 for the purpose of adding real-world testing scenarios to its production.
That's right, before you ride your machine, associates at HSC put just enough fuel and fluids in it to run it on the dynamometer, burn through the "gears" and then they test out the braking, reverse, lighting and other components on a miniature course. In fact, they care enough during this process that they don't even use your seat. Nope. Instead they install a mini seat/half seat during the initial ride test. Then, before the unit is crated (in reusable crates no less) your seat is installed.
Every model produced in Timmonsville seems to be memorable, but none more than the Foreman. It's the first official all-US (from concept to completion) engineered ATV. It was a big undertaking for American Honda and Honda of Japan and that's why the Foreman Line Off ceremony was such a big deal. It's also why members of the ATV media were invited to HSC.
Of course the ATVs produced at HSC are vitally important to American Honda's overall business, but there' much more to this state-of-the-art facility and how it's operated than only four wheelers. It's more than just another assembly line. Honda not only wants to continue being the ATV industry leader (in terms of ATV sales), but also has the philosophy of conducting its day-to-day business in a manner that contributes to the local community and the environment. Its HSC brochure states, "Honda's vision is to become a company that society wants to exist."
"We have supported the local Baker Memorial Library. We have donated equipment and in-kind labor hours to work in the Boys and Girls Center," says Michele Pridgen, assistant manager of administration at HSC. "Our associates have donated school supplies and volunteered hours to read for the Brockington Elementary students in Timmonsville." The 13-year employee calls HSC a great company, the associates awesome and says she's proud to be a part of such a solid team atmosphere.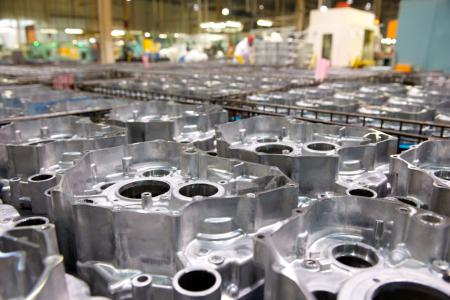 The engine does not come pre-assembled and itself is constructed during the assembly line process.
And that's not all; HSC has also given more than $2 million to charities and local non-profit organizations, spends over $400 million annually in purchases and has given more than $5 million in education taxes. HSC also boasts about its commitment in the W.A.I.T. (Wildlife And Industry Together) program. The South Carolina Wildlife Federation, Duke Power, The South Carolina Department of Natural Resources and National Wild Turkey Federation have partnered to create W.A.I.T. The program strives to encourage corporate landowners, like HSC, to integrate wildlife habitat into their land. To call HSC the backbone of Timmonsville wouldn't be a stretch.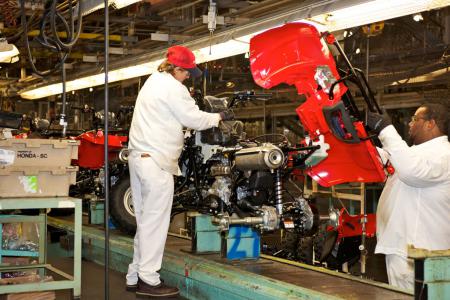 The rear plastic goes on as the Foreman ATV heads down the line.
It's no wonder why the HSC associates are so enthusiastic about their company and take so much pride in what they do. Essentially, HSC is its own small suburb where friends and neighbors join hands for a common bond, whether that be building ATVs or constructing a better community.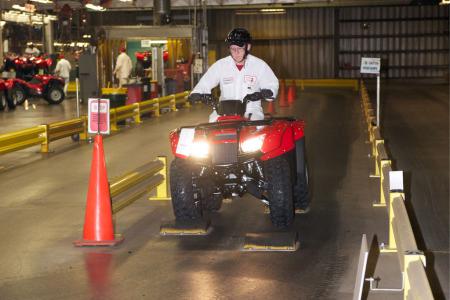 Published June 3rd, 2011 1:37 PM
Top Brands
Popular Articles