1 View
Reasons to Ride Your Utility
June 16th, 2015 4:43 PM
Share
We're committed to finding, researching, and recommending the best products. We earn commissions from purchases you make using links in our articles. Learn more here
Maintaining a Motocross Practice Track
There are a lot of reasons to build, design and maintain your own private motocross practice track. First and foremost, it gives you, your young racers and your friends an opportunity to practice close to home without paying $20 or more per person – plus gas in your truck – for a day of riding. And it gives you the perfect excuse to buy some accessories for your utility quad and spend some time behind the bars of your workhorse.
But before you push that starter button there are two primary factors to consider: Have you got the land? Do you have access to heavy machinery? If you're starting from scratch you're going to need, at minimum, a small bobcat, skid steer or dozer.
Dirt is less of a concern because depending upon the size of your property you can dig a small pond or scrape the lot to compile enough dirt for jump faces, landings, berms and other obstacles.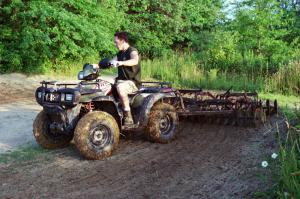 We used a Polaris Sportsman 700 to help haul tools back to the track and pull a disc to groom the soil.
We are fortunate in that our test track is spread out over a narrow, approximately two acre stretch with a modest elevation change. This track has gradually evolved in the past 10 years from consisting of two single jumps to an expansive groomed layout. This summer we installed several new jumps and a berm with the help of our Bobcat, and we groomed the entire track with a disc and the help of our test ATV – a 2007 Polaris Sportsman 700 4×4.
So we started with great bones, but you don't need to be discouraged. If all you have is a bare plot of land, then your track's boundaries are the limit of your imagination and your wallet. Skid steers and bulldozers, large and small, can be rented on a daily basis for as long as you need to design the perfect track layout.
But we didn't start from scratch, so neither will this article. Instead, we're going to tell you how to maintain your practice motocross track the right way, so once you have your own good base of jumps, turns and straights you'll be able to keep your groomed private track the envy of all your racer pals.
Heavy Construction
Always start with the heaviest work because it usually calls for the heaviest machinery. These machines tend to tear up the soil, so you want to use them first and gradually work your way to the finer prep tools like a pull-behind mower and disc before grabbing the hand rakes, shovels and weed eaters.
Our track had a great base, including a 35-foot table top about five feet tall, a two-lane rhythm section and a 20-foot downhill double. But these obstacles were about five years old and had developed ruts in the jump faces and lost their take-off lips.
We rented a Bobcat model S250 skid steer with an 80-inch wide smooth scoop bucket to drop some fresh dirt and re-build our jump faces. We used the skid steer to pile fresh dirt on the faces and landings, to extend the table top, to build a few new jumps and to carve ourselves a nice bermed corner. The wide bucket provided a good base for our single-lane jumps.
Keep in mind the size and set up of the machines that will be using the track when designing your lay out and obstacles. Smaller, less powerful machines with moderate suspension call for smaller jumps.
The handling of today's heavy machines is almost as precise as some quad models, which left most of our objects in a nearly ready to ride state. But the machine left some ruts of its own that would need addressed with our utility quads.
Ride Time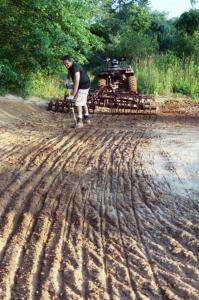 A little work with the hand rake never hurts.
It's not quite time to air out your motocross quad, but here's where the fun begins. Service your utility quad because it's time to throw a leg over the seat.
After we reshaped the jumps that needed it and added some new obstacles we had to clean up the mess left behind by our skid steer. That means smoothing out ruts from the machine, breaking up big clumps of soil and smoothing over jagged and jarring edges left from scraping the top soil.
For this task, we backed up our 700 Sportsman to an eight-foot wide, pull-behind disc with three rows of tilling discs. The soil had not been broken up for several years but had still been ridden on, so the ground was packed hard and took about two hours of coaxing with the disc and the Sportsman before the track became neatly plowed rows of dark, loose soil.
The Polaris outperformed our expectations here not because of its power but thanks to its radiator. The 700 Twin's radiator and fan kept the motor cool despite cruising at speeds below 5 mph while using four-wheel drive to pull the 500 pound disc through loose dirt.
The stock treads on the Polaris worked well. Several times, we thought the disc would become stuck in some deep, wet soil. Each time, a little coaxing and the Sportsman kept on pulling.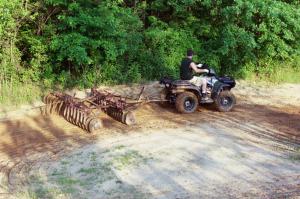 The Sportsman never lost traction despite all the loose, sandy and muddy corners we threw at it.
The transmission featured low and high ranges with the option to flick a switch and lock in the four independent drive axles, which engaged via drive shafts on both ends. The low range option is a nice feature for pulling a disc, mower or grader, and a digital readout let us keep an eye on the engine's rpm's. The belt drive CVT transmission saved us from having to shift gears for corners and uphill climbs.
The racks on the quad were a bit awkward. A raised rail circled the edge of both front and rear racks about two inches off the rack itself. The rail made securely strapping hand tools and a weed eater to the quad more difficult than a conventional flat rack. If you're track is far from the garage, then this would be an issue for you.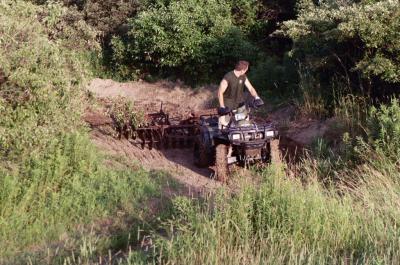 The Sportsman pulls through sweeping bermed corner.
The Sportsman has two attachment points for either a hitch ball or rod, so you have the opportunity for multiple attachments like a brush hog or finish mower. Lighting on the quad was adequate thanks to two mounted front lights and a single light on the handlebars. The lights allowed us to work well into the night.
Finishing Touches
So by now we had new, rut-free jump faces with perfectly groomed approaches, corners and straights designed for maximum traction. All the work that was left for us was to trim some weeds growing atop our old jumps and to use a hand rake to level off our new obstacles.
For half the maintenance process, we were gripping the handlebars of a sweet new utility quad dreaming about getting on the seat of our open-class custom Raptor 660. And we spent the other half playing in the dirt from the seat of a large piece of machinery. Life is good!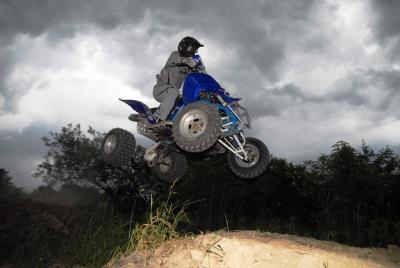 Our author airs out his custom open-class Raptor 660R over a new double on a private motocross track. Hours of behind-the-scenes track maintenance and prep work took place for that lighter-than-air feeling. Published September 8th, 2008 10:09 AM
Top Brands
Popular Articles