6 Views
The Arizona Desert's Queen Valley
June 16th, 2015 3:47 PM
Share
We're committed to finding, researching, and recommending the best products. We earn commissions from purchases you make using links in our articles. Learn more here
Snowbirds flock to winter warmth, swapping snowmobiles for ATVs
Superstition Mountains. Lost Dutchman mine. Gold Canyon. Queen Valley. Ninety degrees, warm, no snow. These are words and thoughts that brought a snowbound Minnesotan to the Arizona desert for an ATV adventure in early spring. That and the fact that longtime friend and fellow Minnesotan Larry Koch had been bugging him for the past few years to 'come on down' and go ATVing with him and his 'snowbird' buddies.
Larry and a growing number of Midwestern winter refugees swap the ice and cold for the sun and warmth of the Arizona desert just southeast of Phoenix. Recent demographic studies of those suburbs and towns east of Phoenix reveal that Larry and the area's other 120,000 winter residents spend more than $350 million during their winter-only stay.
While the common belief is that this arid state consists primarily of senior citizens, the reality according to the 2006 U.S. Census Bureau is that only 12.8 percent of Arizona's 6.1 million residents are 65 or older. Of course, nearly half (47.6 percent) of the state's retirement age residents relocated from other states after having reached 55 years of age.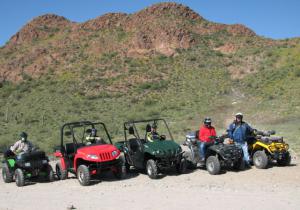 The Arizona team poses for the camera at a scenic stop.
Snowbirds Looking For Action
Many, like Larry and his friends, are 'snowbirds' or winter only residents, but like many of this younger retirement-age group, they represent an active and relatively wealthy group who are looking to continue their powersports activities. Being from the snowy Upper Midwest, many of these retirees used to snowmobile during the winter. While there's no snowmobiling in southeastern Arizona, there is ample desert to explore. Swap out a snowmobile for an ATV and you have a group of retirees ready for wheeled action.
Larry keeps a Can-Am four-wheeler at his Gold Canyon winter retreat. An Arctic Cat ATV remains at his Wisconsin lakeside home for summer use. Others in the 'seniors only' Gold Canyon RV & Golf Resort trailer ATVs seasonally between Arizona and the upper Midwest.
Open Invitation To Ride
Dale Kissner of Wisconsin prefers his 2-passenger CanAm – for now!
Larry's invitation was open and by the middle of March, with winter winding down and having finished test-riding the latest 2009 model snowmobiles for sister site Snowmobile.com, we were ready to abandon snow and join Larry in the desert. He tempted us with the promise of riding out to an abandoned stagecoach stop and showing us played out gold mines. Once we decided to accept Larry's offer, we did a little cajoling of Arctic Cat and Yamaha marketing types who sprung loose, respectively, a new Prowler 650 XT and a Rhino 450 side-by-side UTV. As it turned out these two four-wheeled vehicles were perfect for our type of dirt riding. Extremely stable, the UTVs came with a mini-pickup truck bed, which is very handy for packing gear.
According to published data from Minnesota research firm Power Products Marketing; older ATV riders have impacted the rapid rise in sales and popularity of UTVs. Powersports manufacturers like Arctic Cat and Yamaha offer side-by-side quads with all-wheel drive and long travel suspensions that combine utility features with sport. Going along with the idea of growing UTV popularity with older buyers is Arctic Cat media relations specialist Kale Wainer, who says, "Arctic Cat notes a trend in older buyers purchasing UTVs. Right now, the Prowler is selling itself."
Wainer points out that UTV buyers usually have a higher income than ATV consumers. It has been suggested that UTV sales could exceed 300,000 units before the end of the decade.
Side-By-Side Comparo
Our desert adventure afforded us the opportunity to compare our two 'loaner' side-by-side vehicles with conventional two-up ATVs. We can see why these side-by-sides are growing in popularity, especially in wide-open areas like the Arizona desert. Larry and his friend Chuck Frondal both rode 400cc Can-Am stretch version two-ups with fellow snowbird Dale Kissner showing us the way aboard his 400cc Arctic Cat two-up four-wheeler. Team UTV consisted of this displaced snowmobiler and his two sons, 25-year-old John and newly licensed 16-year-old Al. During the day trip our group swapped out rides to learn what we preferred with both UTVs and how they compared to the more conventional dual-passenger ATVs.
Having ridden ATVs since the days of Honda's three-wheeled Big Red, one key thing we noticed with UTVs is that the steering doesn't telegraph the terrain like a handlebar-equipped ATV does. It wasn't really noticeable while riding the sandy areas, but once we started climbing out of Queen Valley up into the hills overlooking Picket Post Mountain, the trail became more and more rocky. When the trail got particularly nasty and we had to pick our way through the ruts and rocks of a flash flood torn trail, we could see our guides fighting the handlebars of their ATVs as the front wheels got kicked back and forth. Neither UTV steering wheel whipped around. Maybe the sloppiness of the UTV steering assemblage works for it in really rough terrain. Chalk this up as a plus for the side-by-side UTV versus conventional ATV argument.
Standard ATVs require auxiliary storage to pack a lunch or desert gear.
We also embrace the roomy dump box of these UTVs. Granted Larry and the gang had ample storage thanks to equipping their ATVs with rack-mounted accessory bags. Both the Rhino and Prowler boxes offer incredible room for gear, especially if you were to camp out. Unlike the Prowler, Yamaha's Rhino has tie downs in its poly-plastic box so you can readily secure day gear like a cooler.
Our Rhino 450 also featured mini-doors on the side to help keep your feet in the cab area's footwells. While we thought this was design overkill at first, we changed our mind when Larry, riding ahead of us, scared up a rattlesnake. Apparently Larry never saw the critter but managed to rile it up by nearly running it over. As we wheeled past, the snake coiled, hissed and missed a quick shot at Larry's rear tire, leaving us very grateful that the Rhino had that little door between us and the snake.
Hmm, and Larry had specifically told us that he'd never seen a rattlesnake in his six years of desert riding. Well, his record is still intact. He didn't see this one either, but he did manage to seriously annoy it.
Everything Will Hurt You
Larry says, "Everything here can hurt you." Including this prickly cactus.
As Larry told us early on, "Everything in the desert will hurt you." We thought he meant the overwhelming varieties of cacti. He's right, of course. The desert is a hostile place, especially for Minnesota-based flatlanders used to evergreens and 10,000 lakes.
Heading into the Queen Valley trailhead, the road was dusty, but nowhere as bad as it will get when summer kicks in with its burning sun and 100-degree heat. Goggles and bandanas are mandatory. Relying on personal experience, Chuck opted for a 3M-brand filter mask. But, at the end of the day, be prepared to find red Arizona dust in areas you would never imagine. The dust can penetrate zippers and grind at camera lenses. Even the gasket seals of the Arctic Cat Prowler's front storage lid couldn't keep the persistent dust out. For outdoorsmen used to kayaking, canoeing or sailing, prepare for dust the same way you prepare gear to keep out water. For us desert neophytes, its best to take relatively short day trips to learn the vagaries of desert riding. And always ride with a friend.
Since a desert is dry, pack plenty of water to stay amply hydrated. That seems obvious, but you might not recognize dehydration, as you really don't sweat that much due to the desert's low humidity. That's one way to be hurt. The others are equally obvious as you study the extremely hostile terrain. Those unique Saguaro cactus plants sprout like pines in a Minnesota forest, but they are relatively tame compared to the other cactus types you'll ride around. In addition to the stately Saguaro cactus, which can grown to 50 feet tall and weigh up to 12 tons, there is the readily prickly and ever-present Cholas, characterized by their many painful spines. Yes, everything in the desert can hurt you, so dress appropriately.
Head For The Hills
As you leave the dusty flats of the trailhead and head up to the hills, the trail gets narrow and winds around dried streambeds that can fill rapidly in a flash flood. You'll see ample evidence of flash flooding along the banks of the dried washes. The water-cut banks along the dried streambeds host debris from the hills. Locals' familiar with riding in this area told us that even a short cloudburst in the low-lying mountains could mean serious and fast-moving floods in the dry flats miles away.
This Queen Valley area just off Highway 60 south of Gold Canyon is a vast play land for all kinds of power addicts. As we headed into our staging area, we were literally left in the dust by three dune buggies. You know, the old tub-style buggies popularized by all those beach party movies and powered by air-cooled flat four Volkswagen engines. Later we would come upon a fellow trying out his new Toyota FJ Cruiser and then a cadre of Jeep drivers. We could see scooting along the valley floor, but heading up to the 5,000-foot summits of these near mountains made us wonder. The switchbacks on these trails are tight with quick zigzags back and forth. Some portions of the trail seemed to drop nearly straight down with little room for error. We were doing this on narrow and nimble ATVs, but full-sized cars? Guess that's the appeal.
Incredible Panorama
Stopping for lunch we could look back on our zigzagging route.
After a few hours and pausing occasionally to take in the incredible panorama, we stopped for lunch. We had ridden for miles, climbing above that imaginary line where Saguaro cacti no longer grow. At this lunch break overlook, we could see our path, a dirt ribbon of zigs and zags with very little that was straight.
Even though it was March and summer's heat had yet to arrive, there had been a distinct cooling in the air as we climbed. It has been said that the Native American tribes that once called this area home, moved to the hill country during the summer to escape the overbearing heat.
The highlights of the day trip came with the camaraderie of our guides, snowbirds from the Midwest, and tales they would tell. We encountered remains of a couple decrepit buildings. One was said to be a stagecoach stop; the other an overnight stop for prisoners headed to the penitentiary in Yuma or Tucson. We got the feeling from chatting with other groups that the history of these crumbling buildings was changeable.
Larry and the boys mentioned other places to visit, such as a box canyon with narrow base and towering walls. Later, by just entering a few search words and "googling" online, we discovered a plethora of great sounding areas to ride. Of course, there is still the Lost Dutchman Mine and the Superstition Mountains.
Too Short A Visit
You can find goldmines like this one the author and his sons found. Finding gold is another story.
That will have to wait until next time. We know we enjoyed way too short of a time in the desert. While yet to be true snowbirds or Arizona retirees, we certainly envision a future extended stay to ride more of the many areas Arizona has to offer. That will put us in a growing group of winter visitors who, last decade in Yuma County, accounted for more than $380 million. More than 120,000 snowbirds in the Phoenix area spent another $350 million during their winter-only stay. With money to spend and unique riding, is it any wonder that ATV usage spikes in the winter? The way we see it, the powersports addicts wintering in Arizona enjoy fun. They may be retired from their workday lives, but they are still wide-open throttle for their play lives. They've simply switched from snowmobiles to ATVs and embrace winter in a new way.
The Arizona desert area is truly amazing for Midwesterners, especially this one. Is it any wonder that snowbirds like Larry from Minnesota, Chuck from Illinois and Dale from Wisconsin haul their ATVs more than a thousand miles to ride here? Published April 21st, 2008 1:18 PM
Top Brands
Popular Articles