2 Views
June 16th, 2015 3:51 PM
Share
We're committed to finding, researching, and recommending the best products. We earn commissions from purchases you make using links in our articles. Learn more here
Aftermarket for side-by-sides offers an infinite amount of options
Utility all terrain vehicles, or UTVs, are continuing to gain more and more popularity among enthusiasts—and manufacturers have taken notice.
Of the seven major ATV OEMs, Yamaha, Polaris, Arctic Cat and Kawasaki have already entered the UTV market with high-powered side-by-side models, and Honda is just about ready with its Big Red slated as a 2009 model year release. That leaves just Suzuki and Can-Am, and you can bet that they're already at the drawing table.
Many consumers, however, seem to be looking for more than just the stock units the manufacturers are providing.
ATV.com attended a recent industry trade show in Indianapolis, and the amount of aftermarket accessories and modifications available for UTVs was staggering. As far as we could tell, if there was anything at all you wanted to change about the appearance and in some cases even the functionality of your UTV, you could find it here. From something as small as a shifter knob to an entire body kit that would make it pretty much impossible to tell what the original vehicle was from the outside.
As interesting and useful as many of these items are, the thought of spending a lot of money on accessories for a vehicle you just spent thousands of dollars on doesn't always make a lot of sense. Why spend the time and money changing the look and feel of a vehicle you spent so much time and money picking out?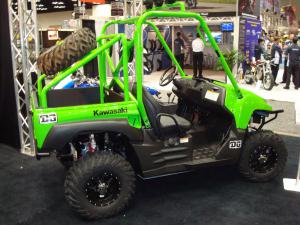 "For personal expression," says Ken Davie, sales manager for DG Performance Specialties Inc. "In our culture, everything is now being personalized, customized—I don't want to be the same as my neighbor and they want to stand out."
Steve Shankin, president of Seizmik Utility Systems, says accessories and modifications also add to the fun and usefulness of the vehicles.
"You can carry more things, you can keep yourself dry, you can keep the bugs out of your teeth, you can keep yourself warm and all these things help make the guy's vehicle more fun and more useful for him," Shankin told ATV.com.
The speed at which some of the companies are coming out with accessories is pretty impressive. Kawasaki's Teryx has only been available for a matter of weeks, yet DG Performance already has a selection of available add-ons.
"We've got a unique relationship with some people at Kawasaki Motor Corp. USA who have allowed us to borrow two vehicles prior to probably almost any other after market company, not only in the USA, but the world," says Davie. "This entitled us to get a great jump on all the other brands."
DG Performance already has key items such as bumpers and skid plates on hand and a new light bar and spare tire rack are not far from completion. The company has other products in the design phase.
"We'll venture into making some more products that allow the user to personalize and customize their vehicle, but I think also towards the racing side of the UTV market as well," says Davie.
Seizmik provides everything from soft tops and windshields to CD players and satellite radios, but it was the large variety of storage solutions that caught our attention in Indianapolis.
A rear rack with a waterproof storage bag for the Polaris RZR was one of the key new items from Seizmik, since space is at such a premium on the RZR.
"The rack allows you to keep a spare tire or other bulky items underneath it and you can put your other items on top of the rack," says Shankin.
All of these accessories, though, come at a cost. A new front bumper from DG Performance is likely going to be priced at least $300, while a full chassis skid plate will cost between $200 and $400. Seizmik's rear rack runs $269, which doesn't include the $179 storage bag.
Whole body kits cost even more.
Tippman Design LLC received lots of attention in Indianapolis for its Yamaha Rhino body kit which resembles the famous old Willy's army jeep, complete with green, boxy exterior and canvas top. It really was a fantastic vehicle to see, but the kit, uninstalled, retails for $3,499. Seeing as a new vehicle from a major OEM starts at more than $8,000, this type of item—purely a cosmetic change—might not be for everyone.
With the industry booming the way it has, aftermarket manufacturers from other industries are starting to cross over to get a piece of the action.
Richard A. Cerullo has been building custom seats for the automobile industry for 39 years. Within the last year or so, he entered the UTV market with a stable of products, including a custom bench seat that fits in the bed of a Yamaha Rhino. He's planning to build more new products to meet the demand in the coming months.
"What brought me in was just seeing what was going on," says Cerullo. "I thought, I could do that, that's nothing. It's just a different size seat. We've got some pretty slick stuff coming out. We've been very, very busy. The customers are happy."
As Davie points out, UTV racing is growing in popularity, especially among Yamaha Rhino and Polaris RZR owners. Creating modifications to help these vehicles go faster and perform better is an area of growth for the industry.
DMC has developed a new twin exhaust system for the RZR to match what it already had for the Rhino. DMC says the exhaust system, paired with a fuel injection module, will provide a 17.8% increase in horsepower and a 21.2% increase in torque.
"We were really impressed with the stock performance, but we knew that there was some more power to be unleashed," DMC president Marty Miller told ATV.com. We started on a program to not only build a single outlet exhaust, but we found out what we could do with this system, with it being a twin, was to give people twin-system performance and a fuel injection module that worked together in conjunction to get a whole bunch more torque than what even the stock engine has and a little more RPM on top."
ATV.com previously tested the stock Polaris RZR and we were already plenty impressed with the power and performance, but Miller says DMC's new twin exhaust system makes a big difference, which it should considering the price tag of $884.
"What you feel when you go out and drive it is instant throttle response, which is kind of hallmark of the RZR anyway, but one of things that this has done is picked up the bottom and mid and it just makes it a blast to drive—even more than stock," says Miller.
Beyond power, handling is the other key area of concern for racing UTVs. Houser Racing, which has been involved in ATV racing since 1998, recently made the foray into UTV racing with a new suspension kit for the Polaris RZR.
"The guys are jumping these things and they usually land on the front wheels," says Houser Racing sales associate Mark Wert. "It's going to definitely help out with absorbing the impact."
The new kit is four inches wider than stock per side, for a total of eight extra inches of width. Retailing for $2,499, the kit includes front and rear A-arms, tie-rod extension and axle shafts. Wert also says the front A-arms are castor adjustable.
"We always like to give the customer the option of dialing in their handling, that way they can make it exactly for any track condition."
Ultimately, if you've got a UTV and you want to personalize it or improve its performance, you should be able to find just about anything you need from your local dealer. But, if you don't see what you want in the market yet, you can bet someone's working on it.
Related Reading
New products abound at Dealer Expo
2008 Kawasaki Teryx 750 4X4 review
2008 UTV roundup Lucas Cooney
I have been working exclusively in digital media since 1997. I started out with TSN.ca, spending nearly nine years creating and editing content on Canada's leading sports website. I left to join VerticalScope, Inc., one of the world's largest online publishers, to start a number of powersports publications. While at VerticalScope, I've helped create and oversee content for a wide variety of different publications, including ATV.com, Off-Road.com, ArcheryTalk.com, Tractor.com, RVGuide.com, and many more.
More by Lucas Cooney
Published February 28th, 2008 2:50 PM
Top Brands
Popular Articles