1 View
What Does It Take to Race King of the Hammers?
March 15th, 2021 12:54 PM
Share
We're committed to finding, researching, and recommending the best products. We earn commissions from purchases you make using links in our articles. Learn more here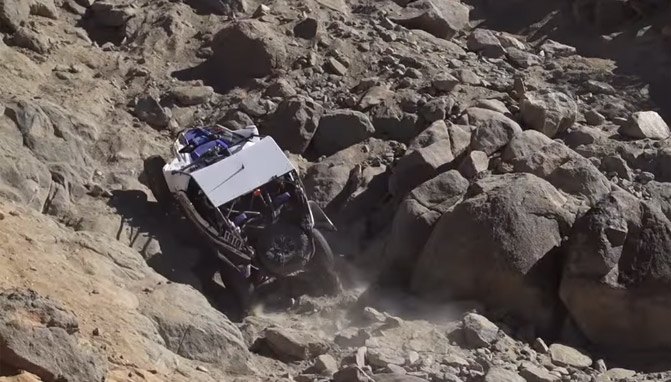 Jason Weller talks about lessons learned from his first King of the Hammers
Known by many as the toughest one-day off-road race in the world, the King of the Hammers is mix of high-speed desert riding and ultra-technical rock crawling that is a remarkable challenge for even experienced racers UTV racers. But what if it's your first time at the race? What if you have almost no rock crawling experience in a UTV? What if you are relying on a brand new machine that's never been put to this kind of challenge before?
While most of us would hesitate to put ourselves in the position to find out, Jason Weller has never shied away from challenges. Weller owns and runs Weller Racing out of Chandler, Ariz., which is known one of the preeminent builders of race motors and performance parts for UTVs.
Blake Van de Loo Wins UTV Class at King of the Hammers Weller came from an ATV racing background and has plenty of experience going fast on four wheels, but the King of the Hammers was a new challenge and he decided to tackle it in the new Yamaha YXZ1000R, the only UTV that comes from the factory with a manual transmission. Despite getting a hugely unfavorable starting position of 47th, Weller and navigator Kyle Anderson fought their way through much of the field to a seventh place finish.
Weller shared some of his experiences with us from the race and talked about everything from Robby Gordon getting stuck and blocking his way to the performance of the YXZ1000R in the rock crawling sections.
ATV.com: Did you have a lot of experience rock crawling before taking on KOH?
Jason Weller: I have had very little rock crawling experience in a Side-by-Side, but I grew up in the mountains with ATVs, and we did a lot of rocky hills and trails with those.
ATV.com: How important is a navigator at KOH? What exactly does a navigator do in a race like this?
JW: The navigator is very important, because he makes it easy for the driver to focus on driving and what's right in front of him. The navigator lets me know what turns are coming up, any dangerous places, and he watches the mirrors in case there are faster drivers, which we didn't have in this race. Specifically in the KOH race, the navigator is also the winch guy, and he is the one who gets out and operates the winch if it's needed during the race. He also can help spot in the rocks, and keep you from getting too crazy.
ATV.com: What was the most challenging part of the race?
JW: The most challenging part of the race was when Robby Gordon tried to fit his Arctic Cat through a narrow place in the rocks and blocked the whole trail. Instead of waiting, because it was obvious it was going to be a while, we made our own path around him. It was very sketchy and involved a small cliff, and it was what eventually bent our tie-rod, which we replaced in under 15 min.
ATV.com: What did you do to your YZX1000R to get it ready for the King of the Hammers? What isn't stock?
JW: The most important thing we did to our YXZ was install the Tubeworks transmission kit that lowered the factory gear ratios. This helped a lot in the really rocky portions of the course. We also installed some very sturdy skidplates from Factory UTV that were ½" thick and made of UHMW, which is a very tough plastic. This helped us literally glide over the boulders when we needed to. We chose to run the new Maxxis Liberty tire, because when we tested in them, we found them to be extremely tough and grippy in the rocks. We chose Summers Brothers axles all around for the crazy torque we knew we would be putting our drive-train through. We revalved the factory FOX shocks, and added our dual spring conversion kit with PAC Racing Springs – this helped for the really whooped out desert sections.
We ran our own Weller Racing Edition dual exhaust system with our headers and our factory ECU reflash to tune the stock motor, which added 16 HP to the rear wheels and sounded great. We ran factory clutch plates and the Yamaha Rekluse clutch conversion kit, again to help in the really slow, rocky sections. We ran the factory wheels and rings off of the SE Edition YXZ on our blue/white unit, because we liked the narrow stance for the tight, rocky sections and the inset wheel ring bolt holes. We used Axia Alloys dual mirrors and fire extinguishers w/their billet, quick-release mounts. We built our own race cage in-house out of chromoly, and built it specifically with a higher front valance and window area so we could see up the hills without straining in our harnesses.
Weller says the Weller Racing dual exhaust system and ECU reflash combined to add 16 horsepower to the rear wheels of his YXZ1000R.
We used PCI's 50w radio and intercom set-up for our in-car communications. We also used WARN's Pro Vantage 4500-S winch with wireless remote, but we never had to use it in the race (we did, however, use it a lot when we were testing). We mounted an Optima Battery under the driver's seat to operate our winch, and chose Dragonfire Race Harnesses to keep us secure in our stock seats. Our YXZ looked as good as it worked thanks to ProLine Wraps, who designed our decal kit and sent it to us in time for the race.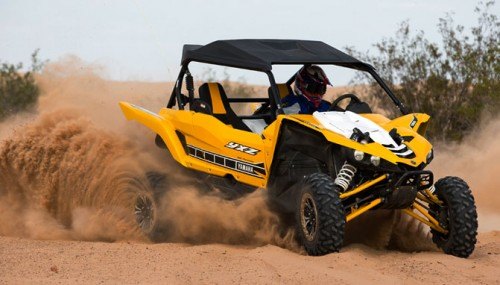 2016 Yamaha YXZ1000R Review ATV.com: How does the YXZ1000's manual transmission translate to rock crawling?
JW: With the combination of Tubeworks' gearing, we were actually able to have a granny gear, which allowed us to keep our momentum and use the decal very efficiently.
ATV.com: How do you keep the revs up for good shifting in the slow sections of the course?
JW: It wasn't a problem for us, since first gear is really low, and we didn't feel like we needed to rev up the motor to make power at all.
ATV.com: What are the advantages/disadvantages of a manual transmission at KOH?
JW: I would say the advantages were I could put it in any gear I wanted, allowing for lower torque spikes on my components if I chose, or high-revving if I needed the wheel spin going up some of the sand hills. I could also choose decel or no decel depending what gear I'm in or if I used the clutch. The biggest advantage was that we didn't have to worry about burning up or breaking any belts. We didn't feel there were any disadvantages of the manual transmission.
ATV.com: What's the biggest lesson you learned during the race?
JW: I can sum that up in one word – PATIENCE. Many times I wanted to push it because I wanted to finish first, but it was very important for us and our team to get to the finish line. That was our main goal coming into the race.
ATV.com: What would you do differently if you were to race KOH again?
JW: I would try to get a better starting position than 47th – haha! I might try a slightly wider off-set wheel but not too wide. Hopefully next year they make the rock section a bit more difficult so we can use our winch.
ATV.com: Do you have any other thoughts on using this unique machine (YXZ1000R) in this unique race?
JW: Yamaha really nailed it with the reliability of this machine. It has proven over and over just how much abuse it can take and keep going, so it was fun showing everyone that it can take the abuse of a race like KOH. Lucas Cooney
I have been working exclusively in digital media since 1997. I started out with TSN.ca, spending nearly nine years creating and editing content on Canada's leading sports website. I left to join VerticalScope, Inc., one of the world's largest online publishers, to start a number of powersports publications. While at VerticalScope, I've helped create and oversee content for a wide variety of different publications, including ATV.com, Off-Road.com, ArcheryTalk.com, Tractor.com, RVGuide.com, and many more.
More by Lucas Cooney
Published February 16th, 2016 10:00 AM
Top Brands
Popular Articles