5 Views
Yamaha Raptor 250 Project – Part 1
May 6th, 2009 10:22 AM
Share
GYTR power and performance
ATV.com is building up a Project Yamaha Raptor 250. This is the first article in a six-part weekly series. Once the build is complete, we will be giving away the modified Raptor to one of our readers. Click here to enter for a chance to win.
If you haven't had a chance to throw a leg over Yamaha's race quad prodigy, the Raptor 250, you're missing out. You may think a 250cc machine might not sound like much compared to the more race-ready 450cc machines out there but the Yamaha Raptor 250 is an absolute blast! With an MSRP of $4,499 it's also a lot more affordable.
After taking the stock Raptor 250 out for an initial test, it was obvious that this was already the top 250cc quad on the market. It's the perfect machine to replace the Blaster in Yamaha's diverse line of ATVs. However, we like to go fast so we figured the Raptor could use a little boost in the power department. Luckily GYTR makes a few accessories that wake up the Raptor 250 engine and provide more power to this already boisterous machine.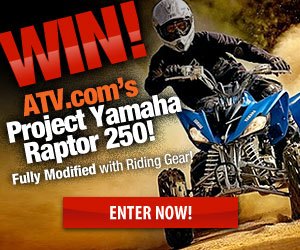 The beauty of using GYTR accessories, besides their proven performance, is that you know they're going to fit perfectly so installation is a snap. Trying to fit aftermarket parts onto your ATV can be sometimes be a frustrating experience, especially if things don't line up precisely. Using GYTR accessories makes you feel like you actually know what you're doing…even if you don't.
We started with the GYTR Performance Muffler ($349.95). Upon firing the ignition you can immediately hear a difference in the sound. The GYTR pipe has a deep sound – much closer to its cousin the YFZ450 than the stock Raptor 250. This exhaust system alone provides a tremendous power boost compared to stock form. With the GYTR muffler we found that there was a substantial improvement in the bottom end though mid-range in addition to making our gears just a bit taller and providing more grunt though all five gears.
To gain even more power and to insure our Raptor 250 was getting the right amount of clean air and fuel mixture we also installed a
GYTR High Flow Air Filter
($51.95),
GYTR Billet Air Filter Adaptor Plate
($59.95), and
GYTR Carburetor Jets
($39.95).
Though we didn't have a chance to put the Raptor 250 on a dyno to see the results, out "seat-of-the-pants" dyno tells us these GYTR add-ons provide a significant power boost when paired with the GYTR Performance Muffler.
Installation of the new air filter was a little different than replacing a typical foam filter because the GYTR High Flow Air Filter requires an adaptor plate, which replaces the mounting system for the stock filter. Check out our step-by-step install below.
Published May 6th, 2009 10:22 AM
Top Brands
Popular Articles