4 Views
Yamaha YFZ450R MX Project – Part 2
August 24th, 2010 11:24 AM
Share
We're committed to finding, researching, and recommending the best products. We earn commissions from purchases you make using links in our articles. Learn more here
Maxxis SYHP Razr MX tires and ITP T9 Pro Series Trac-Lock Wheels
One of the most important things when riding is getting good traction. Whether you're just a trail rider or a racer you need to be able to get from point A to point B, and without traction you will be left in the dust no matter how built-up the rest of your ATV is.
As we have had our Yamaha YFZ450R MX Project for several weeks now, we thought it was time to change out the tires and try out something different. Our good buddies at Maxxis and ITP sent out a set of wheels and tires to put them to the test.
ITP sent us a set of rear T9 Pro Series Trac-Lock rear wheels. These wheels feature an outer bead lock ring and an inner reinforcing ring. The ITP T9 Trac-Lock wheels are made to be tough with .190 aluminum wall construction. The outside bead lock ring comes into play when sliding around rough corners on the track and it also adds some styling to the wheels. Often times with stock wheels, if the tire catches a rut just right the tire can come off the bead. There is nothing more embarrassing than crossing the finish line with a floppy tire, even if you are lucky enough to make it that far.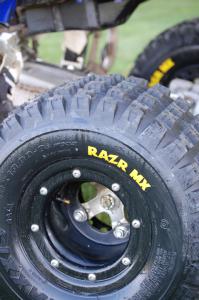 The inner reinforcing ring also adds protection and toughness to the rigidity of the wheel. Just like the ITP T9 Pro Series Baja wheels, the Trac-Lock wheels give you the benefit of the added protection of the reinforcing ring as well as the assurance that you won't blow a tire off the bead with the added bead lock outer ring.
Available in both bare aluminum and black power coat, ITP's T9 Pro Series Trac-Lock wheels can be personalized with red, blue, or black beadlock rings to give you a custom look. We chose to stick with the black color scheme, as we were still running the stock front wheels.
To wrap our new ITP T9 Pro Series Trac-Lock wheels, Maxxis sent out a newly released set of SYHP Razr MX tires. These tires are very similar to the original Razor MX tires, but are made of a super soft rubber compound. These tires really shine on hard pack or intermediate conditions.
When we tested these new tires we were blown away by how much traction we gained over the stock rubber. The front end wanted to lift almost out of every corner. It's no coincidence that Rockstar/ Makita/ Suzuki riders Josh Creamer and Dustin Wimmer took the championship and the number two spot in the AMA ATV Motocross Championship with these tires.
We had a chance to speak to some of the Pros running the SYHP Razr MX tires and we would have to agree with them; the tires are very predictable and you are still able to slide them around in the corner. It is also easier to hold your line in tight corners. We experienced noticeably better handling as a result of tires giving us more confidence while we railed into tight corners.
The SYHP Razr MX tires have a very similar tread pattern to the original Razr MX tires, but it's the sizing, profile, and compound that make them perform so well.
As impressively as these tires perform, they do have their drawbacks. Being that they are made of super soft rubber compound they tend to wear a lot faster than the original Razr MX tires. Pros expect them to last an average of two motos, while an A or B class racer can expect to get about two weekends worth of riding before they need to be replaced. That being said, this is not a tire of choice for a weekend ride with the guys. The Maxxis SYHP Razr MX tires are for the diehard racers that want to grab every inch of traction they can to get them to finish line first. For the weekend rides we suggest running the original Maxxis Razr MX rubber.
When you consider how well they improve performance, the combination of the ITP T9 Pro Series Trac-Lock wheels wrapped in Maxxis' new super soft SYHP Razr MX tires made for a fairly inexpensive upgrade to our Project YFZ450R. Getting the power to the ground is the most important thing in this sport, and having a built-up engine means nothing unless you have the traction to back it up. Published August 24th, 2010 11:24 AM
Top Brands
Popular Articles