6 Views
Yamaha YFZ450R MX Project – Part 4
December 30th, 2010 3:02 PM
Share
Our project quad goes to the races
In the previous installment of our Yamaha YFZ450R MX project we installed a variety of GYTR goodies, as well as a GPR steering stabilizer. The GYTR parts provided improved looks and protection, while the GPR stabilizer gave our project quad better handing under rough conditions.
In this final installment of our series we wrap up our build and take it to Earlywine Racing Indoor Motocross Track in Maysville, Ky. for a little racing. Unlike most indoor tracks, Earlywine's fantastic indoor facility features six passing lanes. This provides racers with many lines to choose from and it is wide enough to have an exciting race. Also, as the weather is getting colder here in the Midwest it only made since to make the trek down to an indoor facility if we wanted to have any chance of staying out of the snow.
On the way to Kentucky we stopped in to see our friends at Idol Speed in Greenfeild, Ind. While we were there Idol Speed installed and set up its QuadShot device on our project Yamaha YFZ450R in hopes to getting us better holeshots. The Idol Speed QuadShot device works similar to a dirtbike's holeshot device – it compresses the front suspension on the starting gate and releases once the racer enters the first turn.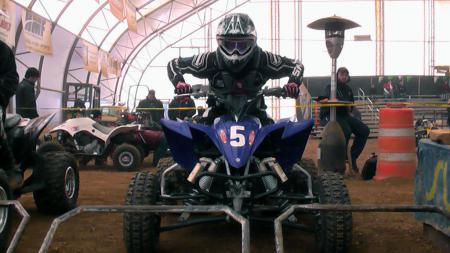 Despite the cold weather (even indoors at the track) our fuel injected Yamaha YFZ450R fired right up. The indoor motocross track features seven starting gates for the quads and 14 for the dirtbikes, which made for some good racing while aboard our YFZ450R. Earlywine Racing also features a heated bleacher section for the spectators and on-site concessions.
We showed up for Round 8 of Earlywine Racing's winter Quad Series. We were just as excited to be racing as we were just being able to ride our project YFZ450R without any snow! We initially entered the Quad B class, but unfortunately there was not much competition as it seemed like everyone was entering in the Quad C class. We followed the crowd to Quad C in hopes for more competition and an exciting race.
With its 50,000 square-foot facility Earywine Racing has plenty of room for staging. We brought in all of our tools and gear bags and found a spot right by the starting gate. Before the race we noticed that one of our Maxxis SYHP Razr MX tires had gone low – likely due to the cold weather. The Earlywine Staff was very helpful and had an air compressor on hand to fill up our low tire.
A quick note on the Maxxis SYHP Razr MX tires: They hooked up great in the moist loamy dirt at Earlywine. We were able to get traction where we needed to and we were able to break the back end loose around corners. Good rubber like this makes a huge difference when you're racing.
The track features a long straightaway at the start followed by whoops and a rhythm section. The GPR Steering Stabilizer was a huge help when skimming over the somewhat off-camber whoops. Even stock the YFZ450R has very good handling and it was only improved by adding the GPR Steering Stabilizer.
Yamaha did a great job when designing the YFZ450R shocks. They are some of the best stock shocks that we have ever encountered on an ATV. Compared to the shocks from the carbureted version of the YFZ450, the difference is night and day. When racing on indoor motocross tracks most the time you have to adjust your shocks to receive more impact off of short, steep jumps, but this was not the case with the YFZ450R. We did not have to adjust the shocks at all. We didn't bottom out once when landing over any of the jumps – even when we overshot them!
We can't say enough about the power of the YFZ450R. We were able to easily get around the track and clear all of the jumps with no problems. Being indoors, however, we never really could use the YFZ's ample power to its full potential.
Helping to boost the low-end grunt of the YFZ was a GYTR exhaust. The stock YFZ450R has a bit of a doggy bottom, but simply adding a GYTR exhaust and a fuel controller by Power Commander we were able to wake up the bottom end get better acceleration out of the gate and in the corners. This really paid dividends on a tight indoor track.
Our Project Yamaha YFZ450R handled itself very well at Earlywine. We almost grabbed the holeshot in both motos and we were able to finish second overall in the Quad C class.
Our goal with this build was to add some accessories that would help any racer on a budget. All of the parts we installed on this build were easy to work with and were for the most part bolt-on accessories. Most of the parts featured on this build are available though your local Yamaha Dealership.
Published December 30th, 2010 3:02 PM
Top Brands
Popular Articles