1 View
Five Industry-Changing Features of the Can-Am Maverick X3
March 15th, 2021 12:56 PM
Share
We're committed to finding, researching, and recommending the best products. We earn commissions from purchases you make using links in our articles. Learn more here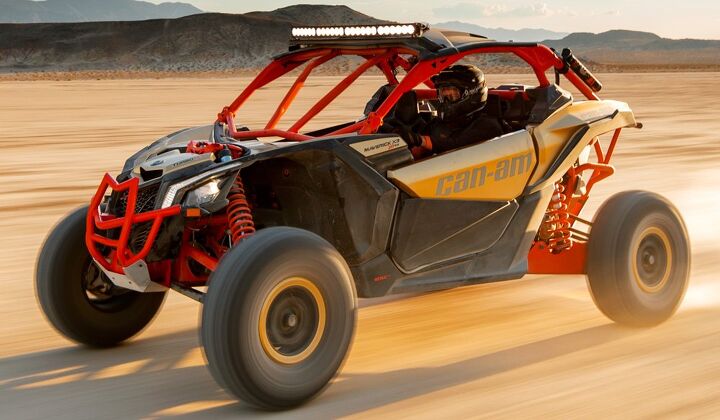 What helps the Maverick X3 stand out from the crowd?
Can-Am's new Maverick X3 boasts some industry-changing features that have not been seen to date in the UTV marketplace. It's incredible to see this kind of direction for manufacturers and how they are all fighting for your attention. Here are five features on the new Can-Am Maverick X3 that stood out to us.
Suspension
2017 Can-Am Maverick X3 X rs Turbo R: First Drive The very first, undeniable feature has to be the suspension of the flagship Can-Am Maverick X3 X rs Turbo R. Using a four-link style named by Can-Am as the TTX, on the rear of the rig you are expected to see minimal wheel toe during the wheel's massive travel. The engineers at Can-Am designed this system similar to a desert trophy truck and perfected it for this platform. With an amazing 24 inches (two feet!) of travel on the rear wheels, Can-Am has stepped out into its own world of terrain-ability. Not to be left in the dark here, the front of this machine gives up 22 inches of travel for those nasty humps and bumps with an incredible 15 inches of ground clearance. Combine this with the massive shocks and it is ready for serious competition.
Shocks
FOX is the shock of choice and the design is a bypass-style creation. Using the FOX RC2 HPG platform on all four corners, the front and rear are slightly different. The shock body for the rear of Can-Am Maverick X3 X rs Turbo R really gets your attention with a beefy three-inch diameter body and internal bypass system. The front shocks are built slightly smaller using 2.5-inch bodies, but this does not impede the function at all. This massive volume for shock oil and wheel travel not only keeps the shock cool to prevent fade, but it is tough as nails to boot when pumping in and out of it travel length. This is truly the next generation of rugged terrain dominance.
Engine Performance
Everyone knows that more power in the desert is good, but to squeeze out 154 horsepower from a 900cc mill at an incredible 7500 rpm is very noteworthy. The inline triple cylinder fuel injected Rotax produces this power with the help of a turbocharger, but not just any turbo. Rotax has developed its very own design that produces better power and spool time for a more connected feel when pushing the gas pedal to the floor. This is also assisted by Can-Am's QRS-X CVT transmission, which further eliminates the lag felt in some turbocharged machines. It was evident that the power comes on like a hurricane during our brief testing.
Seating Comfort and Adaptability
2017 Can-Am Maverick X3 Preview When you think of features for the newest Can-Am Maverick you cannot forget driver and passenger comfort. One thing that stands out is the ability for adjustment of the high-back all encompassing seating. At the release we watched curious dealer after curious dealer sit in the cab of this beast. One dealer who looked to be about 6'3″ to 6'5″ slipped into the seat, but felt the headroom was not sufficient for him. That is when we were told the seat not only moves from front to rear, but you can lower the seat an additional two inches for larger passengers. This really stands out for me as a larger rider.
Easy Maintenance
Working on your machine is something we all need to do from time to time, but it is not as easy on some models. Can-Am has made servicing the Maverick so much easier with access panels over items like brake or radiator fluid reservoirs, as well as the air intake filter. Owners also have room to change or inspect the CVT belt. Can-Am says that an owner should be able to get into the CVT system in around 15 minutes. This will also be a plus for anyone in race trim if something should happen on the course.
Overall, Can-Am has really climbed onto a new platform and elevated itself in ways that really get our attention. The amount of power and suspension geometry increases are swelling and it will be amazing to see where we are in the next five years of development. Published August 22nd, 2016 11:54 AM
Top Brands
Popular Articles