42 Views
How To Turn Your UTV Into a Rock Crawler
March 15th, 2021 12:47 PM
Share
We're committed to finding, researching, and recommending the best products. We earn commissions from purchases you make using links in our articles. Learn more here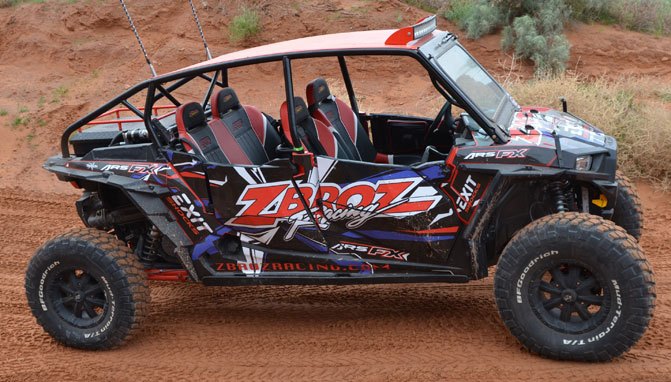 What you need to do before taking your UTV to Moab
Riding the red rocks of Utah in a Side-by-Side (SxS) should be on any off-roader's bucket list. But to get the most out of the experience, you'll need a machine that can handle the gnarliest terrain offered in cities like Moab, Cedar City or St. George. For this feature, we'll focus on readying your stock SxS for rock hopping. Then we'll move on to discuss the finer points of modifying your stock SxS for rock crawling,
Protect You, Protect Me, Protect It
We visitedMoab, Utah this past May to experience the Discount Tire Rally on the Rocks (ROTR) and came away with a profound appreciation for the awesome beauty and experience Moab provides. Also we came to respect the dangers present on trails rated 8 and higher. This last sentence is to not meant to discourage or be alarmist, as there are inherit dangers in most anything we do. What we stress here is that there are ways to mitigate hazards.
When navigating through and around difficult terrain such as boulders, steep rolling hills, and trails with slick rocks and broken slabs near Moab, vehicle speed is in the single digits. Though SxS speed is low, skill needs be sharp so drivers can quickly recognize danger and engage problem solving.
If taking a bone stock SxS to Moab, know its limitations in driver, passenger and vehicle safety. Yes, the manufacturers built its SxS units with safety in mind, but going to the next level is the owner's responsibility, especially when driving in steep and rugged terrain. Given that, an aftermarket roll cage/roll bar that has thicker walls and is reinforced at critical impact points is a wise investment. Furthermore, if choosing an aftermarket roll cage, consider one that extends over the rear and down over the motor. Rollovers are common, but so is a nose-over-tail tipover.
Protection is paramount when riding on the rock and steep hillsides. OEM protection is a start, but aftermarket roll cages deliver peace of mind.
As we discussed safety with some vendors at ROTR, RCR Motorsports stressed that before adding shocks, lights, taller tires, premium shocks and a sound system to an UTV, consider placing money into a robust roll cage. After driving on the trails in and around Moab, we agree.
Following the rollcage upgrade, we learned another safety upgrade is too swap-out the OEM seats with reinforced seats that have a five-point harness system. When a SxS (folks at ROTR called them cars) rolls or tips over backwards, keeping the driver and their occupants secured is paramount.
Another safety option are doors and window nets. This is a discussion where many SxS drivers divide. Some want the freedom of an open and airy ride, while some want full protection. Ideally, we prefer to be protected by window nets and reinforced doors with interior hip and thigh pads. If we were driving an Arctic Cat Wildcat, for example, and had a loved one seated next to us, we would want our passenger's arms and legs to stay within the cab in the event of a rollover. Serious limb injury can occur if arms and legs extend outside the vehicle. Companies that we met at ROTR that have reinforced doors, safety nets and five-point harness seats were Wicked Bilt, SXS Performance, and ProArmor.
In the event of a rollover, an aftermarket harness system will keep driver and passengers secure in their seats.
Beyond its passengers, your SxS also needs protection. One no-brainer is a custom-made UHMW (ultra-high-molecular-weight polyethylene) skid plate. Most skid plates bolted underneath a SxS are made from aluminum. Though light, aluminum has a tendency to resist sliding across rocks; its high stiction and ability to bend or gouge on a rock make it hard to descend or ascend rocks. Not only will UHMW skid plates from today's aftermarket companies make it easy to protect your car's undercarriage, but these make simple work to roll over rocks and jagged edges.
Clutch It and Cool It
Rock crawling is slow and tedious work where the drive and driven clutches, the constant velocity transmission (CVT), are constantly squeezing the drive belt at high-tension. To make the best of your time on the rocks, ensure the clutches are properly configured for low speed loads (heat), elevation, and tire size. The SxS manufacturers hit an average clutch setup for consumers, but it is up to you, with your dealer or aftermarket speed shop, to prepare the two clutches for your needs. One such company we discussed this with is Starting Line Products (SLP). We have spent time with SLP in various settings and believe SLP has the know how to help your SxS be at its best for rock crawling.
Polaris RZR XP 900 Project: Altitude Adjustments Slow-speed crawls generate heat where drive belt fade can occur. From our interviews, hardcore rock crawler builders recommend installing a clutch cooling kit. Though this company was not present at ROTR, MTNTK Performance has a clutch cooling kit, endorsed by ZBROZ Racing (which was present at ROTR), that drives heat away from the belt. The MTNTK kit is for RZRs only, but the concept is there. Ensure your favorite aftermarket supplier has one for your SxS breed. Why is a clutch cooling kit recommended? Well, having a belt fade and smoke-out when near the top of a long rocky ascent could send an SxS screaming backwards down the hill.
Shocking Suspensions
Rock crawling is slow with deep suspension swings. Shock fade from heat is not as common as high speed trail use, where bashing the whoops is the day's duty call. We discussed this at length with Nathan Zollinger from ZBROZ Racing. Though ZBROZ makes premium EXIT shocks, Zollinger said if consumers are squeezed by a tight budget, ZBROZ racing can take an OEM's stock shock and rebuild these with EXIT components. Though the shocks will not have the EXIT shock's tube and diameter, Zollinger said installing aftermarket components is a worthwhile investment.
Suspension Setup Tips Zollinger notes that increased ground clearance is essential for rock crawling, but not mudder-like ground clearance. About three-inches of clearance is best. ZBROZ has its ARS-FX maximum ground clearance radius rods and trailing arms, for RZRs only, that will provide this. These are designed to handle extreme rock crawling and trail pounding conditions. Though we mentioned ZBROZ Racing here, other aftermarket companies will have components for Arcitic Cat's Wildcat, Can-Am's Maverick, and Kawasaki's Teryx, and others.
Rolling Along
Generally, the stock tires that OEMs place on their SxS are adequate, such as the Maxxis Bighorn. But moving toward a tougher 8-to-12-ply tire with a soft and grippy-tough surface may be the key to getting up and over a ledge or rock. We studied the tire phenomenon at ROTR and came away with our head spinning with all the choices.
A good aftermarket tire provides height to lift the chassis and traction to grip the rocks. A large contact surface area provides the friction to bite slick rock.
The sponsoring company at ROTR, Discount Tire, displayed many tires such as the Journey P350 and Discount Tire's own line such as the Rage Thunder and Rage Storm. These tires, specifically the Thunder and Storm, impressed us for their ability to grip surfaces from the tread to sidewall. The Storm comes in 12-inch and 14-inch sizes, whereas the Thunder comes in 14-inch and 15-inch configurations. Visit www.discounttire.com to learn of the many choices. These tires were discussed in a June 15 article – Discount Tire MB 11 Wheel and Rage Storm Tire Review.
The point here is to consider a taller tire that will increase ground clearance, or provide good grip on a surface. We were told that deep/tall lugs do not necessarily translate best for rock crawling. Consider a tire that has lugs, yes, but has a tread pattern that provides a large contact patch to bite slick rock surfaces.
To that end, a good set of beadlock rims is essential. Yes, beadlock rims look cool, but preventing a wheel from spinning inside its tire while in loaded and stressful conditions is obviously important. Also, beadlock rims can help an SxS limp home if a tire puncture occurs. A couple of examples of beadlock wheel are the NXG2 and Raceline A71B Black Mamba from SXS Performance. When mated to a good tire, these wheels can take you there, up and over and back home with confidence and safety assured.
A beadlock wheel will keep the tire from breaking free of the bead, which will put a quick end to any ride.
Roping Off and More
2015 Winch and Towing Accessories Buyer's Guide Back in the beginning, we discussed safety; safe rock crawling is let's-go-back-and-do-that-again rock crawling. Having a fine set of thick or wide nylon straps are as important as a tough rollcage. Straps wrapped around a front bumper or rollage – attached where-needed as-needed – by a spotter to prevent an SxS from rolling over or tipping over backwards, can prevent harm to driver, passenger and car. These straps, known as "Recovery Straps" or "Tree Saver Straps," can be slipped around a rollcage or bumper. With assistance from a spotter, these straps can keep the SxS from tipping or rolling-over as the spotter pulls down on the strap to keep the SxS and its tires contacting ground-level surfaces. We witnessed this at ROTR on Cliff Hanger and it was amazing.
Winches are also beneficial when climbing steep, slick rock faces. Hooking onto a tree or deep-embedded rock will help the SxS will move forward up a hill or out from a precarious situation, such as being wedged. Warn Winch and Bulldog Winch have a wide range of winches for need and dollar. We saw at ROTR winches on almost all extreme rock crawlers.
Having a good spotter and ropes to tie off the SxS will help keep the machine balanced when climbing .
Put It Out
Just about every extreme crawler we saw had an A, B and C-rated fire extinguisher strapped to its rollcage for easy access. Fire extinguishers are not pricey and with some ingenuity, can be mounted to the SxS. Do it.
Fire extinguishers, fresh air intake systems, and a tool kit indicate some serious off-roading. The external shock reservoirs on the roll cage indicate long-travel shocks.
Conclusion
The sky is limitless when it comes to SxS accessories. However, the products we listed here are all but essential for the serious rock crawling enthusiast. Published July 15th, 2015 4:07 PM
Top Brands
Popular Articles