1 View
2016 Can-Am Renegade X Mr 1000R Unveiled
September 30th, 2015 1:19 PM
Share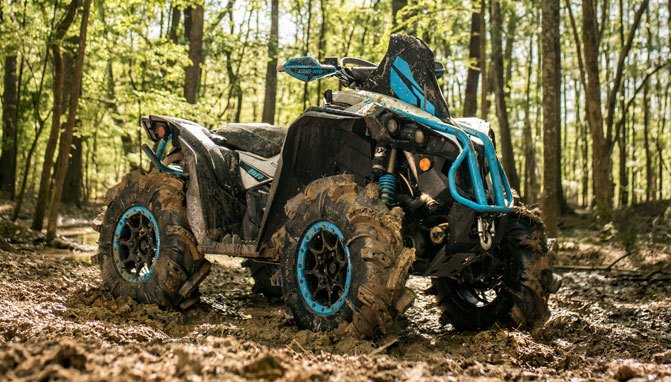 Renegade prepares to get down and dirty in the mud
BRP has been at the forefront of the mud riding segment and it further cemented its mud riding status with the new 2016 Renegade X mr 1000R.
"The Renegade X mr 1000R perfectly blends its industry-leading performance with precision handling and unmatched sport 4×4 capabilities to create the new highpoint for those serious about mud riding," BRP says in a release.
Powertrain
Powering the Renegade X mr 1000R is the revamped 89-horsepower, 976cc liquid-cooled V-Twin DOHC, eight-valve Rotax engine from the Renegade 1000R. This mill boasts 9% more power, courtesy of new piston designs, new 54 mm throttle body, and new engine head from the Can-Am Maverick.
The CVT, which includes standard engine braking, offers High, Low, Park, Neutral, and Reverse gears. BRP says the CVT housing has 13 bolts to ensure a proper seal and also includes an integrated drain plug.
"The Can-Am X mr family includes an extra low range 'L-gear' with a softer engagement and improved throttle control for low-speed riding and better traction in heavy mud," says BRP.
Location, Location, Location!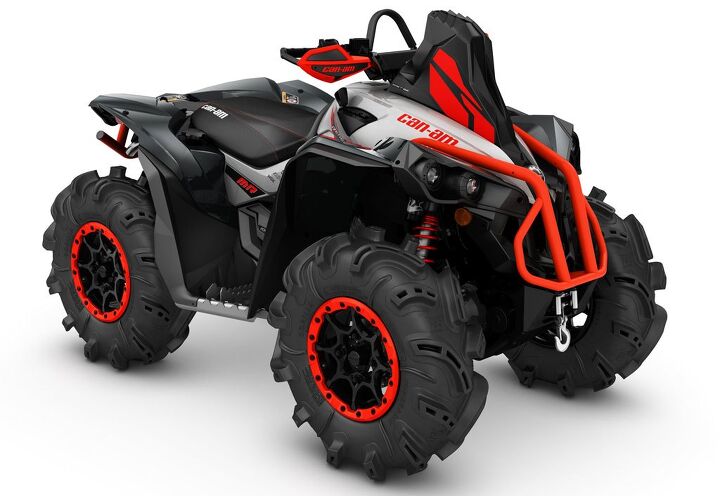 Critical components like the CVT intake and outlet, as well as the engine intake, are located as high as possible on the ATV. "We placed them in the pod directly in front of the handlebars and high above the muddy, wet conditions below," says BRP.
Like other members of the X mr family, the Renegade has its no-tools air box placed at a high and centralized location. According to BRP, a dual-room air filtration design captures dirty air in one portion of the box and clean air in another section before it sends the air to the engine. Specific to the X mr, the airbox also features an easy access drain.
Keeping the Renegade cool when under mud-induced duress is a large radiator witih 27 kW of cooling capacity.
Handling
To get the Renegade X mr 1000R suited to any terrain, it comes equipped with FOX PERFORMANCE SERIES 1.5 PODIUM RC2 piggyback adjustable shocks. These high-performance shocks have high- and low-speed compression, rebound and preload adjustments
Pushing the Renegade through the muck are mud-specific 30-inch Gorilla Axle Silverback tires mounted on 14-inch cast-aluminum beadlock wheels.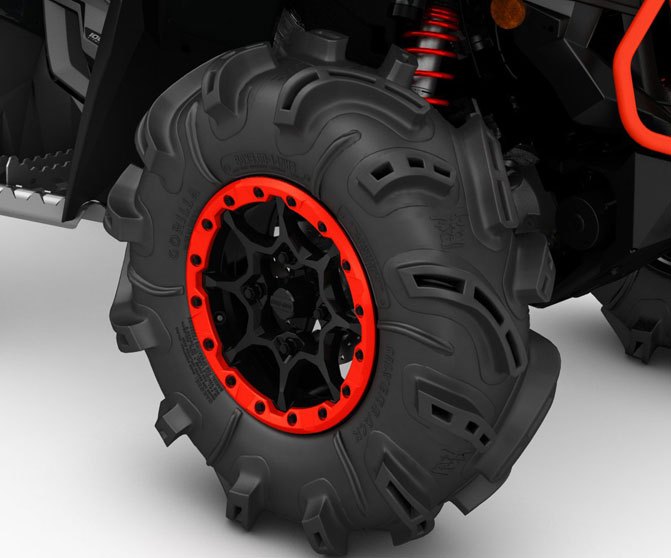 Suspension comes courtesy of double A-arm front suspension and Torsional Trailing arm independent rear suspension.
Power steering is basically essential equipment on a mud machine and this one is no exception. The Renegade X mr 1000R features Tri-Mode DPS, which features three modes (MIN, MED, and MAX). This allows riders to choose the desired amount of steering assist.
The Renegade X mr 1000R model also includes the Visco-Lok Quick Engagement calibration, giving the front differential a shorter responding time.
All of the Renegade X mr 1000R are built around the Surrounding Spar Technology (SST) G2 frame. This model has a shorter wheelbase compared to its sibling, the Outlander X mr 1000R. BRP boasts the welded-steel SST frame offers increased structural integrity and handling with fewer parts.
Stopping power comes from twin 214mm hydraulic disc brakes with twin-piston calipers front and rear.
Maintenance and Protection
BRP says the early break-in maintenance requirement is no longer necessary on the Renegade. As well, the first maintenance required is after one year (or 1,500 km / 932 miles) from 10 hours (300 km / 186 miles).
Located under the seat, a centralized maintenance area offers access protection. The rear brake fluid reservoir, solenoid starter, battery and relays are also located under the seat.
When you bite off more than you can chew, a 3,000-pound WARN winch comes standard.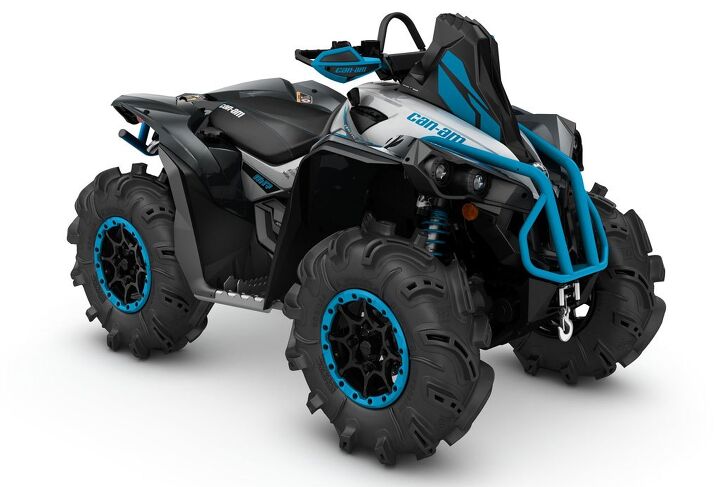 A front bumper and rear push bar protect Renegade X mr 1000R and provide a unique look. Further protection is provided by color-matched wind deflectors, mudguards on the wheel wells, and high strength skid plate.
Lighting is provided by four 60-W projector-type headlights (240 W), along with a rear taillight.
Other features include a 5.4 gal fuel tank, full floorboards with raised pegs and kickups, and digitally encoded security system.
The Renegade X mr 1000R is available Hyper Silver, Black & Octane Blue or Hyper Silver, Black & Can-Am Red.
BRP has not released the price of this model.
Published September 19th, 2015 12:46 AM
Top Brands
Popular Articles