1 View
2019 Can-Am Outlander 1000R XT Review
August 30th, 2018 4:15 PM
Share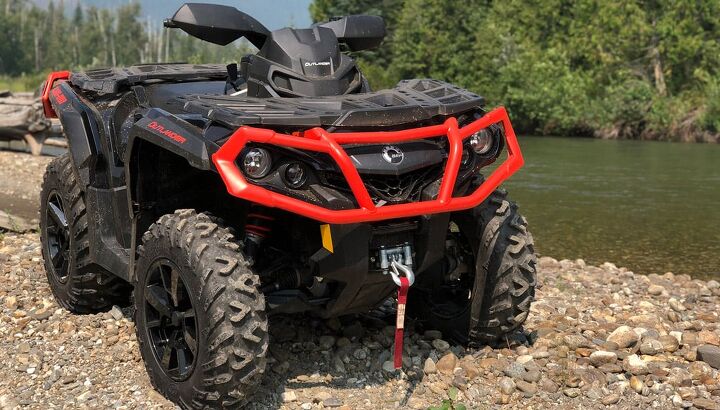 We had a chance to spend some time behind the bars of the new and wickedly powerful 2019 Can-Am Outlander 1000R XT.
In the mountains of Kelowna, British Columbia, Canada we had a chance to test out what Can-Am calls the most powerful ATV in the market today. I'd say they are pretty close to dead-on with that statement. The 2019 Can-Am Outlander 1000R did not disappoint and with new features to improve handling as well as power delivery, this machine is a handful when you twist the wick.
Can-Am has been in the lead pack for many years when it comes to power and performance. The Rotax mill has grown over the years to be not only one of the most reliable V-Twin engines in the market, but one that also makes insane numbers on the dyno. The 2019 Can-Am Outlander 1000R XT is, in fact, building 91 horsepower at the crank with the 976cc fuel injected engine. However, this is not the only focus for Can-Am. Bringing new and innovative ideas to the market has always been something that we have come to expect and for 2019 the big news is iTC. This little acronym stands for Intelligent Throttle Control. It is basically a series of fuel maps controlled via a small switch on the thumb throttle side of the bars.
Controlling the throttle output is key when you might have a dual purpose for your machine or if you want to allow a less experienced rider to take it out for a rip. This type of instant throttle output control is also great for slower trails or when working the ATV. The Can-Am UTV world already uses this similar technology and it was only a matter of time for it to make a lateral move to the ATV side. Unfortunately, for now it is only available on the Outlander 1000R XT.
Other improvements on the 2019 Can-Am Outlander 1000R XT is a completely redesigned suspension, adding a little wider stance. Spreading out the suspension on the latest Outlander will give a better overall stability to the ATV and hopefully tame the trails when the massive power output is released. All of the new 2019 Outlanders are now 48 inches wide from last year's 46 and with a larger rear sway bar including a newly added front sway bar, the goal is to make a better handling and more stable chassis with optimal cornering ability. Can-Am also arched the front A-arms for better ground clearance across the width of the front end, which also adds to the effectiveness of the ATV's 11 inches of ground clearance.
So how did it perform? The terrain we had been given to test the 2019 Can-Am Outlander 1000R XT on was a mix of sand, rock, root and downed tree-filled courses. The trails up to the top of Queest Mountain included a mix of incredible rock gardens mixed with tight trails as well as fast ranch roads, which gave us a great opportunity to really check through each of the maps on the new iTC switch.
Starting the day, we found ourselves on the Outlander 650. While this machine is powerful in its own right, there is no comparison to the brutal output of 91 horsepower of its big brother. Switching over to the new 2019 Can-Am Outlander 1000R XT was shocking at first as the switch was set to Sport mode. In an effort to get a true feel for each step of the fuel maps, we quickly stepped down to Work mode. Work mode is a very smooth yet restricted delivery of power. We can see this being a great position for either a learning rider or a friend who cannot control their emotions when it comes to really whipping the throttle on your ride. The dual keys will also help with that friend. Work mode will also help with, you guessed it, Work. Keeping the throttle trim moderate and predictable is great for those who purchase this beast to pull a fencing trailer or any other task that required power and control. Or maybe that's how they justify the purchase to their significant other. We're not judging.
The trail ride is comfortable in the Work mode setting, but after only a few moments of riding we had to give Standard setting a try. The 2019 Can-Am Outlander 1000R XT when in the new iTC Standard mode delivers power that is manageable and is great for general trail riding or even when you have a little towing to do. This power delivery is very linear and smooth, but does seem to ramp up a bit as the engine revs higher. Although we know the power is given in stages, it was not clear at the time of our ride just how much power is cut/added in each stage. Riding some very tight, tree-lined trails near the home base for our day revealed that we like the Standard mode. It seems to make the Outlander much more controllable in the rough, tight terrain. Once out on the more open trails it was time to get down to business and switch the iTC into Sport mode.
This small, seemingly subtle toggle of the switch opened up a brand-new world of power delivery. The trails became this Outlander's playground and it was in control. This is also where the new suspension design also shined. Utilizing the new arched front A-arms to our advantage as well as the 11 inches of ground clearance, we were able to skate over rocks, roots and the rare but present downed tree or stump. Quick maneuvering on the Outlander proved that control is key with this machine and it feels right at home with anyone wanting to open the flood gate of power.
Getting a handle on a machine stacking up into the 850-pound range can be a challenge. With limited chassis roll due to the latest sway bar improvement and overall width redesign, the new 2019 Can-Am Outlander 1000R XT seemed to not only become more predictable while cornering, but handling was noticeably improved. Not only has Can-Am developed a powerful machine but it is also a feature filled rig.
One thing that we haven't mentioned is the Tri-Mode DPS on this model. The steering felt smooth and trail licks from the tougher rocks and roots did not radiate into our hands through the bars. The preferred setting for this rider is Max. This setting gives you peak steering assist, but you can still feel the trail below the wheels. Did we mention that Over fenders come standard now on the Outlander? They have also changed the bumper ends to all steel and done away with the plastic end caps. This should make those who like to hit everything along the side of the trail happy!
If you take a close look at what Can-Am is trying to build, it is clear that it wants to stand out. Can-Am has reason to be proud of what it brings to the table and the 2019 Can-Am Outlander 1000R XT is a premium machine. This ride was insanely fun, and you would be wise to visit your local dealer to take one for a spin. Just be prepared to almost pinch a hole in the seat because, well, it's just incredible.
Published August 30th, 2018 4:15 PM
Top Brands
Popular Articles