68 Views
New Electric UTV Built Just For Hunters
April 24th, 2019 11:38 AM
Share
We're committed to finding, researching, and recommending the best products. We earn commissions from purchases you make using links in our articles. Learn more here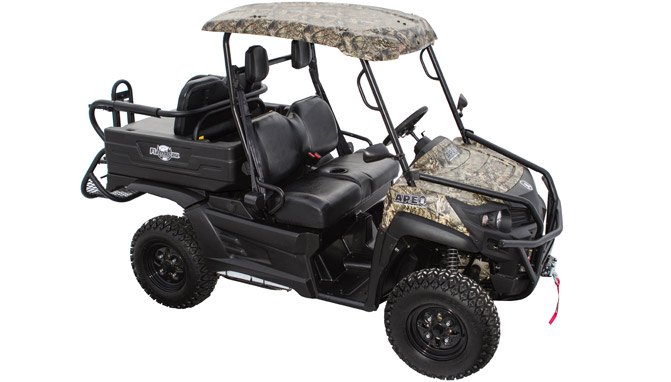 We talk with Flambeau Outdoors about the new electric A.P.E.
The ATV and UTV industry is dominated by major players like Polaris, Honda, Yamaha, Can-Am, Arctic Cat, Kawasaki and Suzuki. It's a rare and pleasant surprise when somebody new joins the fray and the latest to do so is Flambeau Outdoors.
While new to the off-road world, Flambeau Outdoors is certainly not a brand new company. It has been supplying outdoor products to the hunting and fishing communities for decades. It is the hunting community that Flambeau Outdoors is targeting with its first off-road vehicle, the Advanced Performance Electric (A.P.E.) UTV.
We first saw the Flambeau Outdoors A.P.E. at 2016 SHOT Show in Las Vegas as a pre-production unit. While final specs may change when the A.P.E. reaches production, the general idea is an electric UTV built from the ground up for hunters and outdoorsmen.
Flambeau Outdoors showed off the A.P.E. at SHOT Show in Las Vegas, where we took this picture.
The powerplant is a 48-volt high-efficiency AC-induction motor that produces a claimed 26 horsepower. As with all electric motors, peak torque is available from the word go. Flambeau Outdoors says the motor has been tested submersible to 10 feet, so it's not scared of a little water.
Three power ranges regulate battery output: LOW allows for 100% torque and a 10 mph top speed, HIGH allows for 80% torque and an 18 mph top speed, and MAX RANGE allows for 50% torque and an estimated 50 miles of driving on a single charge in ideal conditions. In addition, the A.P.E. offers a Stealth Mode that limits top speed to 3 mph.
Power is produced by eight six-volt (48 volts total) lead acid batteries in the standard model.
As a vehicle for hunters, silent operation is a key tenant of the A.P.E.
"The A.P.E. moves the hunter into the target zone," says Todd Sauey, co-owner of the Nordic Group of Companies. "Gas vehicles do nothing except move the target zone!"
To learn more about the A.P.E., we asked Flambeau Outdoors Director of Marketing, Kim Norton, some questions about the machine and the company producing it.
ATV.com: Why did Flambeau Outdoors want to get into the vehicle building segment?
Kim Norton: It seems a natural progression for us after our parent company, Nordic Group, acquired Tomberlin. Tomberlin was working on an early prototype, which has been re-engineered and tailored to the outdoor enthusiast. This outdoor platform better matched our client base than the traditional EV segment of Columbia ParCar and the E-Merge.
Why an electric UTV?
KN: Combustion had a 100-year head start on us, and our culture is to lead or not enter. We believe we can lead in the electric off-road categories. An electric UTV does something really well … quiet, scent free, massive torque. It delivers a unique experience beyond just going from point A to B. You can talk or engage in conversation at normal levels. Some say it sorta connects you with the woods.
What makes the Flambeau Outdoors A.P.E. different from other electric UTVs already on the market?
KN: Simply stated: It's engineered directly for its purpose. It is not a golf cart or buggy. It truly delivers.
Do the A.P.E. designers have experience producing off-road vehicles?
KN: Yes, the people around this product have over 30 years of delivering products in this category, but that experience is balanced with a team that has an equal experience getting to their favorite hunting spot …we believe our balanced approach delivers more. Combining our involvement in the outdoor and power sports industries, we're approaching a century's worth of experience.
Why does the A.P.E. use lead acid batteries rather than Lithium-Ion?
KN: We are not held captive to any specific battery technology. Some use lead acid, AGM's, and we have also run lithium. Our battery select program allows the consumer to tune the pack to their specific needs. We've engineered in flexibility. Right now lead acid is the standard because it offers by far the best bang for the buck.
How many cycles can the battery handle before performance suffers?
KN: That is totally dependent on the battery technology and the brand selected. And maintenance — the number one cause of premature battery failure is improper maintenance. That's why we're including an advanced fill system standard with this vehicle. No one else does that, and it takes a lot of hassle and guesswork out of maintaining the batteries' electrolyte levels. There are lots of variables, but with proper care, a battery pack should last at least four years.
Will Flambeau offer replacement battery packs? At what cost to consumers?
KN: Our dealers and retailers will. Replacement battery packs range from $540 for a six-unit pack and go up from there.
Who is the target customer for the A.P.E?
KN: The outdoorsman who wants to be quiet, odor free and likes a side by side that is always on ready. No fumes, no gas cans, no noise.
Where will the A.P.E. be sold?
KN: Community-based dealers nationwide.
Are there any plans in the works for another off-road machine?
KN: Yes, this is our first effort in a series. We know a brand is not built on one model. With that said, we also want to hit the target.
Flambeau Outdoors A.P.E. Specs*
| | | |
| --- | --- | --- |
| Top Speed | 18 mph | |
| Range | 50+ miles (will vary based on driving conditions) | |
| Transmission | Drive/Reverse/Neutral with transfer case drive system | |
| Powertrain | On demand 4WD/2WD with front limited slip differential | |
| Motor | Single 48-volt, high-efficiency, AC-induction motor with 26 peak horsepower | |
| Batteries | 8 6-volt lead acid batteries in one 48-volt pack | |
| Brakes | 4 hydraulic discs with regenerative motor braking system | |
| Parking Brake | Dual mechanical rear disc | |
| Front/Rear Suspension | Four-wheel independent wishbone suspension with 6.2″/9.5″ travel | |
| Wheels/Tires | Stamped Steel/25 x 8-12 Kenda 578F | |
| Weight | 1,550 lbs | |
| Length x Width x Height | 107.5″ x 57.8″ x 75.5″ | |
| Ground Clearance | 10.5″ | |
| Cargo Bed Capacity | 500 lbs | |
| Towing Capacity (2″ receiver) | 1,500 lbs | |
| Storage | Glove box and front trunk storage | |
| Controller | Rugged InMotion 350 amp Gen-6 | |
| Charger | Delta-Q automatic onboard 120-volt input | |
| Charge Time | 8-12 hours | |
| Total Battery Capacity | 251 ah per US battery 145XC=12.048 kwh | |
| Windshield | Optional | |
| Mirrors | Driver and passenger sides | |
| Restraints | 3-point seat belts with side leg webbing | |
| Auxiliary Power | 12-volt accessory outlet | |
* Specs may change on final production units Lucas Cooney
I have been working exclusively in digital media since 1997. I started out with TSN.ca, spending nearly nine years creating and editing content on Canada's leading sports website. I left to join VerticalScope, Inc., one of the world's largest online publishers, to start a number of powersports publications. While at VerticalScope, I've helped create and oversee content for a wide variety of different publications, including ATV.com, Off-Road.com, ArcheryTalk.com, Tractor.com, RVGuide.com, and many more.
More by Lucas Cooney
Published February 19th, 2016 1:39 PM
Top Brands
Popular Articles