17 Views
2017 Honda Pioneer 1000-5 Limited Edition Review: First Drive
November 29th, 2017 9:34 PM
Share
We're committed to finding, researching, and recommending the best products. We earn commissions from purchases you make using links in our articles. Learn more here
Fast Facts
Engine: 999cc Parallel Twin
Ground Clearance: 12.2 in.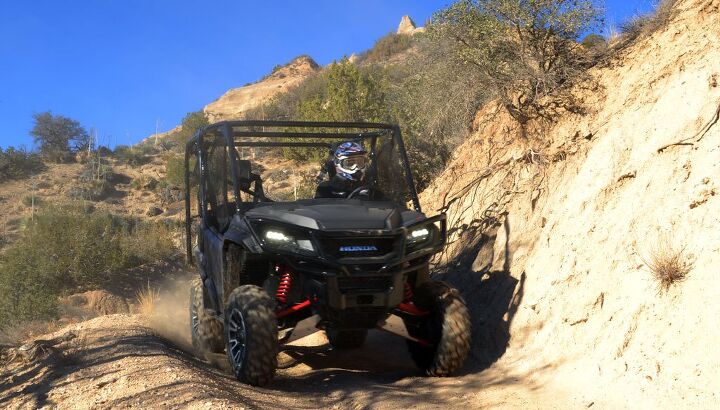 New I-4x4 sets the Pioneer 1000-5 LE apart
Just days after we were sliding around the snow in a Sport UTV, Honda whisked us away to Southern California to test out the new Pioneer 1000-5 Limited Edition.
Though the Pioneer 1000 and 1000-5 have only been out for a short time, the new Limited Edition versions get some cool new technology, which we imagine will work its way down to the other Pioneer models in the coming years.
The primary reason Honda let us escape the cold for a few days is its new I-4WD system, which is available exclusively on the Pioneer 1000 and 1000-5 Limited edition models. According to Honda, I-4WD borrows heavily from its automotive engineers and offers brake traction control, Hill-Start Assist and electronic brake force distribution. With I-4WD engaged (along with the Pioneer's torque biasing limited slip differential), Honda says drivers get the same traction as a locking differential without all the extra steering effort and kickback and the need to stop and engage the differential lock.
How it was described to us by Honda is that when one of the front wheels loses traction and starts to spin, wheel speed sensors tell the brake on that wheel to be activated; the braking force is multiplied by about four times through the torque biasing limited slip differential and is delivered as drive force to the other wheel with more traction.
Honda says its I-4WD system offers drivers the benefits of a locking front differential without having to stop and engage it.
To show it all worked, we spent some time behind the wheel of the Honda Pioneer 1000-5 LE at Hungry Valley SVRA near Gorman, Calif. Hungry Valley is fairly close to Los Angeles and gets a lot of off-road traffic, so some of the trails are pretty whooped out and provided a good testing ground.
Dressed in Matte Gray Metallic paint, the Limited Edition version of the 1000-5 is a really nice looking machine. Other features found exclusively on the LE models are a much beefier front bumper and full aluminum skid plates and A-arm guards, letting you know that this UTV is designed to take some punishment. The upgrade to LE also includes FOX QS3 shocks, illuminated dash switches, cabin storage compartments and cup holders in all four doors,
Aluminum skid plates and A-arm guards protect the underside of the Pioneer 1000-5 LE.
Step inside the Pioneer 1000-5 and you are greeted by a well appointed cockpit. Thanks to thicker seat foam for 2017, the seats are quite comfortable.
We spent most of our time driving the Pioneer 1000-5 LE in I-4WD, though the trails really didn't warrant it. Still, it was nice to know we had access to the same traction of a locking front differential without feeling it in the steering. When you throw in power steering, the driver is saved a great deal of effort while tackling nasty terrain.
One potentially useful feature we were excited to test out was Hill-Start Assist. We found a steep incline and stopped about half-way up. To access Hill-Start Asssist, you just hit the switch on the dash with your foot on the brake. When you take your foot off the brake, Hill-Start Assist will keep the brakes applied and begin to release them once you press down on the accelerator. The whole experience was perfectly seamless and really effective. It's a small thing, but it could come in handy – especially for less experienced drivers.
While we appreciate the new technology, what really set the Pioneer 1000-5 apart from the rest of the Pioneer lineup for us was the addition of FOX QS3 shocks on all four corners. These shocks control 10.6 inches of travel up front and 10 inches out back and come equipped with three pre-adjustable settings. Adjusting the QS3 shocks requires no tools and takes less than a minute to adjust all four shocks.
The FOX QS3 shocks are simple to adjust without tools and did an excellent job of soaking up trail chop.
Compared to the Pioneer 500 and Pioneer 700 models that were also on hand on our test day, the Pioneer 1000-5 was easily the most comfortable and capable machine. The FOX QS3 shocks smoothed out the trail chop and never threatened to bottom out during normal driving. Of course, this isn't a Sport UTV, so you don't want to go hammering through the whoops at full speed. That being said, the Pioneer 1000-5 LE is well suited to recreational driving when you're not getting serious work done.
All of the Pioneer 1000 models are equipped with a six-speed automatic Dual Clutch Transmission, but the LE model comes with a Sport mode, as well as manual paddle shifters. Put the Pioneer in Sport mode and the gears change and much higher revs for slightly sportier performance. That's the mode we mostly kept the Pioneer in, as it resulted in more spirited ride. And drivers can alter that ride even more, as the paddle shifters can override the gear selection at any time (even in automatic mode). According to Honda, the manually selected gear will be maintained for several seconds before the transmission seamlessly reverts to fully automatic shifting.
One thing that bothered some Pioneer owners last year was that the transmission wouldn't remember what mode you were in once you engaged reverse. For 2017, Honda fixed the issue so the system will bring you back to the mode you were in (Manual, Automatic, Sport) after you disengage reverse.
The Honda Pioneer 1000-5 LE will start arriving in Honda dealerships in February. Retail price is $21,599. Lucas Cooney
I have been working exclusively in digital media since 1997. I started out with TSN.ca, spending nearly nine years creating and editing content on Canada's leading sports website. I left to join VerticalScope, Inc., one of the world's largest online publishers, to start a number of powersports publications. While at VerticalScope, I've helped create and oversee content for a wide variety of different publications, including ATV.com, Off-Road.com, ArcheryTalk.com, Tractor.com, RVGuide.com, and many more.
More by Lucas Cooney
Published December 12th, 2016 1:06 PM
Top Brands
Popular Articles