1 View
2016 Kawasaki Mule Pro-DX and Pro DXT Review
December 11th, 2015 11:42 AM
Share
Fast Facts
Engine: 993cc Three-Cylinder Diesel with 38.3 lb-ft torque
Transmission: CVT with High/Low Range, Forward, Reverse
Cargo Bed: 20-square feet with 2000-pound capacity
MSRP: Mule Pro-DX $13,199+, Mule Pro-DXT $14,199+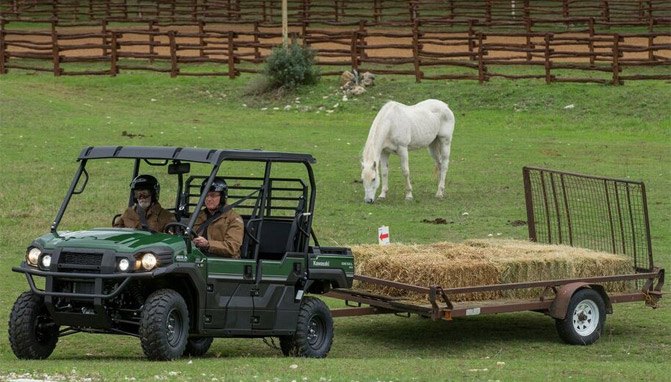 We put the newest Mule to work
Kawasaki breathed new life into its Mule lineup with the introduction of the Mule Pro-FXT about 18 months ago. We liked it so much we named it our 2014 Utility UTV of the Year.
With that success in mind, Kawasaki unleashed three new Mule Pro models for 2016, including the diesel-powered Mule Pro-DX and Pro-DXT. Wanting to show off its new Mules, Kawasaki invited us to a cattle ranch in Texas where we put the Mule Pro-DX and Pro-DXT to work.
While the diesel-powered Mule Pro models look identical to their gas-powered brothers from the outside, the engines tell a different story.
Powering the Mule Pro-DX and Pro-DXT is a 993cc inline three-cylinder Yanmar diesel engine. Kawasaki had to replace its old diesel powerplant in order to meet EPA Tier 4 requirements, which the Yanmar mill does.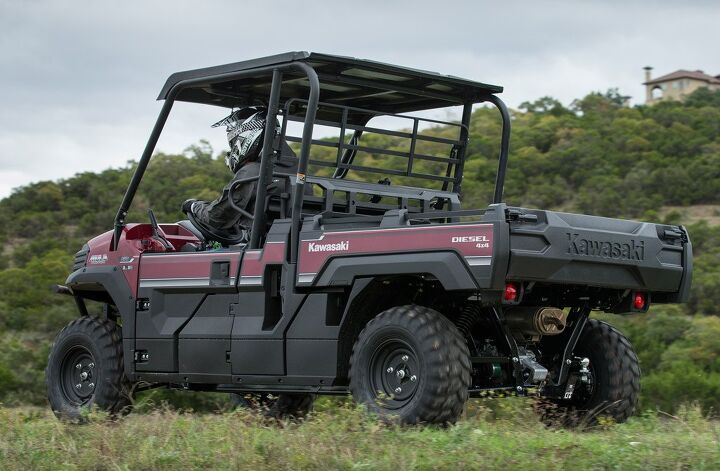 Both the Mule Pro-DX and Pro-DXT are powered by a 993cc Yanmar three-cylinder diesel engine.
This engine produces 38 lb-ft of peak torque at just 2400 rpm. Compared to the gas engine in the Mule Pro FX and Pro-FXT, the Yanmar mill is more robust and has a lower cost of ownership, as it is 10-20% more fuel efficient.
A belt-driven CVT transfers the engine's power to the ground. Kawasaki boasts that its new CVT belt is four times stronger than the old one. As well, Kawasaki notes that a CVT is more efficient than competitive hydrostatic transmissions and easier to service. In fact, just about everything in the powertrain is easily accessible to make service as simple as possible. Kawasaki's thinking was to make the vehicle as easy to service as possible to limit downtime.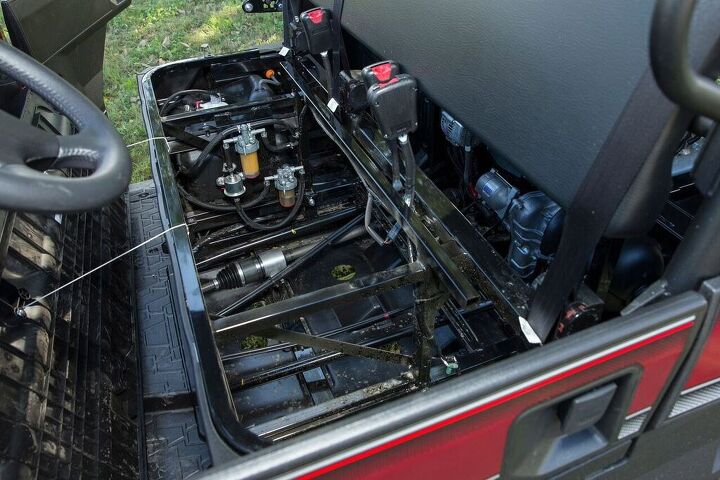 Kawasaki made it easy to access all the service points on the Mule Pro-DX and Pro-DXT.
As for utility, both diesel-powered Mule Pro models have statistics that impress. Users can carry up to 1,000 pounds in the 20-square-foot dump bed. The bed features a steel floor and is big enough to carry a full-size pallet. A dump assist cylinder makes unloading the bed easier and an optional hydraulic dump cylinder (standard on LE models) makes dumping the bed as simple as pushing a button.
When the second row of the Mule Pro-DXT is being utilized, the bed capacity shrinks to 350 pounds. That sounds like a big drop off, but as a comparison the bed in the Honda Pioneer 1000-5 is basically lost when the second row is being used.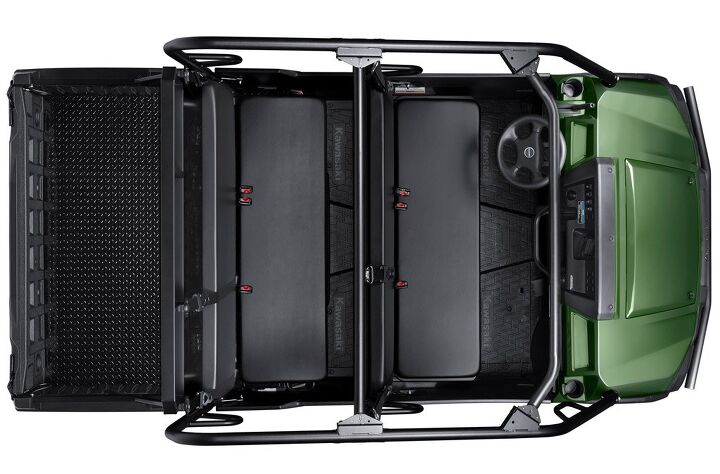 Even with the second row in use, the Mule Pro-DXT offers 350 pounds of cargo capacity in the bed. An accessory bed extender will add more cargo space.
Speaking of the second row, Kawasaki designed it so it sits up higher than the front row, giving rear riders a much better view. We also had a chance to see how easy it is to transform the Mule Pro-DXT from three seats to six seats. Though we didn't have a stopwatch on hand, we'd guess it took under a minute to set it up by ourselves and less than half that time with another person helping. It's a really simple procedure.
For even more utility, the Mule Pro-DX and Pro-DXT can tow up to 2,000 pounds via a standard two-inch receiver.
One of our favorite features of the new Mules is the one-inch KQR steel bed rails that run the full length of the bed on the left and right sides. This gives users an almost limitless amount of space for tying down cargo. The rails are also far stronger than the rings mounted in the bed of other UTVs and are fully compatible with a variety of Kawasaki accessories.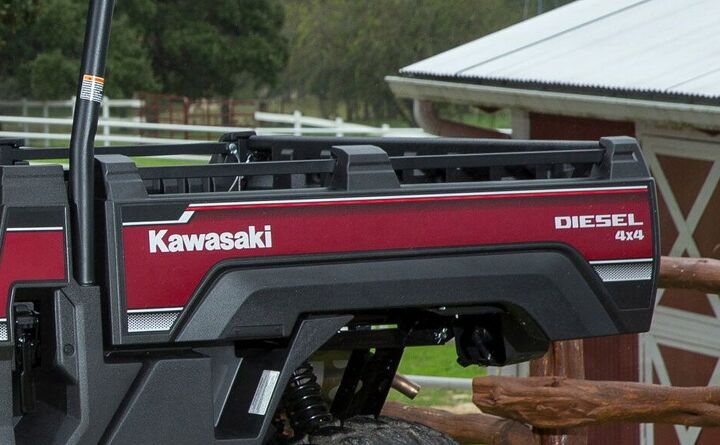 One-inch steel bed rails run down the left and right sides of the cargo bed, making tying down cargo a simple and secure procedure.
Another cool feature is the slots molded into the interior sides the bed. These accept Kawasaki cargo dividers or you can simply make your own out of wood to configure the bed to suit your needs.
Putting the Mule Pro-DX and Pro-DXT to Work
The ranch setting for our Mule Pro-DX and Pro-DXT test was a fitting location. Texas longhorn cattle were abundant and horses were walking around freely as we dodged whatever the animals dropped along their journey. Kawasaki even invited two-time professional bull riding world champion J.B. Mauney along. While he didn't show off his bull riding chops, he did entertain us with a roping exhibition.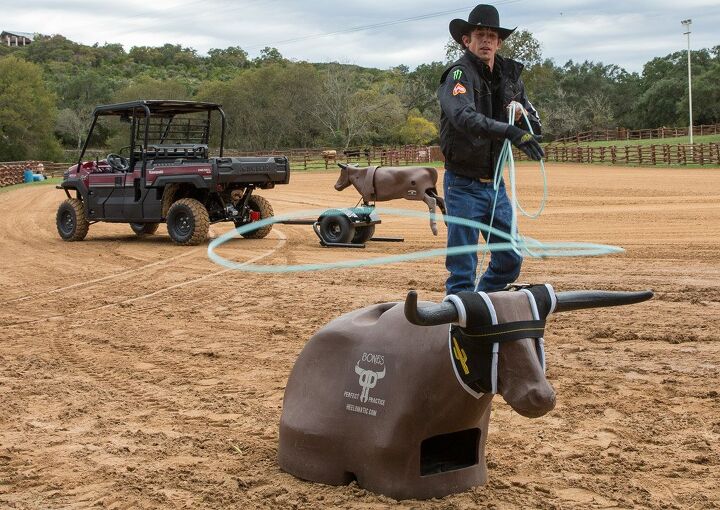 Two-time PBR world champion J.B. Mauney showed off some roping skills.
With the background set, Kawasaki put us and the Mules to work. Our first job was to see how the Mule performed with 800 pounds in the bed. The torquey engine didn't hesitate to get us moving when we stepped on the go pedal and cruising around the 30 mph top speed was effortless. Even with a nearly full bed, the Mule Pro-DX had no trouble tackling a relatively steep climb, but more impressive was how it handled the descent. While going downhill, applying slight pressure on the accelerator activates the engine braking, taking away all the stress of a descent with a loaded machine. If you prefer to modulate the braking yourself, you can certainly bypass the engine braking by pushing down on the brake pedal. However, the engine braking makes the process that much simpler and lets you concentrate on the trail ahead.
Next on our to-do list was towing. Kawasaki had a Mule Pro-DXT hooked up to a trailer loaded with hay. While you can feel the trailer behind you, there is just the slightest lag when getting started. Once we were underway, towing the trailer was largely unnoticeable and the engine braking continued to do its job as we pulled the trailer down hills. The power steering of the Mule really shined during this test. Even while towing a heavy trailer, steering is light and easy, while still providing some feedback to the driver.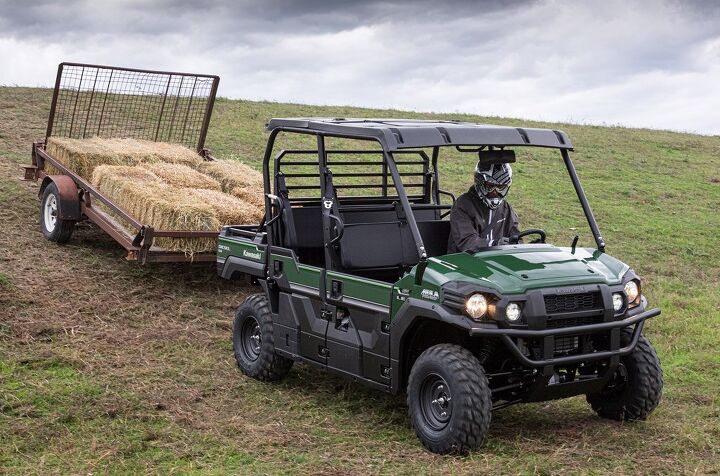 Engine braking takes much of the stress out of tackling descents while towing a trailer or carrying a full load in the cargo bed.
Kawasaki had a Mule Pro-DX hooked up and ready to tow a drag bar along to smooth out a dirt-filled show area. Quite a bit of rain fell in the days leading up to our test, so parts of the show area had standing muddy water. This was the only time we could really feel the Mule Pro-DX working, as the drag bar picked up lots of heavy mud. However, the Mule easily fought through and we never had to engage the differential lock.
Our final job was plowing. Since there was no sign of snow on the ground, Kawasaki laid out an enormous pile of mulch. Impressively, the Mule pushed through all of it without skipping a beat. This Mule Pro-DX was outfitted with a WARN plow that is controlled by a winch. We controlled the position of the winch with a joystick mounted in the fully enclosed (and air-conditioned) cab. If you have to work in the rain or snow, a Mule equipped with a cab would be much appreciated.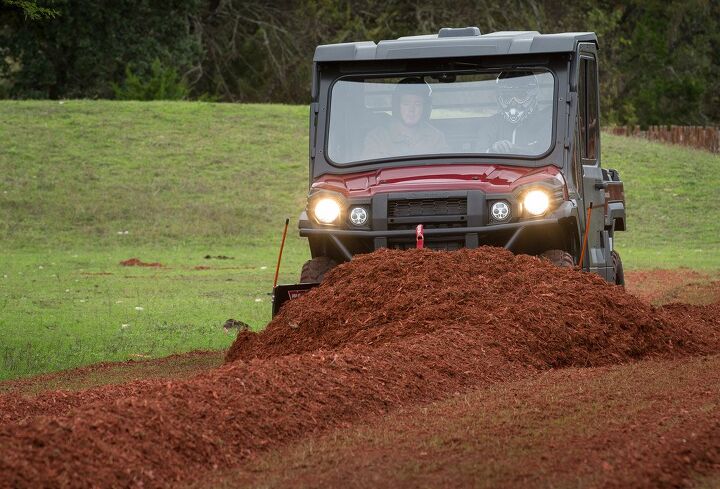 Pushing aside a mulch pile was simple with the accessory WARN plow.
Joy Ride
No matter how work-minded a UTV is, we can't resist going for at least a short joy ride. We took a Mule Pro-DXT for a spin around the vast ranch property. With a 30 mph top speed, this is not a fast machine, but the suspension provides a relatively comfortable experience for driver and passengers.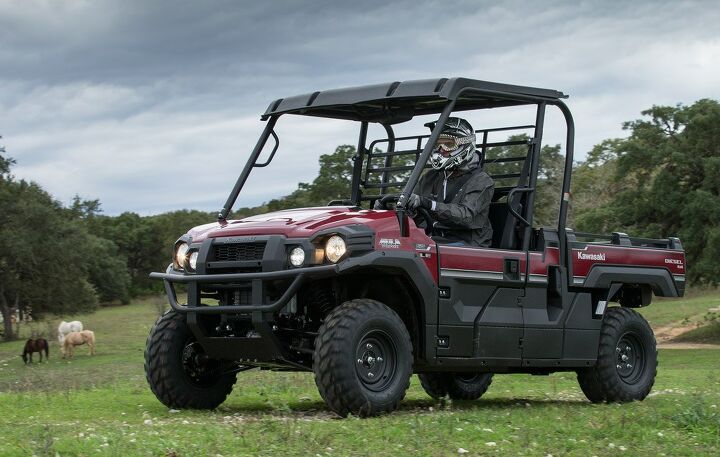 Because of its bench seat, you don't feel secure like you do in a Teryx with its bucket seat. But considering what the Mule Pro-DXT is designed to do, that's a small price to pay.
For the occasional ride around some reasonably smooth trails, the Mule Pro-DXT is more than up for the job.
Conclusion
While we may never be a proper Texas cattle ranch hand, it's easy to see why the Mule would be a useful tool for the job. It's an easy machine to maintain and can work like few other Side-by-Sides we've ever tested. For anybody looking for a hard-working UTV, the Kawasaki Mule Pro-DX and Pro-DXT are well worth exploring.
Published November 27th, 2015 3:27 PM