1 View
2018 Kawasaki Mule Pro FXR Accessories
June 7th, 2018 11:04 AM
Share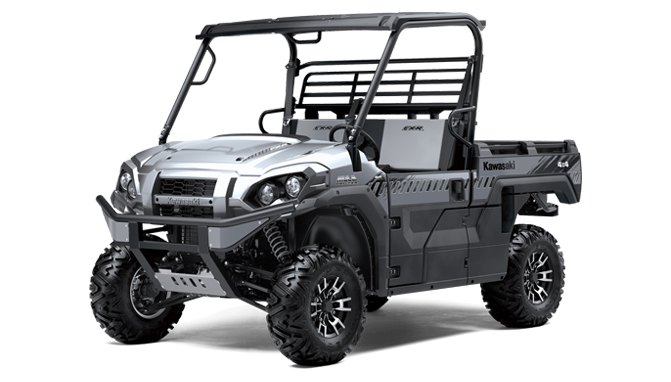 Kawasaki Mule Pro FXR accessories are plentiful whether you're looking for added protection or increased storage capacity.
The Kawasaki Mule has long been a favorite among farmers, ranchers and anyone in need of a serious UTV for a serious job. Whether you're making tracks around a farm, towing a load on a job site or hauling in a trophy buck from the woods, here are three Kawasaki Mule Pro FXR accessories that we think make complete sense for anyone who plans to put their Mule to work.
Bad Dawg Rear Cargo Rack
More space is never a bad thing and this rear cargo rack from Bad Dawg Accessories allows you to increase the storage capacity of your Kawasaki Mule Pro FXR. Constructed of high grade American steel, all components are laser cut for a precise fit to ensure consistency and top quality. You can pick up the Bad Dawg Rear Cargo Rack for the Kawasaki Mule Pro FXR for $349.99. Part#: 693-6820-00. Learn more here.
Brush Guard
Kawasaki Mule Pro FXR accessories can add form as well as function and that's exactly what this factory add on brush guard does. Its aggressive styling significantly enhances the look and laser cut, formed steel greatly improves the protection of the front of the vehicle. You can order this Brush Guard direct from your local Kawasaki dealer for $339.95. Part#:99994-1030 Learn more here.
UHMW Skid Plate Set
Protecting the belly of your side-by-side should be a paramount concern for any enthusiast and if you plan to put your Kawasaki Mule Pro FXR to work, even more so. This lightweight UHMW full body skid plate is a direct replacement for the OEM unit and provides much needed protection for your vehicles chassis and drive train. The two piece skid plate set retails for $219.95. Part#: 99994-0957. Learn more here.
Published June 7th, 2018 11:04 AM
Top Brands
Popular Articles