70 Views
2016 Polaris RZR XP 4 Turbo Review
October 17th, 2016 6:20 PM
Share
We're committed to finding, researching, and recommending the best products. We earn commissions from purchases you make using links in our articles. Learn more here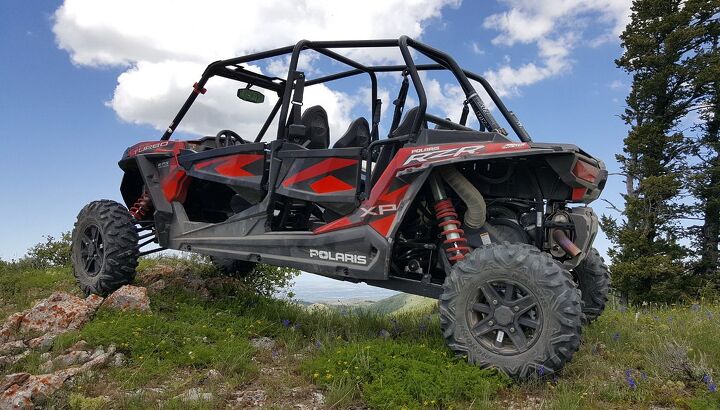 Four seats, turbo boost and yee-haw!
When Polaris released its turbocharged RZR XP, we sat up, straightened our spine and said, "Now that's what we're talking 'bout."
When riding in the deep backcountry in elevations greater than one mile, boosted motors – turbocharged or supercharged – make perfect sense to those of us who occupy the cheap seats in the Rocky Mountain stadium that reside above one mile in height. We like these seats, as we have an awesome view of many valley floors.
Polaris supplied us with a 2016 RZR XP 4 Turbo EPS. With four seats, pals and family members can enjoy the ride.
We have grown fond of our RZR XP 4 Turbo, so much so that when it comes time to part ways and return it to Polaris' home, we will feel like a parent sending their kid off to kindergarten. Unfortunately, at the end of the day this RZR XP 4 Turbo will not step off the bus to our open arms. Sniff.
The RZR XP 4 Turbo has an open cockpit where its roll cage pillars do not block driver and passenger view.
The Turbo RZR XP 4 arrived in our backyard in early May, just prior to our adventure to Moab, Utah for Rally On The Rocks. While in Moab, we threw the XP into boot camp and said to it, "Climb that wall." It did.
We asked much of the RZR as it rock-crawled along the trail "Cliff Hanger." On this trail, with the four Maxxis Bighorn tires dropped to six pounds per square inch (PSI), the RZR XP 4 Turbo, with its transmission set in "L" (low) and its differential lock engaged (supplying power to the front wheels), the Matte Sunset Red RZR XP climbed up and over many gnarly stair steps with little tire spin. Additionally, drops were uneventful, which helped make for an enjoyable ride.
The Maxxis Bighorn tires held up when bouncing over rocky obstacles. Best to set tire PSI at about 6-8 pounds when rock crawling or climbing.
Cliff Hanger delivered knockout hits to many UTVs – some expensive and highly modified UTVs. But for us, guest test rider, Danny Stowell and myself, every rock, drop, climb and wall, was ascended and descended with no worry. We had been taught by some of the best rock crawling masters, and with that, our sweet RZR XP 4 Turbo – bone stock and with only 12 miles on it at the time – lumbered up and over like a light footed mountain goat. No tore tires, broken axles, twisted half-shafts, bent A-arms or trailing arms. One might say, "You didn't push it hard enough." Oh we did….. Come inspect the chassis' bottom side.
Before we move on to more long term rider notes, let's give a few specifications.
The Turbo RZR XP 4 has a ground clearance of 13.5 inches, its overall length is 146 inches and its width is 64 inches. Its wheelbase, from center front wheel to center back wheel, is 117 inches.
The RZR XP 4 Turbo has clean lines and a menacing look and stance. Though good looking, it is not meant to be garage queen.
Powering the RZR XP 4 Turbo is a 925cc, four-stroke, twin cylinder, double overhead twin cam, electronic fuel injected motor that produces 144 horsepower. But this 144 horsepower is not just for low valley riders; it is available for mountain climbers as well as that turbo charger makes sure you don't lose any power at elevation.
Motors generally lose about three to 3.5% of their horsepower for every 1000 feet gained in elevation. So, at 7,000 feet, a non-boosted 100-horsepower motor is actually 79 to 75.5 horsepower. Boosted motors, like the 144-horsepower the Polaris ProStar Turbo engine, do not suffer these power losses at high altitude.
Transmission is Polaris' PVT (Polaris variable transmission) with P/R/N/L/H – park, reverse, neutral, low and high. It has its own unique drive belt to withstand the clutches squeeze forces. We never experienced a belt failure or had belt slippage.
An open and air cockpit is nice. On dusty days a windshield would be nice.
Front tires are 29 x 9-14 Maxxis Bighorn, while the rear tires, also Maxxis Bighorn, are 29 x 11-14. The four tires wrap around black-out cast aluminum wheels; these are non-beadlock rims. We would love to see Polaris include beadlock wheels on this torque-producing monster of a UTV.
The front suspension is a dual A-arm unit with 2.5-inch FOX Podium internal bypass shocks with compression-adjust reservoir knob. It comes with a stabilizer bar and has 16 inches of travel through its stroke
Out back, the rear suspension is a trailing arm design with 3.0-inch FOX Podium internal bypass shocks. These shocks, like the front, have a compression adjust remote reservoir knob. To limit tire scrub while diving into and out of bends, the rear has a stabilizer bar to work in tandem with the front. Rear suspension travel is 18 inches.
The Fox Podium Internal Bypass shocks with adjustment knobs allowed us to dial in the resistance needed for load and terrain. These are very capable shocks. We never experienced shock fade.
We used every inch of suspension travel when bounding up over the rocks at in Moab…and at Rally in the Pines and while mashing our speedy right foot on the trails in Alpine, Wyo. and Bone, Idaho, we fiddled with the adjustment knobs to set the front and rear-suspension to our liking. When the OEM provides knobs, be like a two year-old and twist them.
The drive system has robust half-shafts mated to the on-demand all-wheel drive system, which we put to the test at every opportunity. Loose rocks, mud, locked down boulders, stumps and dead fallen Douglas fir trees kept us honest and the RZR in challenge mode; nothing broke.
Here's what Jarvis Webb, test rider, wrote after a weekend in Challis, Idaho riding in loose dirt and on high elevation trails with his family:
"Our family had a blast on the turbo RZR XP. It surprised us with its comfortable ride; the front and rear suspensions are amazing. We were able to travel as fast as we wanted on any terrain without being bounced out, having the chassis bottom-out. The RZR had ample power and the handling capabilities to go where we wanted. My recommendation is to offer a full bench seat in the rear, with three children and my spouse we were one seat and seatbelt short. Also, with no front windshield, talking to each other and hearing others speak, was difficult."
The Red Rocks in the Rockies, be it in Utah or Idaho, are great places to go RZR riding.
Another test rider, Kevin Allred, wrote:
"My confidence in the turbo RZR XP is profound, as I drive a 900. I find the power steering to deliver the right resistance and its seats to be comfortable. But, being a father and grandfather, I was rather taken aback when I learned of the XP Turbo's fire recall. Yet, with it all, came a comfortable ride and confidence in the RZR's motor, its suspension, its handling and its steering."
The Elephant in the Room
We must address the elephant in the room – the Polaris Stop-Ride/Stop Sale Advisory for 2016 RZR Turbo models due to a potential fire hazard sent July 25, which came at a time when Polaris was planning on issuing its marketing information on its model year 2017 RZR XP Turbos. We believe this was a bad day for the sales and marketing folks at Polaris. We received the information from Polaris with a request to hold all riding until a fix occurred. Being compliant, we did until September 15, 2016; almost two months. Action Motor Sports, Idaho Falls, Idaho, performed the recall fixes. And good heavens it was nice to have the RZR back.
Polaris assured, from production and through its recall, the RZR XP 4 Turbo had sufficient heat shielding.
We never had a hint, not one, of any fire danger or damage on our unit. None. Other than rear doors that rattled from loose bushings and endless front suspension squeaks, the RZR XP 4 Turbo was flawless, and we have rock hopped, stump jumped and mogul bashed it without mercy. However, Polaris did discover an issue and addressed it. Owners of 2016 RZR Turbo models also received an extra 12 months of warranty coverage for the inconvenience. You can read more about that here.
RZR XP 4 Turbo Wrap-Up
As of this writing, our Polaris-supplied RZR XP 4 Turbo has 489 miles on it. It would have been doubled that had it not patiently sat in its garage.
This RZR XP 4 Turbo was mechanically sound, and meticulously maintained. No hint of smoke or fire, and we would trust it day-in and day-out. It is a machine very much worthy of ownership.
Near MacKay, Idaho, the RZR XP 4 Turbo spent much time exploring old ghost towns and abandoned mines.
The 2016 RZR XP 4 Turbo served us well. The tires, motor performance and suspension package proved stellar. We made some adjustments to shock pressure for terrain, and often returned the Walker Evans to factory-set position when in general all-around conditions.
The drive system, clutches, belt and shafts, delivered turbo power with no faint; no clutch or belt slip, and the drive shafts held tough. We also compliment Polaris on its engine breaking. On steep descents, with transmission set to "L", and with a tap of the throttle, the RZR would slow and give the driver control and confidence; its engine braking system worked well.
With the 2017s upon us, this is what we recommend Polaris address. Front suspension squeaks and squawks. Though the front suspension worked well, the constant squeaking was present. Rear door hinges need tighter tolerances or better hinge bushings. Rear door rattle played in unison with the front suspension squeaks. The EPS jumped out of service twice on us, and we had to shut off the RZR, start it, and let the engine codes and EPS reset; once required disconnecting and reconnecting the positive battery terminal; a RZR without power steering is not fun RZR riding.
On two outings, the EPS quit functioning. But with a motor shutdown, and battery disconnect and reconnect, the EPS came back to life.
Also, the seats, we believe, could/should be a four-point harness system and with that, safety nets bolted to the ROPS (rollover protection system) and hooking to the doors. In Moab, we witnessed folks sticking their arms out their vehicle began to roll over. Another recommendation is for Polaris to add to the standard package, side mirrors and a rear view mirror. Backing out of trailers, out of a garage or shop can be oops-filled with nearby parked trucks.
We mention, perhaps as an early buy option (similar to Polaris' early buy options on its snowmobiles), a roof, or rear bench seat with middle seat belt.
When out trail exploring, getting a RZR XP 4 Turbo muddy makes it your buddy. Note up front the very good and stout Fox Podium. Shock pressure is easy to get dialed in thanks to the adjustment knobs.
Of course, these owners can purchase all these from Polaris and we give a shout out to Polaris on offering these.
Polaris supplied us with a rearview mirror that is a video recorder, where a front camera peers forward from the mirror, and a rear camera peers from the backside. This, along with a two-way communication radio headset from PCI Race Radios, a ComLink RTX InterCom and UHF Radio, which Polaris too also supplied, made the boosted RZR XP, a part of my family, as we locked and loaded as ATV.com testers. We will report about these units in a "How to Install" article. Published September 26th, 2016 4:13 PM
Top Brands
Popular Articles