67 Views
2018 Polaris Ranger XP 1000 Review
October 18th, 2017 11:22 AM
Share
We're committed to finding, researching, and recommending the best products. We earn commissions from purchases you make using links in our articles. Learn more here
Fast Facts
Engine: 999cc Inline Twin
Towing Capacity: 2,500 lbs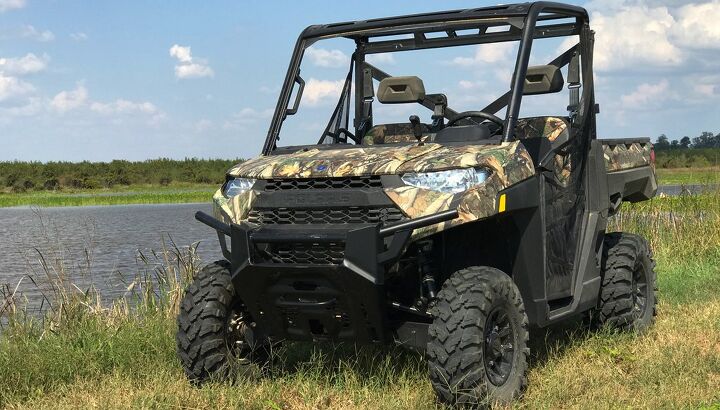 We spent two days putting the new 2018 Polaris Ranger XP 1000 to the test at a massive hunting property in Louisiana.
If one thing is for certain in the world of off-road it's that UTV manufacturers are not slowing down a bit. There are new machines for Race, Sport riding and Utility working vehicles coming out of the woodwork. In fact, some of the same engines from the racing platforms are drifting into the hard-working class of UTV. One segment that gets a massive amount of use from the Utility side of the industry is hunting and land maintenance. These guys push their machines to the limits of hauling and gear management as well as conditional wear that would stifle the weaker machines in a New York minute.
Polaris is one of the many innovators for this crowd and over a short two days of riding we found out just how the new 2018 Polaris Ranger XP 1000 would do in simple initial testing. Getting to know a new machine is like finding a date at prom in that you must first dance around the make-up and shimmering dresses to find that quality, reliable and willing person to take to the big show. Polaris has created a machine with so many options that some consumers would say might take it from dating to marriage material.
Our journey with Polaris and the new Ranger started on the breaking edge of Larto Lake in Louisiana. Here stands a powerful force in its own right and it is known worldwide in the Duck hunting community as Honey Brake. This Jonesville Louisiana hub for incredible hunting is not only a great place to enjoy your off time, but it has much more going on than just the 60 days of duck season. These Guys and Gals use their machines in everyday jobs so hearing a man say, "we couldn't do it without them" makes a solid statement in my mind. There are waterways, levy repairs, fencing, gates, and hunting locations that have to be repaired or monitored. Not to mention hunting dogs that need training in the field, feed and seed that has to be distributed and many tasks around the 20,000-acre facility that require dependable transportation that excludes most jeeps and large trucks. Needless to say, the location gave us the material we needed for a proper introduction. So now that we have the stage set for us it was time to get to know this Ranger and its 2018 features.
One thing that Polaris never ceases to strive on is the consumer use integration aspect of its utility machines. Starting with the cab of the 2018 Polaris Ranger XP 1000 you have a little easier egress into the seating as the lower third of the entry has been pushed back just a little, which opens up a line for getting inside.
Once seated in the newest Ranger you feel at home and confident that no matter the job it's going to be a good day. Massive amounts of storage is found in the cab, including dual (upper and lower) dash compartments and a very large cubby in the lower dash area that will hold lots of trail goodies. The passenger seat folds up and out of the way for that extra cargo area or maybe for a working dog during the fall hunts. The amount of attention to detail in the cab is amazing. As if you didn't already get lots of storage, there is another small compartment under the center and passenger seat.
When you get outside the 2018 Polaris Ranger XP 1000 and see its dressage you will notice many little items that make this machine just a tad better than previous years. As for service, the bed lifts up easily and access to the engine makes maintenance simpler. The bed has even more dividers molded into its interior to really compartmentalize things you need for certain tasks when working is the goal. Stepping around front we noticed the center grill is removable to access the radiator for cleaning. In the mud and reeds of south Louisiana that is a very good feature.
Under the small hood we found an even more interesting component. The engineers at Polaris have built these electrical busses for adding accessories. They make adding things like winches and lighting an incredibly simple procedure. Wires for the winch power simply bolt to the correct posts and the control wires plug into the bus panel. Switches are already wired ready and a winch can be functional in an hour with the right mechanic. This is great news and they have an accessory bus panel for the roof that bolts to the upper "B" pillar for those powered add-ons.
Obviously, power is not going to be a problem in the Polaris Pro-Star family as some of the most powerful engines in the industry reside here. The sheer grunt of the Inline Twin gave us some insight as we towed a very large round bail of fresh hay around Honey Brake. Granted we were on semi-flat roadbeds, but it did still allow us to feel the towable power built into the 2018 Polaris Ranger XP 1000 as well as the braking to stop that load.
Power delivery is very smooth and linear with the throttle delivery from zero to moving transition being much smoother than we remembered from previous models. It was very controllable power. Similar features carried into 2018 from previous models include the three positions of throttle control or delivery. The switch in the dash gives you the Performance/Standard/Work options to help dictate just how much of that Pro-Star power gets pumped into the turf below. Another very important item that some did notice, ourselves included, was the quiet cab. Even with an open protective structure and no roof or windshield the noise level was well within reason for conversation.
So, we were invited out to Honey Brake in hopes that we would not only ride the latest in Polaris's army of machines, but hopefully get quality time behind the wheel while hunting some duck and pigs. With the temperatures stifling the early season Teal numbers, some did manage to harvest a few ducks. The Ranger makes a perfect vehicle for hauling gear and people to the blind as well as carting decoys or any other gear for that matter.
Those same temperatures made it tough to run the hogs with Honey Brake dogs because it just became too unsafe for the health of those incredible animals. Because of this we had even more time to ride. Honey Brake terrain is mostly flat hard packed levies and ranch roads, but in spite of this getting to know the 2018 Polaris Ranger XP 1000 was very enjoyable. Seating is very comfortable and getting into and out of the machine is also stress free. Luckily for several of us there was an air-conditioned Polaris Ranger XP being swapped around during the ride and that was a very welcomed treat. It never ceases to amaze me when trying to guess what Polaris will come up with next.
Seeing that some of us were looking for even more adventure in our Rangers, Honey Brake Point man Drew Keeth lead us out to where the alligator were plentiful. He even allowed us to take part in towing a large eight-foot gator they had caught from the water using the two-inch receiver on the rear of the machine. This was a blast as most had never seen this kind of animal up close. Of course, the Ranger had no problem doing this and probably didn't even know the animal was back there.
So overall the 2018 Polaris Ranger XP 1000 is just what we would expect it to be. A reliable, powerful machine and well built for the demands of utility use or recreational riding. I'm personally not 100% sold on the new look, but as for functionality it is a home run for Polaris and consumers everywhere. Published October 12th, 2017 10:42 AM
Top Brands
Popular Articles