118 Views
2022 Polaris GENERAL XP 1000 Deluxe Ride Review
February 24th, 2022 6:23 PM
Share
We're committed to finding, researching, and recommending the best products. We earn commissions from purchases you make using links in our articles. Learn more here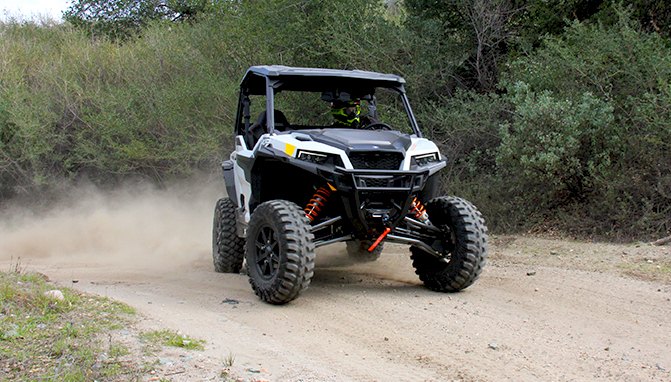 If you're on the hunt for the perfect UTV, you've got your work cut out for you. The first thing you need to figure out is what the perfect UTV means for you. Are you strictly looking for the hottest Go-Fast SxS available, something to cruise around farm property capable of carrying heavy loads, or one that offers a good mix of performance and work capability all in one?
If you want high performance, the Polaris RZR is the cream of the crop and a great choice. The RZR lineup provides plenty of powerful engine options, and long travel suspension packages that allow drivers to blitz through the most rugged terrain you can find. The downside to a machine like the RZR is that it's not necessarily designed for anything other than going fast. The interior caters to those looking for more of sporty feel, and the "bed storage" is minimal if you're looking to carry anything more than a cooler or a spare tire that needs to be adequately secured to the rear bed or risk it slipping off the back of the unit.
On the opposite end of the spectrum, utility focused UTVs like the Polaris RANGER are great workhorses. The RANGER has a great load and towing capacity, a massive cargo box, and a cab that allows you to easily enter and exit quickly for when you're working. The downside is that while they're great utilitarian vehicles, they definitely lack in the fun department with drivetrain and suspension packages that are suited for stability and torque than adrenaline pumping performance.
It seems as though the engineers at Polaris have taken this into consideration when they created their GENERAL UTV lineup. The GENERAL was created to fill the gap for enthusiasts who wanted a machine that provides the perfect mix of a work and play vehicle all in one. With models that range from mild to wild, with different suspension packages and interior options, available in both 2 and 4-seat options, there is surely a GENERAL option to suit anyone's needs and desires.
Pre-Ride Inspection
I was fortunate enough to get my hands on a new Polaris GENERAL XP 1000 Deluxe to put through the paces at my local stomping grounds. Living in San Diego, I've got access to some of the best riding locations anyone could ask for at my fingertips. Glamis dunes is only 2 hours away, the tough desert terrain of Ocotillo, where many of the fastest desert racers test, is even closer, and Corral Canyon OHV area is just about an hour from home. This is where I opted to take the GENERAL to test its comfort and capabilities. The terrain consists of fast fire roads, yet has plenty of off chute trails that offer some of the best rock crawling trails in SoCal.
Even before taking this unit out to the trail, I spent some time in my shop to get comfortable with the technology that this particular unit was equipped with. The GENERAL XP 1000 Deluxe model is equipped with Polaris' popular Ride Command system, which is like an on-board GPS system on steroids. The 7" screen is perfectly at home in the dash console of the GENERAL, and is pre-loaded with over 75,000 miles of trails for you to enjoy. This gave me the opportunity to locate the ride area that I planned to test at, and see the trail options that were available. It had been years since I'd ridden at Corral Canyon, so this made it nice to plan the day. Another feature of the Ride Command system is that if you had a group of friends with Polaris UTVs that are all equipped with the system, you'd be able to see where each was located on the live GPS map. This makes keeping an eye on riders in large groups much easier.
Polaris' Ride Command system comes preloaded with over 70,000 trails across North America. This makes navigation a cinch when you're in a new area. The system also controls the Rockford Fosgate Stage 3 Audio System that allows you to enjoy your favorite music on the trail.
The 7" screen in the system also can be toggled to give you a digital display of your critical engine data. You can see coolant temperature, fuel level, vehicle speed, ambient temperature and even your direction of travel. I got lucky in that the General XP 1000 Deluxe package comes complete with a Stage 3 Rockford Fosgate audio system that is also controlled through the Ride Command system. By syncing my iPhone with the Ride Command system via Bluetooth, I'd be able to cruise the trails listening to my favorite tunes, and even before then I enjoyed using it in my shop while I was working on other projects. If you choose to use it for your shop stereo, just be sure to monitor your battery level.
Ride Day
The day to ride came and after a short drive, my friend and I made it to Corral Canyon OHV and unloaded the GENERAL. This was my friend's first time seeing the unit, so I had him give it a quick once over since he'd handle some of the driving responsibilities while I'd be shooting photos. The first thing he noticed upon sitting in the cab was the plushness of the seats. They feel semi-sport minded, yet have some very plush padding in them, which would make for a comfortable day of riding. The half doors that come from the factory are easy to open and close, and provide a level of comfort and security that you miss on units that don't have them.
The GENERAL XP 1000 Deluxe sits on 30" Pro Armor Crawler XG tires that have an impressively aggressive tread that can handle everything from slick mud to rubber ripping rock from some of the trails we were planning on tackling today. The 30" tires mated to the high-clearance a-arms provided over 13" of ground clearance while the design of the unit left it with a comfortable low center of gravity. The a-arms and Walker Evans Velocity Shocks were designed to provide 14" of suspension travel, which should make for a comfortable ride, a poly sport roof provides protection from the sun and flying trail debris, and the included low-profile sport bumper protects the front end, which also houses a Polaris 4,500 lb HD winch wound with synthetic rope.
At first glance, you can tell that the 30″ Pro Armor Crawler XG tires mean business with their aggressive lug pattern. Not only do they provide excellent ground clearance, but also the traction you need in every kind of terrain.
After buckling ourselves in and strapping on our helmets, we did the next most important thing. Sync up the phone for our trail tunes. I'm a firm believer that not everyone needs to hear what I'm playing when out in the wilderness. The nice thing about the Stage 3 Rockford Fosgate stereo system is that the speakers are strategically placed so you get great sound in the cab without polluting the area around you. To some this isn't a big deal, but some people around you might appreciate it. As we were rolling down the rain rutted fire road, I familiarized myself with the throttle to see how responsive it was. The power delivered from the 1000cc ProStar engine was smooth. Whether you rolled into the throttle easy or gave it a quick stab to change the handling of the GENERAL, power got to the ground how you wanted and when you wanted.
If you want a good mix of performance and work in a UTV, the Polaris GENERAL XP 1000 Deluxe delivers! This unit provides a sporty feel to pump up your adrenaline, yet still has the capability of doing work or carrying loads for long exploration trips.
It's easy for some UTV manufacturers to put a large motor in a unit and neglect the handling, making for an uneasy driving feeling. That was not the case with this UTV. The suspension design of this unit provided a plush ride at speed as we were running through dried stream crossings, deep rain ruts, and even felt planted as we drifted around corners. The Walker Evans easily soaked up every bump in the road. Where we did feel room for improvement was a slight buck from the rear end when launching off some rollers at speed. For a suspension package that doesn't have adjustable shocks there isn't much you can do, but fortunately there are plenty of aftermarket options available to fix the problem if it's that much of an issue to you. You just have to remember that you're not behind the wheel of a RZR so don't expect the handling of one.
Feeling comfortable with the faster handling capabilities of this SxS, we wanted to see how well it did at lower speeds in more technical terrain. This is where the Ride Command really came in handy. All of the pre-loaded trail maps let us know which direction to go to find these side trails to have some fun. We hit it hard right out of the gate by taking on some of the black diamond trails that put the low speed prowess and ground clearance to the test. I was pleasantly surprised that we weren't banging off of the granite obstacles we made the GENERAL claw its way up. The 30" Pro Armor Crawler XG lived up to their name and provided excellent traction and that 13.5" of ground clearance made traversing boulder laden trails easy. There was only one portion of a trail, where we were following a group of Jeeps, that posed any problem.
Not only does the Polaris GENERAL XP 1000 Deluxe handle well at high speeds, taking on advanced technical rock crawling trails was challenging and fun. If you get in a bit over your head on some obstacles, the Polaris 4500 lb winch is there to help, but we didn't need it on our ride.
One by one, we watch these modified off-road rigs attempt to climb a 10' rise in the trail that was covered in planted boulders and had a mud pit at the base from the previous week's rain. Once it was our turn to make the climb, we used the power of the ProStar engine to give the front end just enough of a pop to get over the first boulders and then the tires started doing their job allowing us to claw our way to the top. There was a little bit of banging, but after we took a break and inspected the underside of the GENERAL, there was minimal scraping.
The rest of our ride was a walk in the park as we made our way back to the trailhead. After we came to a stop, I checked out the information on the Ride Command system that I had set up to track our ride progress. We were on the trail for just over 4 hours and covered roughly 20 miles. It showed every trail that we had gone on, and if I had wanted to return to any of the specific trails, I could have made note of it in the system to easily navigate back.
Overall Opinion
The Polaris GENERAL XP 1000 Deluxe is one of the most versatile UTVs you can find on the market.
I'm a huge fan of UTVs, and fortunately have had the opportunity to test units of all kinds from most manufactures. I've especially enjoyed the performance of the RZR line, and have been to almost every product launch since the debut of the original 800, but for me the time has come to slow down and enjoy the scenery around me driving down the trails rather than seeing it speed by. The GENERAL XP 1000 Deluxe gives me exactly what I want without having to completely sacrifice the performance and excitement that I liked in a RZR. This unit allowed me to enjoy everything from technical rock crawling to blazing down fast trails all while providing a plush ride and the ability to load up plenty of provisions in a spacious cargo bed. The only thing that could make this unit better is the addition of 2 more seats, and that's readily available. Given the chance to get one of those, I've got some great ideas for going off the grid for a few days with only what we can carry.
Additional Resources
Become an ATV.com insider. Get the latest news first by subscribing to our newsletter here.
We are committed to finding, researching, and recommending the best products. We earn commissions from purchases you make using the retail links in our product reviews. Learn more about how this works. Published February 14th, 2022 2:42 PM
Top Brands
Popular Articles