9 Views
2020 Kawasaki Teryx KRX 1000 Review: First Drive
October 11th, 2019 2:02 PM
Share
We're committed to finding, researching, and recommending the best products. We earn commissions from purchases you make using links in our articles. Learn more here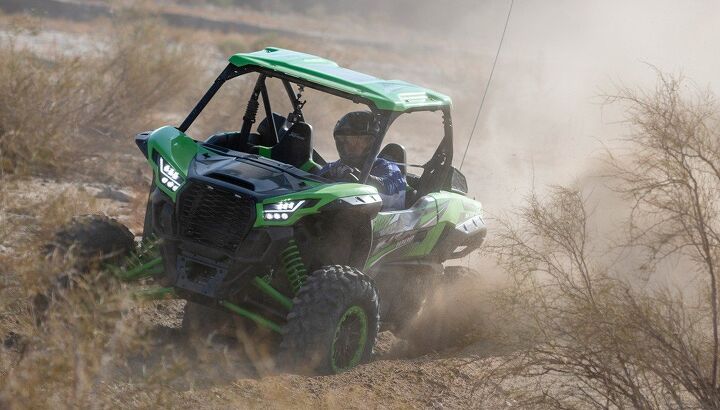 Our thoughts after our first time behind the wheel of Kawasaki's Sport UTV
As we flew into the Palm Springs, California airport, it was apparent that Kawasaki had all but taken over this town. The buzz for new 2020 offerings had been started just a few days earlier and the latest product to wow the dealers as well as a bus load of jaded journalists was here, and it was only a matter of time before we would find it. As we walked into the auditorium and caught our first glimpse of the brand new 2020 Kawasaki Teryx KRX 1000, my first impression was just how big the machine looked. The aggressive stance and bright green plastics just draws you in. We all know the specs on this new SXS from Kawasaki by now (if not, check out our preview story), but what I think no one expected was that we would actually get to drive this new rig here at the dealer show. That's where it gets interesting.
Kawasaki Teryx KRX 1000 Unveiled
Just a few miles out of town on a private spot of desert land, Kawasaki created what I would consider to be the best dealer show demo track ever to be constructed. The long sweeping turns, deep rutted switchbacks and some massive rock gardens were all created to give eager journalists a good tease to what Kawasaki had created. One obstacle, that was all hand-built mind you, was an 80-foot rocky hill climb with a very steep drop into the desert floor below.
Kawasaki created the best demo track we've ever seen.
So just how good is Kawasaki's Teryx KRX 1000? Even though we only had a brief test, here is what we did notice about the new SXS. The cab is massive. There seems to be enough room for just about any driver and passenger. The seats seem to slide forever rearward to make legroom. As a larger rider, I did have to push the seat back a good bit so my knee wouldn't hit the edge of the center console. This was mostly happening on the steep descents. The full doors are protective, but not intrusive and they do give you a good line of sight of the front tire, at least on the left of the KRX. The steering tilts as many do, but it did seem that the farther I slid back in the seat the more I wished the steering would telescope a bit towards me.
Discuss on KRXForum.com
The KRX 1000's 999cc parallel twin cylinder mill is pretty impressive. It does seem to build power well, but could be more responsive at times. This engine is packed full of available power and I can tell you that it is ready to really produce, but it is being held back a little. We did get to open the throttle up (floorboard open) and the massive CVT belt drive pulled hard and continued to do so until we ran out of real estate. This machine is limited to 67/68 mph out of the box, but I am very sure that can be overcome with some aftermarket tweaking.
The suspension seems to be very controlled and body roll was managed by the sway bars. The KRX never felt uncomfortable while turning but it was apparent that the rear end was forcing the front along through some of the rutted berms. The large 31-inch Maxxis Carnivores seemed to provide plenty of grip for straight line drags and we had zero issues in the short time that all of the journalists hammered on the rides. I am assuming that the 18 inches of travel out front and 21 in the rear will allow the KRX 1000 to run into deep rollers at speed, but we did not get a chance at this short test.
So, our initial impression is that Kawasaki has done a great job with the new Teryx KRX 1000. Kawasaki has always tried to build vehicles that will last and the heft as well as the visual built in strength of this machine says that it will be a tough rig. In just a few days we will be back in the seat of this machine in Moab's arena of rocks to give it solid shakedown so stay tuned for a full review soon! Published October 11th, 2019 12:09 PM
Top Brands
Popular Articles