99 Views
2010 Arctic Cat 700 S 4×4 Review
June 17th, 2015 4:14 PM
Share
We're committed to finding, researching, and recommending the best products. We earn commissions from purchases you make using links in our articles. Learn more here
Power steering leads to a more skilled Cat
Arctic Cat made big news at its latest press launch for its 2010 lineup of ATVs held in the Manti-La Sal National Forest outside of Moab, Utah. We saw six new power steering models, three 550 S models and three 700 S varieties. Although one could argue power steering is no longer innovative, we disagree. Besides, it's an entirely new concept for Arctic Cat and different enough to warrant the "excitement."
For Arctic Cat, adding power steering is about remaining competitive, but it's also about improving its products and providing the ATV rider with a more comfortable machine. After our initial seat time, we firmly believe, in terms of overall abilities and comfort, Arctic Cat has designed its most impressive ATVs yet.
We rode several of the "Pre-pro" machines at this event, but will focus on the 700 S models, which are essentially 700 H1 EFI 4×4 with the addition of power steering and a few other minor changes.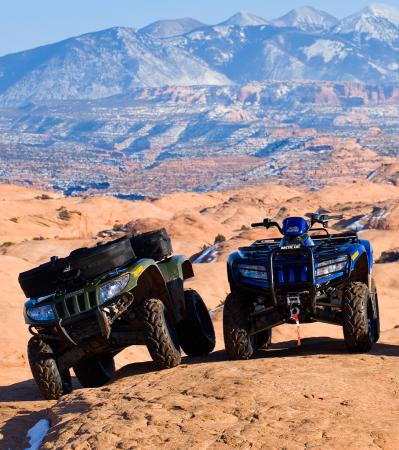 Arctic Cat introduced the 700 S in the breathtaking Manti-La Sal National Forest.
Electronic Power Steering
Arctic Cat engineers had to modify the frame to squeeze in the power steering assembly.
Inside the chassis sits a new aluminum-bodied, brushless Electric Power Assisted Steering system. Arctic Cat partnered with Globe Motors to design a product — which took "more than three years to develop" — it viewed as the best product in the industry. One of the largest power steering units in the industry, the 14-pound assembly required a slight frame tube modification in order to fit. Arctic Cat said the frame tubing was pinched ever so slightly yet retained its structural integrity.
Arctic Cat Engineering Product Manager Mark Esala said the Variable Assist Power Steering will adjust as a rider's style/approach changes. He called the design "non-linear," or that its inputs don't equal its outputs. The brain behind the system is an Electronic Control Unit (ECU). Its job is to read steering input forces versus tire resistance and vehicle speed and then determine the appropriate output. It is programmed to maintain a light steering input effort but retain enough "trail" feedback to keep the rider in tune with the tires' contact patch for certain terrain. Simply put: It assists you when it needs to, but won't soak up all the terrain and make you feel like your riding a cloud. Arctic Cat calls this connecting the rider and the ATV and says competitive EPS systems fail to do this. "At higher speeds or torque loads it reacts much faster. At high speeds and high power it won't power out (like competitive models)," explained Esala.
EPS INPUTS
1. RPM
2. MPH
3. Input from operator
4. Input from wheels
EPS OUTPUTS
1. Higher assistance speed than competitive units according to Arctic Cat
2. 36 ft-lbs. of torque or three times more than the competition
An inside look at Arctic Cat's Electric Power Assisted Steering system.
The system works as soon as the ignition (key) is turned on or at idle. Arctic Cat added this feature to simplify moving the machine on a trailer or in the confines of a garage. Along with the convenience of easy maneuvering, the EPS will also better conserve a rider's energy in 4×4 diff. lock mode, in challenging terrain (mud, rocks, logs) and with loaded racks. And if the EPS should fail, it will default to a traditional manual-steer ATV.
The EPS has been tested all over the country in different seasons, from Minnesota winters to summer in the Glamis and Little Sahara sand dunes. Since we were testing pre-production units, our test was also going to be included as part of R&D. None of the dozen models we rode suffered an issue with the power steering, but one unit's left, rear shock mount broke due to a faulty weld.
Arctic Cat's engineering team made another change to accommodate the power steering assembly. The toe on the EPS-equipped machines was moved out 1/8-inch on either side. The new wheel alignment gave the machines and EPS more acceptable handling, according to Esala.
Saddle Up
We've ridden plenty of Arctic Cat ATVs over the years to know they offer a pretty decent ride, but can feel heavy and take more effort to ride. However, the new 700 S (and 550 S for that matter) offer a new and different feel from the moment you turn the key. Not only do they possess the same proven suspension, ground clearance and toughness Arctic Cats are known for, but also the EPS units now have smoother steering and better handling to go with it.
Thanks to power steering, rock crawling on this Arctic Cat is more controlled and less tiring.
Improved steering, reduced fatigue and better rider control meant we could just focus more on the ride and less on anything problematic. We like the system so much, we want to see it added to the big-bore Thundercat 1000 and Mud Pro machines. Don't get us wrong, though, we still want to put the 700 S or (LTD) against a few other 700-class power-steering units to see how it fairs. Only then will we know the true king of the class for performance, comfort and power steering
700 S Lineup Close up
2010 Arctic Cat 700 S LTD
2010 Arctic Cat TRV 700 S GT
The 700 S threesome includes the base 700 S, 700 S LTD and TRV 700 S GT. Available in olive green, the base 700 S retails for around $9,249. For another $900 ($10,149), the LTD 700 gets a few extras and what is arguably the most dazzling color, Viper Blue, in the Arctic Cat arsenal. Wearing Tungsten Metallic painted plastic, the Two-rider Vehicle (TRV 700 S GT) has a tentative list price of $9,949. Both the LTD and GT models include the 12-inch machined aluminum wheels with black inlays, while the 700 S rides on 12-inch standard wheels. We spent most of the test day on the standard 700 and LTD.
The machines all share the 695cc single-cylinder H1 four-stroke powerplant produced by Arctic Cat. The H1 designation means the engine has hemispherical-shaped headers, a shape Cat says improves efficiency and performance. On this journey we were thrilled to have electronic fuel injection, which meant smooth starting and performance at the higher elevations. The 700 ran like a top throughout our test and we enjoyed the extra snap of throttle response it displayed over its brother, the 550. The easy-to-use Duramatic automatic transmission, which uses CVT and belt setup, simplified our trail runs — gas and go! The CVT's most noticeable feature is its engine braking. Even on the slippery grade, we could feel the machine slow when we let off the throttle. This is especially important for owners who need an ATV for chores like hauling heavy loads or slow descents in rocky and rutted terrain.
Speaking of rocky and rutted, it's here where the Arctic Cat machines have always faired well. It has a lot to do with the 700's aggressive suspension travel figures and gaping 11-inch ground clearance. We've ridden Arctic Cats in sand piles, rocks and deep bogs, but came to appreciate it more in the deep snow, where hidden obstacles can quickly end your day. The forgiving suspension and power steering combined to produce a very predictable ride. Sure, the machine hunted a bit in the two-track snow shoots, but remained very controllable. It was also good to have the additional torque and horsepower from the 700's engine. We wish we had a non-EPS 700 EFI 4×4 to compare it to the 700 S in the difficult snow sections. We'll have to assume the power steering saved us from becoming overly fatigued.
The 700 S LTD gets a few accessories to give it tools that match its showy attitude. A factory-installed winch, dual digital/analog odometer/speedometer and powder-coated steel bumpers, front and rear, are included. We like the "combination" dash. We've always been fond of seeing the needle climb the mph-scale as we pin the throttle. Others in our riding party seemed to favor only the digital setup. To each his own, right?
The Arctic Cat ATVs are outfitted with hydraulic disc brakes, a two-inch receiver hitch, onboard storage, rougher plastic to reduce wear and the cleverly designed SpeedRack and accessories setup. All these features equal more convenience for the end users. However, the braking system is not our favorite design. The braking action is above average, but we'd still favor separate brake levers on the handlebars — again, personal preference.
Our Impression
Arctic Cat has always been a brand for tough guys (workers, farmers, hunters) and for those who play hard (think Thundercat and Mud Pro). Both of those machines proved Arctic Cat isn't afraid to take chances or push the envelope in terms of power and design. With power steering in the mix, Arctic Cat has now built its most comfortable ATVs to date. However, we need to put the new 700 S (and smaller 550 S) against the competitive brands to see if the new Arctic Cats can make a run for the top.
Our test session left us wanting more — that's a good thing. We were happy with the power steering and the new Arctic Cats, but need to try them in the hard pack, mud and tight forest trails to really get a feel for them. Despite the need for more seat time (don't we always want more?) this new pride of Cats is impressive. Power steering has taken an ATV, known for its hard-core attitude, large feel and proven off-road skills, and given it improved comfort and control and made it more attractive.