64 Views
2010 Arctic Cat Thundercat 1000 H2 Review
June 17th, 2015 4:14 PM
Share
We're committed to finding, researching, and recommending the best products. We earn commissions from purchases you make using links in our articles. Learn more here
Big-game behemoth!
It has conquered the unruly terrain of Baja, Mexico, mastered numerous rutted-and-muddy farm fields in the Midwest and become a favorite hunting companion (sorry Fido) of camo-clad sportsmen across the country. With the largest engine of any single-rider ATV in the industry, proven abilities in ugly terrain and a working-class backbone, the 2010 Arctic Cat Thundercat H2 is as unique as it is brawny. For this year, Arctic Cat's flagship utility quad received an updated front differential lock engagement switch.
We tested the Minnesota-based company's largest ATV in the Utah mountains, where we encountered hard-packed, rutted off-camber trails, huge rocky grades, snow and high-speed roads that really let this big-bore behemoth unwind and have fun.
Let's closely inspect Arctic Cat's most ferocious four-wheeler.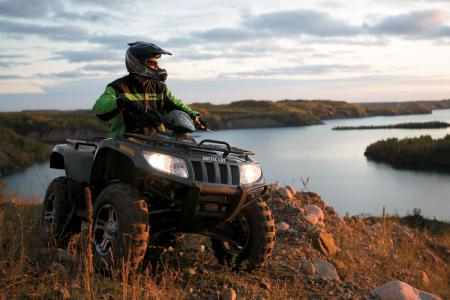 2010 Arctic Cat Thundercat 1000 H2
Engine/CVT
Arctic Cat's 951cc 90-degree V-Twin powerplant is the most powerful in the industry.
The power and torque-happy attitude is what this machine is all about. From its distinctive four-stroke rumble — more of a GROWL — to its impressive top speed, this Cat is all about thrilling you. It's fun to blip the throttle just to hear the Thundercat snarl. All this stellar entertainment is courtesy of the industry's largest displacement powerplant. It's a whopping single overhead cam 951cc fuel-injected V-Twin four-stroke that sits at a 90-degree angle in the chassis for a more efficient operation, lower center of gravity, and improved ground clearance. This sucker produces instantaneous head-snapping throttle response thanks to the EFI, clutching and hemispherical-shaped heads.
The bottom line here is that the T-Cat has more than enough power for anyone — period. The continuously variable belt-driven transmission has performed flawlessly during our test sessions, but puts off a whining sound. Noises aside, Arctic Cat says that ruggedness is due to the beefy design, which includes a constant tension belt and integrated spike load dampener (driveline protector). We have to give it high marks for its engine braking system as well its ability for low range, which helps it better accomplish tasks and tackle technical terrain.
Suspension/Handling
Arctic Cat calls the "Ride-in Suspension" a race-inspired, fully independent design that is confidence inspiring for its plush setup and obstacle-tackling talent. The five-way preload adjustable shocks let you tweak the spring tension for hauling heavy loads, plowing snow or riding in challenging terrain. Arctic Cat engineers created a lower profile and low ride height (reduced seat height) that results in a lower center of gravity and an impressive 11-inch ground clearance. Overall, the Thundercat can clear "big, nasty obstacles off the trail" as Arctic Cat claims and has ground clearance galore, but it's less remarkable in other situations.
Don't get us wrong, you can ride this ATV hard and push it in turns and down slopes, but its handling and front-end tracking is less predictable than other big-bore models we've tested. However, it's easier to handle, predict and control this in 2WD.
It's not hard to kick up a little dust in the Thundercat.
Even so, in the slow-speed rock sections in 4WD, the Cat impressed us with its composure, throttle control and ground clearance. In a gigantic glacier rock run, the Cat tackled the stones admirably and at a high rate of speed. The front end showed some signs of hunting, but it was far less noticeable in the rough stuff than on the smooth, hard-packed trails.
In our testing environment, the 25-inch Maxxis RAZR tires and attractive 12-inch machine aluminum wheels held up and provided superb traction. Even in the jagged rocks, the aluminum rims came out unscathed. The six-ply RAZR rubber proved versatile during our test. It supplied good traction in the rocks, snow and hard-pack dirt yet also let the big Cat slide in 2WD. This combo adds to the overall handling package and the Thundercat's durability.
Comfort/Controls
The Arctic Cat is a large machine for large, experienced riders. It offers a comfortable ride and package, but again, is probably not the class leader in this category, though the ride is rather supple. The large engine consumes a lot of inner space and actually encroaches on the floorboards. Plenty of foot room remained on the floorboards, but it felt like we had to ride with a wider stance due to the engine's size and placement in the chassis. The seat is short and firm, but offers suitable cushioning for all-day riding. The rear plastic features a special "rough" finish for improved scratch and scuff resistance.
Make no mistake; the Thundercat is an ATV for experienced riders. Newbies need not apply.
The handlebar-to-foot peg-to-seat geometry is rather normal, comfortable and neither feels cramped nor overly awkward. However, the handgrips feel skinnier than a normal grip and are made of a more slippery rubber compound (when used with a cloth MX glove). The Thundercat also has single-lever braking that simplifies braking for utility uses. However, we would prefer a machine of this caliber (speed, power and weight) to have independent brake levers. The rider stays in control of the braking with an independent setup and determines which (or how much) brake they need for a certain riding situation. Since we're on the handlebar controls, a more comfortable (larger) thumb throttle would be a nice addition, too. The Thundercat's throttle assembly works well, it has a slightly different feel than some other units we've used.
New for 2010 is this front differential locking mechanism.
We like the placement and sophisticated look of the new front differential locking mechanism. Sadly though, the difficult engagement process overshadows the clever, refined configuration. It is more difficult to use a gloved thumb or to even pinch the part with your thumb and forefinger to engage the system. The old system required you to take your right hand — thumb throttle hand off the bars to engage the 4WD lock. This new design is supposed to let you to keep your right hand on the bars and engage it with your right thumb (hand). We had trouble engaging it in dry riding conditions with dry gloves. Arctic Cat said it has investigated the updated lever and could make running changes to its production line.
We appreciate the Cat's crossover dashboard display. It offers an orange-glowing analog speedometer and 13 other features including a fuel gauge, clock, hour meter, odometer/tripmeter, mode button and indicators for battery condition, temperature, gear position, differential lock, oil pressure and the headlights. There's something cool about watching that needle (while keeping an eye on the trail) climb the mph scale as you hammer the gas on this 4×4.
It would be foolish to forget about Arctic Cat's versatile SpeedRack system. This rack scheme lets the end user utilize the racks in numerous ways by adding accessories like baskets, sprayers, tool carriers, bucket huggers and fin grips. Integrated hardware and various accessories let the buyer customize the ATV for specific tasks. We didn't test the SpeedRacks during this evaluation, but have in the past. The ability to create custom packages for work and play is a bonus for any potential buyer. And for those buyers who really want to work with their Thundercat, Arctic Cat's SPEEDpoint three-point pull-behind hitch assembly will create more ways to keep you busy. For a complete list of accessories, see your local Arctic Cat dealer or visit ArcticCat.com.
Target Audience
At $11,299 — a price giving it the distinction of being the industry's most expensive big-bore single-rider ATV — in its standard package, the Arctic Cat Thundercat is a huge expense for practically anyone. Check that. We should say anyone except the guy who desires the biggest, baddest and boldest ATV on the market. There's just something about a big quad with even bigger power and a stellar name to match! And it's not all about power for this Cat. It also comes with EFI, 4×4 (diff lock), task-happy racks, excellent ground clearance and a proven suspension for work and play. When it comes to tackling chores, consider the Thundercat as your four-wheeled foreman.
The Thundercat is still the biggest, baddest single-rider ATV available.
You can argue there are more comfortable machines, more refined quads, and better all-around performers, but you can't discredit the flagship Arctic Cat as being soft, incapable or inadequate. It may not be the class leader in every category, but it is definitely impressive, fun and rugged. It's a tough machine for tough guys.
Comparable vehicles: Polaris Sportsman XP 850, Yamaha Grizzly 700 FI Auto 4×4, Suzuki KingQuad 750 AXi 4×4, Kawasaki Brute Force 750 4x4i, Can-Am Outlander 800R EFI 4×4