1 View
2008 Can-Am DS 450 EFI Preview
June 17th, 2015 4:37 PM
Share
BRP delivers the lightest sport quad available on the market
In 2001, Can-Am engineers were asked to build the lightest racing quad possible without sacrificing power. After six years of work, they responded with the DS 450 EFI.
Can-Am claims the DS 450 EFI has the lowest weight, lowest unsprung weight, most mass centralization and the highest power in its class. To achieve this, the frame, engine and suspension have been completely redesigned.
One of the key features of the lightweight aluminum frame is that it has no welds. Frame components are held together with aluminum fasteners called lock-bolts—the same technology used to attach the wings of an Airbus A380 aircraft. Can-Am says its new frame weighs 5.3 pounds less than the nearest competitor.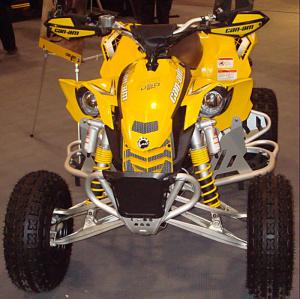 Rotax engineers were given the task of coming up with a higher-performance engine. The 449.3cc, 4-stroke EFI engine has the largest bore (97mm), intake valves (38mm) and throttle body (46mm), all of which help to reduce airflow restrictions. Can-Am says the end result is an engine that produces nine per cent more power than its nearest in-class competitor.
To help reduce the weight of the front suspension, Can-Am took a big leap forward. The DS 450 EFI is the first sport quad to feature forged, aluminum lower A-arms instead of steel. Helping to balance the stress loads, the lower arms are thickest under the shocks and thinner at the ends. The end result is a front unsprung weight that is 3.3 pounds lighter than the best-in-class competitor.
With all its new features taken into account, the DS 450 EFI tips the scales at a scant 345 pounds—five pounds lighter than any other 450 sport ATV.
Beyond weight and power, the DS 450 EFI also comes with a host of racing-related features like kick-up footpegs, detachable headlights and interchangeable fenders.
The DS 450 EFI has a manufacturers suggest retail price of US$7,499.
Related Reading:
BRP begins production at ATV plant in Mexico
Published December 14th, 2007 1:22 PM
Top Brands
Popular Articles