144 Views
2013 Can-Am Outlander MAX 1000 LTD Long Term Review
June 24th, 2015 3:32 PM
Share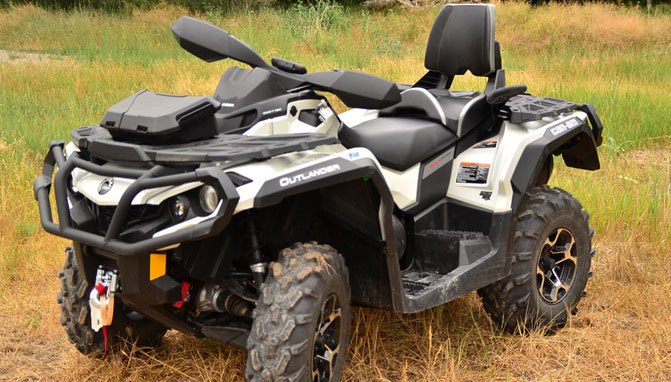 This feature-rich two-up ATV exceeds our expectation
Winner 2013 Two-Up ATV Shootout
BRP's Can-Am Outlander Max 1000 LTD is a horsepower beast with non-beast like qualities, like phenomenal fit and finish and a remarkably smooth and comfortable ride. ATV.com took possession of our Outlander Max 1000 LTD in early June and with it came three months of trail hammering in luxury and style. This machine has exceeded our expectations. The big two-up Outlander earned just one complaint from our many guest test riders, after many trail miles. We'll get to this later, but first we'll take a look at the Outlander's underpinnings. Spinning the four 26-inch Carlisle tires mated to 12-inch cast aluminum rims is a 975cc V-Twin engine that is liquid-cooled and fuel-injected with four large valves per cylinder. Throwing fuel and oxygen to the big Twin is a single wide-mouth 46mm throttle body with two Siemens VDO injectors (one injector per cylinder).
The 1000 Outlander MAX LTD's front suspension is double A-arm design with a vertical travel of 9.0 in. At the back end, the rear suspension is Can-Am's Torsional Trailing Arm Independent (TTI) with 9.3 in. of travel. Bringing ATV to a stop are dual 214mm ventilated disc brakes up front with twin hydraulic piston calipers and a single 214mm ventilated disc brake in the rear with a hydraulic twin-piston caliper.
COMPARISON: Read our review of the 2013 Polaris Sportsman Touring 850 EPS
An interesting feature on the Outlander MAX LTD is an onboard air compressor that serves two duties – pumping the tires or pumping up the air-ride rear suspension. The compressor throws air to the vehicle's Air Control Suspension (ACS) with FOX Air Assist shocks which raises the chassis' backend to compensate for passenger weight and/or loads. The system has six rider-select preload levels. The air controlled rear shocks can be adjusted on the fly. Rider Impressions Under the handlebars of Outlander MAX 1000, BRP placed a warning sticker which states, in so many words, this not your typical ATV, it is high horsepower buggy and y'all better be aware this is one powerful ATV. This is a no-bull sticker. Because BRP prides itself on safety, the Quebec, Canada company ships the Can-Am Outlander MAX with two Digitally-Encoded Security System (DESS) keys: black for full motor performance, and gray for reduced/limited performance. Understand, for all intents and purposes, the gray key, though it limits motor performance, will meet (and exceed) 95% of all driver needs. The motor is that strong. We're not saying it is dangerous, we are reporting that, for example, when running the Can Am Outlander Max Limited next to our Polaris 850 Sportsman Touring, the gray key will quiet down the Outlander Max to be equal to the Polaris 850 Sportsman Touring in speed. We'll discuss this in greater detail in our head-to-head comparison report between the two.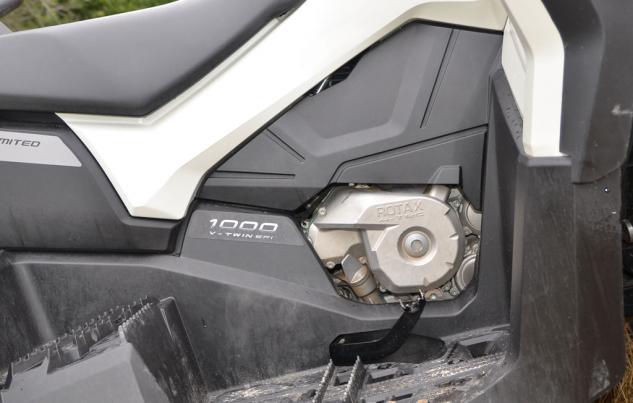 Squeeze the throttle and the 975cc Rotax V-Twin responds ferociously.
The Can-Am Outlander MAX 1000 has a wheelbase of 59 in. Its overall ground clearance is 11 in. From its side view, it may seem to be a high-centered ATV, but it is not. Its published dry weight is 816 pounds. For our ready-to-ride (RTR) dress-out, that is stuffing the Max full of fuel and vital fluids, it has a RTR weight of 955 pounds. With the horsepower and the weight, this ATV stays grounded. Handlebar swing on the Outlander MAX is flat-rotating like an off-road motorcycle or a mountain-specific snowmobile. We also evaluate deep-powder long-track mountain-specific snowmobiles for our sister publication, Snowmobile.com. We've learned flat handlebar swing is paramount to mountain backcountry riding. Though this seems odd to report, the Outlander MAX 1000 handles much like a mountain snowmobile on a trail; similar to BRP's Ski-Doo Freeride.
COMPARISON: Read our review of the 2013 Can-Am Outlander MAX 1000
On many occasions, the ATV.com crew unleashed the 975cc motor from its cage on wide choppy trails replete with rollers, ruts, S-turns and snakes, where we dove into righty tighty and lefty loosey turns with vigor and obsession. We would kick a leg back (to rest against the passenger foot rest), slide down to the seat's left- or right-side, lean into the turn and keep the throttle pinned (as much as we dared). On one occasion, we battled our two Side-by-Side vehicles ( Polaris 900 XP LE and Can Am Maverick 1000R X rs) for top honors to the truck – five miles from a backcountry river, through ruts, sand and rocks, and the XP LE and Maverick 1000R X rs drivers could not overtake us. The Outlander MAX LTD held a tight line. This is certainly not a Sport ATV, but it is wickedly fast and stable.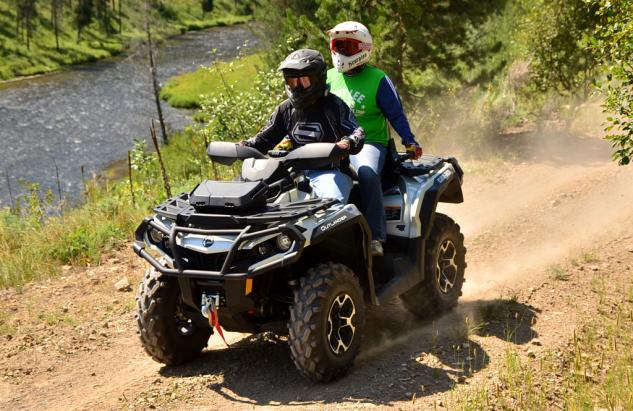 You may not think a two-up ATV can provide neck-snapping performance, but our Outlander MAX 1000 proved a ready challenger for both the Polaris RZR XP 900 and Can-Am Maverick 1000R X rs in our test fleet.
The Can-Am Outlander MAX 1000 LTD is equipped with a three-speed Tri-mode Dynamic Power Steering (DPS) system. With three settings, "MIN," "MED" and "MAX," operators can set power steering response/feedback to be tight (stiff) or loose (light to the touch), depending on vehicle speed, terrain and load. The "MAX" setting obviously allows the DPS to be light for slow speeds and for sticky conditions like sand or mud. The "MED" setting, well, it's a medium setting. The "MIN' setting gives greater feedback – pressure – to the hands. This setting is needed when traveling at high speeds to prevent overcorrecting handlebar rotation.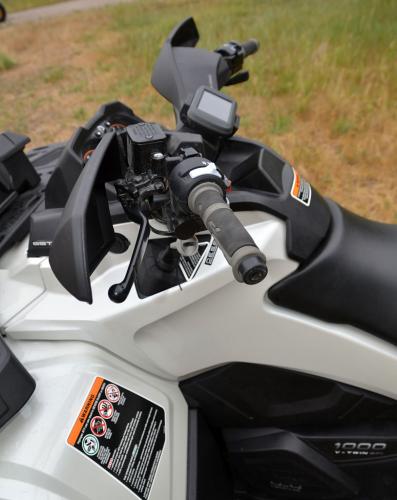 Hand guards offer protection from incoming branches.
With DPS comes too Can-Am's direct link setup that uses magnetic field sensors that deliver faster response to steering input. Handlebar controls, instrument pod settings and cockpit ergonomics are simple and well-fitting. The LTD package comes with handlebar brush guards to protect hands and wrists from an unsuspecting smack by a tree branch. On more than one occasion, we appreciated the protection these gave; these too give the handlebars a nice sexy fit-and-finish. Underneath the bars' right side controls is the shift selector, which has notches for all positions; these notches lock down the selector and prevent an inadvertent change. When either the front or rear brakes are applied individually, or in tandem, the Outlander MAX LTD does not pull right or left, or show brake disc and caliper heat fade. The Outlander's big brake discs are ample-sized for steep descents. Garmin's Montana 650t model GPS, standard equipment for the 1000 Outlander MAX 1000 LTD, proved to be a delight. We appreciate its tell-all information for nearby trails and waypoints. Its built-in camera allows us to keep our smartphone in our pocket, preserving our phone's battery life. The GPS also has built-in Geocaching maps which turn an ATV excursion into a scavenger hunt. Sweet. In all seriousness, we find the Garmin Montana 650t GPS to be an excellent safety feature that can prevent losing one's way on a backcounty ride, or to guide rescuers to a location in case of an injury, or becoming lost.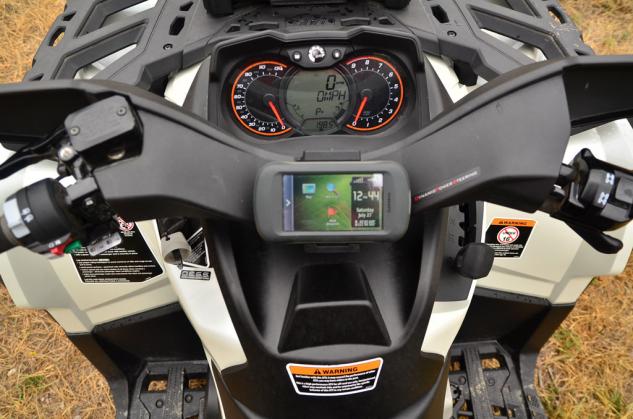 A Garmin Montana 650t GPS unit comes standard on the Outlander MAX 1000 LTD and we came to really enjoy it.
The footboards for both driver and passenger are spacious and provide ample grip for a boot or shoe. At the driver's cockpit, the angle at which the knees, shoulders, arms, wrists and feet rest is comfortable – the seated position does not create driver fatigue. Passengers too, like the position the rear seat affords them. The grab handles for the passenger have several positions and all our passengers note that choosing one of four hand positions gives them the secure locked-down and locked-in feeling they want.
COMPARISON: Read our review of the 2009 Outlander MAX 800R XT
At the nose and tail, the Outlander MAX 1000 LTD has superb bumpers. Up front the bumper also serves as a brush guard, while the rear bumper has strong and well-positioned hand holds that allow a user to move and position the two-up ATV inside an enclosed trailer with ease. The hand holds are away from an exhaust tip and are situated correctly to make moving the massive machine fairly easy.
A bumper/brush guard protects the front of the Outlander.
At the nose is a 3,000-pound Warn Winch. We have never tested its use, but knowing what we know about Rocky Mountain bush whacking, we are oh-so-glad it is available. Drivers/operators can control the Warn Winch from a handlebar-mounted toggle switch, or from a tethered remote; this to monitor a winching activity from a side view. Smart. Purchasers may view the Can-Am Outlander MAX 1000 LTD's price of $15,099 as a deal breaker and head somewhere else or move on to a UTV – a Sde-by-Side. In our opinion, we understand that. But, for a loaded two-up/touring ATV with a brawny 975cc motor, GPS, Warn Winch, DPS, on-board air compressor, air ride rear suspension, bumpers with brush guards, large rear storage rack, front storage compartment, and a well-designed rear passenger seat, we think the hefty price tag is worth it. Of course, BRP does have several other versions of the Can-Am Outlander MAX 1000 available with cheaper price tags and fewer luxury features.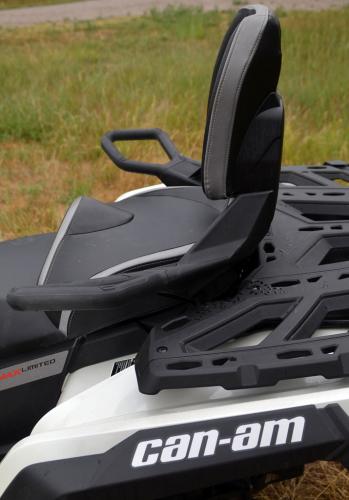 Passengers will appreciate the comfortable rear seat.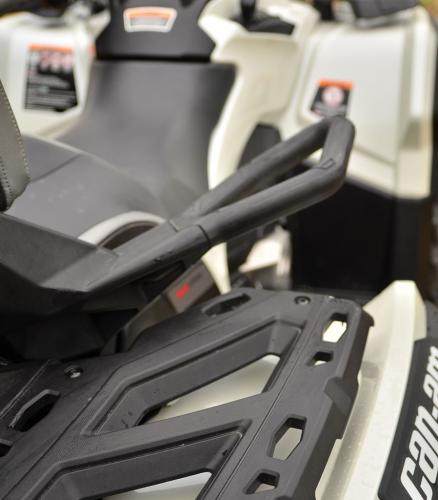 Grab handles keep passengers secure.
Now we did mention we had one complaint. The big Twin motor is a furnace. Like its Side-by-Side cousin, the Maverick 1000R X rs, the Outlander 1000 MAX LTD heats up the cockpit area, especially at the foot and ankle level. Often we park our feet outside the foot boards to catch a breeze as the machine clips along at 35 mph. Leisurely cruising while wearing breezy summer shorts is not a wise decision. We learned wearing long pants or motocross pants is the to-do when spending a day aboard this two-up beauty. Given that, we highly recommend BRP/Can Am add some heat shielding at the foot level to protect the driver. It's hot down there, fellas. Overall, our 2013 Can-Am Outlander MAX 1000 LTD has had no mechanical hiccups or gaffs. Its motor has performed silky smooth throughout its use. Its muscular build and fit and finish are first class. Would we own one? Yes. However, we do have one wish for BRP – protect our feet and ankles from motor heat.
Published September 24th, 2013 4:24 PM
Top Brands
Popular Articles