1 View
2016 Can-Am ATV and UTV Lineup Preview
July 31st, 2015 11:58 AM
Share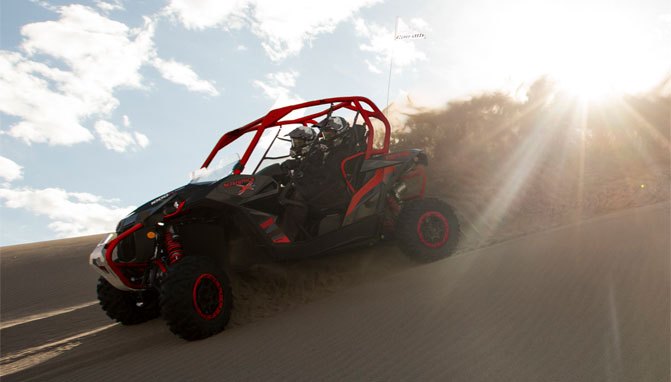 Four new engines spark big changes for Can-Am in 2016
BRP came out swinging for model year 2016, with four new engines and a litany of new and updated vehicles in its Can-Am ATV and Side-by-Side lineup. The highlight of the engine upgrades is a boost to the already industry-leading Maverick Turbo mill, which now pumps out stunning 131 horsepower.
New Engines
More power is the name of the game for Can-Am this year and that is spelled out clearly with its four new engines – the 570, 850, and 1000R ATV mills and the revised 131-horsepower Rotax 1000R Turbo for the Maverick.
48-HP Rotax 570
Found in the Outlander L and Outlander, the all-new liquid-cooled, eight-valve 570 Rotax, the only V-Twin engine in its class, replaces the 500. And don't think 570 is an accident. This engine is designed to compete with Polaris' 570 ProStar engine, but it bests it power (48 hp vs. 43.7 hp), to comfortably lead the 500-600cc segment. Larger pistons, longer stroke, a higher connecting rod created a +2-HP gain as well as increased low-end torque (+9%).
78-HP Rotax 850
This looks like another direct shot at Polaris. Polaris boasted a displacement advantage with its Scrambler 850 vs. the Can-Am Renegade 800R. That is no longer the case, thanks to the revised 78 hp liquid-cooled V-Twin Rotax 850 – up 7 hp for 2016. It's the exact same claimed power the Scrambler 850 produces. The increased power and torque (+7%) was derived from larger pistons and both a throttle body and engine head from the Can-Am Maverick side-by-side vehicle.
89-HP Rotax 1000R
A revised, liquid-cooled, 976cc, 89-hp Rotax 1000R V-Twin engine is the most powerful ATV engine in the Can-Am family and, once again, is the same power produced by the Polaris Scrambler 1000. For 2016, the flagship Rotax 1000R has an additional 7 horsepower (9% power increase). Can-Am engineers added new pistons, a Can-Am Maverick side-by-side vehicle engine head and throttle body.
131-HP Rotax 1000R Turbo
The industry's most powerful engine has undergone more significant change since its introduction in the Maverick X ds 1000R Turbo last year. The first factory-installed turbocharger has been revised for 2016 to increase its overall, class-leading performance to 131 horsepower and enhance its torque curves. You can bet that Polaris intended to boost power to its RZR XP 1000 for 2016, so this looks like a pre-emptive strike from BRP. Adding larger injectors, increasing boost pressure and recalibrating the CVT are some of the updates for 2016.
New ATV Models
Outlander L X mr 570
Can-Am continues its innovative push as the market leader in the mud-specific market, with the introduction of the all-new Outlander L X mr 570. Making mud riding more affordable than ever, the new Outlander L X mr 570 is based off of the Outlander L 570, but includes specialty mud-ready components like 28-inch Maxxis Mudzilla tires, snorkel, relocated radiator and more.
Outlander L LE 570
The Outlander L 570 is now offered in an LE package. The Outlander L LE 570 includes power steering, aluminum wheels, reinforced seat cover, bumpers, six-ply tires, and painted plastic.
Outlander L Mossy Oak Hunting Edition
The all-new Mossy Oak Hunting Edition is adorned in exclusive Mossy Oak Break-Up Country Camo pattern. Configured with hunters and outdoorsmen in mind, the Mossy Oak edition model includes bumpers, handguards, black aluminum wheels, Kolpin gun boot, WARN winch, revised suspension preload, skid plate, and more.
New Side-by-Side Models
Maverick DPS 1000R / Maverick MAX DPS 1000R
The Maverick family of Sport Side-by-Side vehicles now includes a Dynamic Power Steering (DPS) package, which falls between the base offering and the X packages. The Maverick 1000R DPS includes cast-aluminum wheels, Visco-Lok QE, Tri-Mode DPS and is available in two color options.
Maverick xc DPS 1000R
The all-new, Maverick xc DPS 1000R, at 60 inches wide, is designed for narrower trails. It offers 12 inches of suspension travel.
Maverick 1000R Turbo / Maverick MAX 1000R Turbo
The new Maverick 1000R Turbo, also available in a four-seat MAX platform, is a more affordable turbo-powered offering. Based on the X ds platform, the Maverick 1000R Turbo vehicles are powered by the 131-hp Rotax 1000R turbocharged engine and wear front and rear FOX 2.5 PODIUM RC2 shocks with single-speed compression and preload adjustments. This package includes 14-inch painted black cast-aluminum wheels with 28-inch Maxxis Bighorn 2.0 tires.
Maverick X rs 1000R Turbo / Maverick MAX X rs 1000R Turbo
The X rs (Race Special) package includes the 131-HP Rotax engine, longer wheelbase and rear TTA suspension with 16 inches of suspension travel. The package includes a four-point harness system, Yoshimura exhaust, rear bumper and a suspension calibration tuned in partnership with FOX to provide optimal results in fast-paced whoops. It comes in a dipped Carbon Black & painted Can-Am Red color pattern.
Commander Mossy Oak Hunting Edition
The all-new Commander Mossy Oak Hunting Edition is outfitted several of the standard XT package items (bed rails, mudguards, bumper, wheels, tires and WARN winch), as well as the new water-dipped Mossy Oak Break-Up Country Camo, gun scabbards, front bumper, aluminum skid plate, roof and half windshield.
Revised Maintenance Schedule
Can-Am has made a significant improvement to each off-road vehicle's maintenance procedure for 2016. The 300 km / 200 miles break-in inspection has been replaced by 1,500 km / 1000 miles, which was designed to reduce ownership costs.
New Electronic Drive Belt Protection
The Commander MAX line of side-by-side vehicles comes standard with a CVT transmission with an all-new Electronic Drive Belt Protection. The integrated Electronic Drive Belt Protection offers belt-spotting protection for when a driver is in high gear, but should be in low gear. The vehicle will not move and a "LOW GEAR" message will appear on the gauge, alerting the driver. The system is currently available as optional equipment on other Can-Am side-by-side vehicles.
New/Updated Color Schemes
The Can-Am design created new color schemes for the 2016 ATV and Side-by-Side vehicle lineup. The new premium Cognac color was added to the Limited packages. The new Green and Mossy Oak Break-Up Country Camo colors fit the requirements for both recreational and hunting enthusiasts. Octane Blue, Light Grey, Matte Black, Hyper Silver are some of the other new colorations offered this year.
ATVs
• Green (Outlander L)
• Mossy Oak Break-Up Country (Outlander L, Outlander, Outlander MAX and Outlander 6×6)
• Cognac (Outlander MAX Limited 1000R)
• White, Black & Can-Am Red (Renegade X xc and Outlander X mr)
• Can-Am Red (Renegade)
Side-by-Sides
Updated
• Light Grey (Commander 800R base)
• Viper Red (Commander DPS 800R / 1000)
New
• Mossy Oak Break-Up Country Camo; (Commander XT 800R / 1000 and Commander MAX XT 1000,
Commander Mossy Oak Hunting Edition 1000)
• Matte Black & Octane Blue; (Commander XT 800R / 1000 and Commander MAX XT 1000)
• Cognac (Commander LIMITED 1000)
• Light Grey (Maverick 1000R base)
• Light Grey & Can-Am Red color option (Maverick DPS 1000R and Maverick MAX DPS 1000R)
• Light Grey & Octane Blue (Maverick X xc 1000R)
• Hyper Silver, Black & Octane Blue and White, black & Can-Am Red color option (Maverick X mr 1000R)
• White, Light Grey & Manta Green (Maverick 1000R TURBO and MAX 1000R TURBO)
• Hyper Silver & Octane Blue (Maverick X ds 1000R TURBO and MAX X ds 1000R TURBO)
• Carbon Black painted & Can-Am Red (Maverick X rs 1000R TURBO and MAX X rs 1000R TURBO)
Published June 3rd, 2015 4:58 PM
Top Brands
Popular Articles