164 Views
2009 Honda Big Red Review
June 17th, 2015 5:08 PM
Share
We're committed to finding, researching, and recommending the best products. We earn commissions from purchases you make using links in our articles. Learn more here
Honda enters side-by-side market with utility-minded machine
With the growing popularity of side-by-sides it has always been a matter of when Honda would bring out its own version – not if. Instead the real question was what kind of side-by-side would it be?
The 2009 Honda Big Red is the answer and after my first ride in Quebec I can tell you it's as utility minded as it could possibly be. It's large and wide with an imposing stance. Look at the numbers: it is 114.7 in long, 64 in wide, has a ground clearance of 10.3 in and has a crushing curb weight (with all fluids included) of 1431 lbs. This MUV (multi-use vehicle) won't fit in the back of your pickup and it won't scoot down narrow ATV-sized trails.
The first obvious thing I saw at the Big Red introduction was that it's not going to be raced – but then I sense that's the point. Honda is big on safety and unlike some of the models that the competition (Yamaha and Polaris in particular) have released it didn't want anything to do with a narrower, faster side-by-side.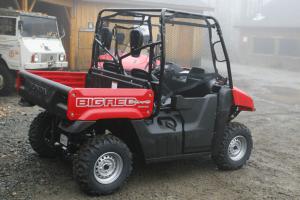 For power Big Red uses a slightly massaged version of the Rincon ATV powertrain that features a 675cc fuel injected four-valve engine. This motor feeds power to the ground through a shaft drive design (no belts are used) and a three-gear automatic transmission. It has a 2WD and an AWD setting – with the AWD locking the differentials when it detects slippage.
This setup is capable but it certainly was not fast. In fact this engine is the largest that Honda builds for its ATVs and the company has stated that it won't build a larger one. So, with the Big Red's weight this engine is fully utilized. I didn't have a chance to tow or to load the dump box so I can't comment on how it will handle those chores – but I do have experience with this powertrain and while the gears are long, first and second will handle the max loads – just not particularly quickly. Again though, I figure that is what Honda wants.
It may not go particularly fast, but at least you can enjoy the views from the cab of the Big Red.
As with all side-by-side designs the controls are modeled after an automobile; with a steering wheel, gas and brake pedals, and a dashboard mounted shifter that allows the driver to shift between drive, neutral, and reverse. The layout is simple and intuitive – anyone can use it without any real training.
Thanks to the Big Red's 64-inch width, there is plenty of room in the cab.
The cab on Big Red is really roomy, owing to its width. It also has rubber-mounted seats with adjustable backs designed to comfortably fit a wide range of body types and on rough roads offers decent cushioning. The roll cage on this MUV is a four-pillar, six-piece steel tube (41.3mm-diameter or 1.6-inch) Occupant Protection Structure (OPS).
Keeping you inside the cage are three-point retracting (locking) seatbelts; plastic half-doors and quick-release netting on the either side covering the whole of the door opening. The reasoning here is simple – even if Big Red rolls you stay inside the protection of the roll cage including your arms and legs that without these features have a tendency to fall outside during a crash and get crushed.
Other features of the cab include the corrugated rubber floor under the gas pedal (which helps prevent any sudden punches on the throttle), quickly removable seats for access to the engine (also the oil fill and dipstick is located under the driver's seat), and well placed foot rests for both driver and passenger. Big Red also comes with a maintenance–free battery and shaft final drive. Access to the air filter is as easy as lifting the tilt-bed, where the high-mounted air filter box is located.
This is a work-first machine and should be a great vehicle for hunters.
By now you've figured out that Big Red is all about work (even if you use it to get to a favorite fishing hole or haul a moose out of the bush) and to that end it boasts a tilt bed measuring 33 by 52 by 10 inches. In fact a standard size pallet can fit in the back and there are several tie-down points to safely secure your load. This tilting bed is rated to carry (500 lbs and features quick release handles on both sides of the machine. A progressive action strut assist system makes dumping a simple task. Also, Big Red is rated to tow 1,200 lbs with its heavy duty two-inch receiver style hitch.
Moving you and your load is a steel chassis built on a fully independent front and rear suspension, with four-wheel disc brakes and that wide track. During my test ride in Northern Quebec I had a chance to beat the Big Red (like a rental car) on a newly cleared section of logging road. Despite its size it has a comfortable ground clearance that helped clear the upturned rocks and logs on the trail – and where it didn't the steel chassis slid over the obstructions. In the turns, hard on the gas – the backend is almost impossible to break loose – despite trying. It corners flat and has almost zero body roll, in fact it drives a bit like a truck.
The 675cc fuel injected four-valve engine has plenty of low-end power, but don't expect to pass any RZRs or Rhinos on the trail.
Keeping the accelerator pinned for most of this ride showed off just how tough this Honda was but the roughness of this section also caused a serious pain in the neck; one I know Honda doesn't intend – not with its outlook on safety. The seatbelt locking mechanism on the three-point belts locked up every time I hit a bump or pothole. This caused some discomfort through the bumpy sections of the trail as every time it locked hard against my neck I'd have to pull on the belt several times to get it to release. Of course this does not happen when traveling at low speeds or on flat terrain, but it was annoying and I brought it to the Honda engineer's attention.
On the other hand Big Red has good foot rests that help hold you in your seat – acting like a brace for your body especially through the rougher sections of the trail where without it, I am sure I would have been thrown around a lot more.
If you have loads to haul and work to do have a look at Big Red – after all it's Big and it's Red, what more do you need to know.
Honda says the MSRP for this MUV is $11,399 and it's available at Honda dealers now.
2009 Honda Big Red Specs
Engine:
675cc liquid-cooled OHV single-cylinder four-stroke
Bore x Stroke:
102.0 x 82.6 mm
Compression Ratio:
9.2:1
Induction:
Electronic fuel injection (PGM-FI), 40mm throttle body
Ignition:
CD with electronic advance
Starter:
Electric
Clutch:
Automatic
Transmission:
Automotive-style with hydraulic torque converter, three forward gears and Reverse and three drive modes including: 2WD, 4WD and 4WD with all-wheel differential lock
Driveline:
Direct front and rear driveshafts
Front Suspension:
Independent double-wishbone; 5.9 inches travel
Rear Suspension:
Independent double-wishbone; 7.1 inches travel
Front Brakes:
200mm hydraulic disc with 51.1mm caliper
Rear Brake:
200mm hydraulic disc with 30.3mm caliper
Front Tires:
25 x 10-12
Rear Tires:
25 x 10-12
Length/Width/Height:
114.7 x 64.0 x 76.9 in
Curb Weight:
1,431 lbs
Wheelbase:
75.7 in
Ground Clearance:
10.3 in
Fuel Capacity:
7.9 US gal.
Turning Radius:
13.8 feet
Cargo Bed Capacity:
500 lbs
Towing Capacity:
1,200 lbs
Colors:
Red, Natural Gear Camouflage
Base MSRP:
$11,399
Related Reading
2009 Honda Big Red Preview Published December 3rd, 2008 2:06 PM
Top Brands
Popular Articles