1 View
2010 Honda FourTrax Foreman Rubicon Review
June 17th, 2015 4:13 PM
Share
Super smooth shifting from this middleweight contender
A lot has changed since Honda first introduced the Rubicon in 2000. It was an industry leader at the time and its 499cc mill was the most powerful in Honda's lineup. These days the Rubicon is classified as a middleweight utility ATV. Though it hasn't received a significant facelift in a few years, ATV.com asked me to see how Honda's onetime flagship stacks up to the competition in 2010.
It didn't take long for the Honda FourTrax Foreman Rubicon to make an impression. It impressed right out of the gate with its power and quick take off. It responded without hesitation as soon as I hit the gas and then kept going until it reached my limit. The exclusive Hondamatic transmission delivered smooth operation from start to finish. The 499cc engine held its own at every turn and up every hill. I was also impressed with the way the Rubicon handled some of the rougher trails I tackled.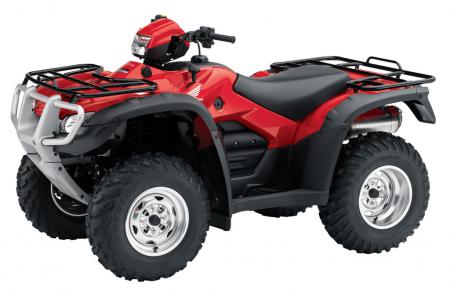 Honda FourTrax Foreman Rubicon
Electric Power Steering
One of the things that takes the edge off those rougher trails is the EPS. The speed and torque sensitive Electric Power Steering helps in a couple of ways. The torque sensors measure the amount of force you are applying and then supply the extra assistance you need so that you are able to steer with less effort. It also reduces the amount of kickback felt through the handlebar, which is especially helpful in some of the areas I ride.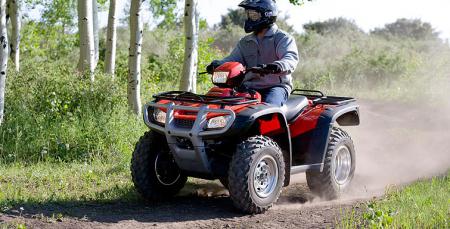 Honda's Electric Power Steering makes for less stress on your body after a long, rough ride.
When I ride in rugged terrain, I often come back with sore or bruised wrists from all the kickback from rocks, stumps and other obstacles the tires strike as I am making my way up one mountain or another. However, after spending a day aboard the Rubicon, my wrists were not sore at all.
Transmission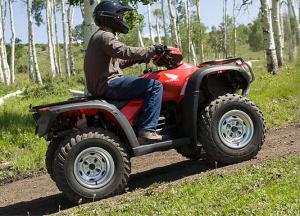 No other manufacturer has its transmission dialed in better than Honda.
Riding a CVT-equipped ATV concerns me in this type of terrain sometimes, because I feel like the gear changing needs to be very smooth. I also feel like I need to control some of the shifting, especially in the steeper terrain. However, the exclusive Hondamatic Transmission delivers the smoothest exchange I have experienced on an ATV. The smooth power even allowed for impressive traction in some very slippery mud in which I found myself. Its continuously variable design takes care of the shifting or you can choose different power train ratios with a control switch in easy reach of your thumb. I am sure I did not try all the different combinations but was very impressed with the ones I did try.
Adding to that desire for control is my need for easy switching between two-wheel and four-wheel drive. Switching between the two is very convenient on this model due to the TraxLok, a "shift-on-the-fly" system that allows you to switch with the touch of a button on the handlebar.
GPScape: The GPS for ATVs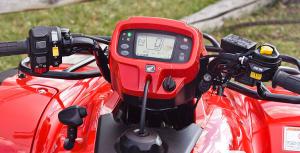 I am a GPS addict. I don't mean to be, but it is so easy to push a button and find out exactly where I am in relation to where I want to be. Having this same luxury out on the trail is a dream come true. Admittedly, it is great to be on a trail system that is so well marked, you never have to second guess where you are, but how often do we really find trails like that?
The GPScape, offered exclusively by Honda is not only made specifically for ATV use, it is actually built into the ATV. It is designed with oversized buttons so it can be used easily even with cold fingers or while wearing gloves. I actually had both when I rode the Rubicon and had no trouble with it whatsoever. The GPScape is also wired directly into the electrical system, so you never have to worry about it running down your battery.
A special thanks goes out to Honda Powersports of Gastonia, NC, for their assistance and support by allowing me to review a couple of their vehicles. Please take a moment to check out their website at http://www.mshondapowersports.com/.