48 Views
2011 John Deere Gator XUV 825i 4×4 Review
June 18th, 2015 5:06 PM
Share
We're committed to finding, researching, and recommending the best products. We earn commissions from purchases you make using links in our articles. Learn more here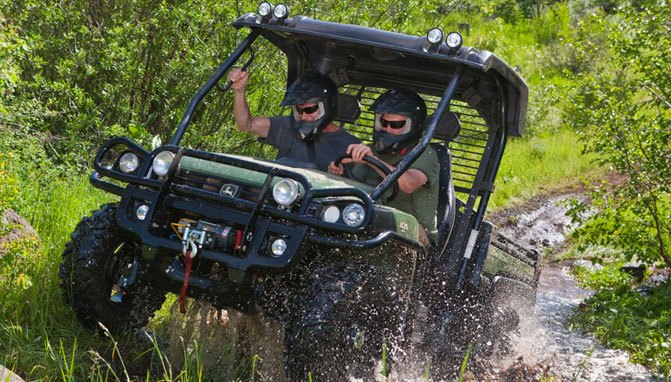 The fastest and most trail-friendly Gator yet
Carolina Adventure World in Winnsboro, SC played host to John Deere's 2011 media event and we were lucky enough to be invited along. John Deere was unveiling its new lineup of side-by-sides at the event, including the 825i 4×4, which was Deere reps were calling the fastest, most powerful Gator yet. Our interest was piqued and when testing began we made a beeline straight to this machine and strapped in for a test run.
The staff at Carolina Adventure World had laid out an extensive trail pattern for us to follow. Unlike a lot of testing courses, there was no limit to the full-size obstacles and challenges on this one. We had hill climbs, rock crawling, water crossings, sharp curves and long straights where we could really open up the throttle.
Awesome Power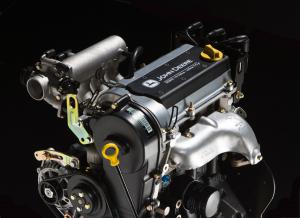 A three-cylinder engine is very unique in the recreational off-road market.
The 50 HP, 812cc engine left very little to be desired as we took off down the trail. It did not take long at all to find a place to open it up to its top speed of 44 MPH. We were notably impressed with this speed out of such a workhorse of a machine. Its three cylinder, 4-cycle automatic engine has the most displacement and power in its class. It also has excellent low-end torque that kicked in as we came to the first steep hill climb. We suspect it would also come in handy for towing and hauling.
The reps later explained how the advanced clutching and use of a tighter belt was part of what provided the faster acceleration, along with the two-range CVT transmission, which also helps with the low-speed towing. One aspect that we appreciated, even though we did not need it at this particular test ride, was the electronic fuel injection which provides better throttle response and starting in cold weather and in higher altitudes.
Rough Terrain
Conquering rough terrain is something you will need to be able to do whether you are working on the farm or cutting it up out on the trail. It is good to know that the 825i provides on-demand four-wheel drive at the flip of a switch. The 825i also has the option of a lockable rear differential so the rear drive wheels work together for any spots where you just a little extra boost.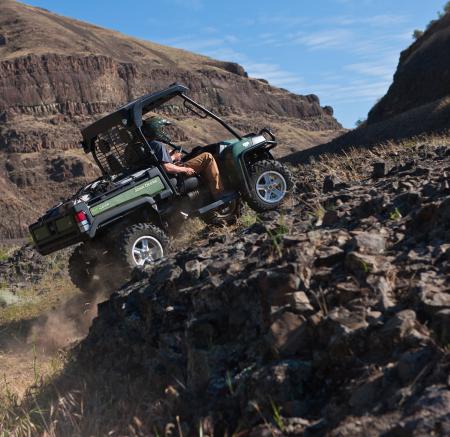 A locking rear differential can help you get over the nastiest terrain.
The independent double-wishbone long-travel suspension combined with 11-inches of ground clearance made light work of all the obstacles we encountered on this extensive trail system. This combination also makes for a more comfortable ride whether on the trail or on the farm. The full clutch enclosure also allowed us to go through all the water crossings without any problem. John Deere representative said they recommend avoiding water deeper than 22 inches.
Stability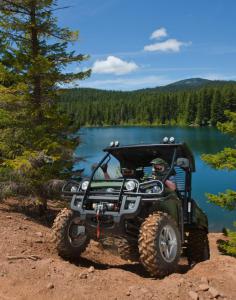 It's tough to think of a better work/play crossover vehicle.
One of the most common concerns for side-by-sides is the stability factor. John Deere employs a solid core steel sway bar and double-ball drop-link to help insure more stability, reduce body lean and provide more durability in all areas whether at work or at play. The 825i is wide enough (62 inches), long enough (119 inches) and has a low enough center of gravity, to produce what feels like one of the most stable vehicles in its class.
Workability
While playing out on the trail with the XUV 825i is an awesome adventure in itself, the workability aspect is still one of the main considerations of most UTV buyers. Keeping true to its reputation of producing top-of-the-line work vehicles, John Deere did not miss the mark here.
The John Deere 825i 4×4 engine is built with heavy-duty components such as an aluminum head, thrust bearings and a cast block with painted interior. To increase endurance under twisting and turning out on the trail or carrying heavy loads, the 825i frame is hydro-formed and the A-arms are made of cast iron to withstand the jackhammer abuse of the most severe terrain. As added protection, the 825i comes equipped with a full-steel skid plate guard. Additionally, body panels are made of scratch resistant engineered polymer. These panels are paintable so the John Deere XUV can keep looking as good as it runs.
Cargo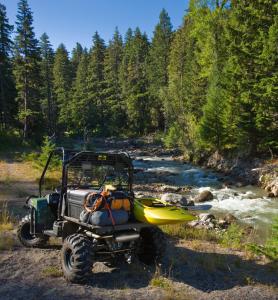 The cargo area can be converted to flatbed to accommodate larger items.
What is a work vehicle without great cargo capabilities? John Deere knows this and acts on it with one of the largest cargo boxes in its class at 45 inches in length, 52 inches wide and 12 inches deep with a 1,000-pound capacity. Backing this up is a 1,400-pound payload capacity and a 1,500-pound towing capacity. To keep your cargo secure, the cargo box features 20 tie-down points to make keeping the load in place easier. You can also quickly convert the cargo area to a flatbed to haul larger items. The pick-up style tailgate is easy to use without all the latches and guards, while the steel reinforced bed and body guard provide strength and durability. As well, the cargo area has gas-assist to make loading and unloading faster and easier. Cargo bed options include a factory spray-in bed liner and power lift.
One of the things we liked most about the cargo box is the exclusive Quick-Clamp system, which makes adding the attachments quick and easy.
Competition
Honda's Big Red, Kawasaki's Mule 4010 4×4, Yamaha's Rhino 700, and Polaris' Ranger 800 are some of the top competitors to the John Deere 825i.
All five of these models come with automatic transmissions with liquid cooled engines, spark arresting mufflers, electronic fuel injected fuel pumps and all are four-wheel or all-wheel drive.
One thing that sets the John Deere apart is its three-cylinder engine, which is a fairly uncommon setup for off-road machines. All others units have either a one- or two-cylinder engine. Out of this group the John Deere also boasts the largest engine displacement at 812cc, compared to the Ranger's 760cc, the Rhino's 686cc, the Big Red's 675cc, and the Mule's 617cc mills.
Summary
I believe the John Deere 825i is one of the best choices on the market for anyone looking for a good crossover vehicle they can use on the farm and out on the trail. I often say that I would recommend a certain vehicle if you plan to do a bit more work than play or another one if you plan to play more than work. However, the John Deere XUV 825i 4×4 ($11,199) would seem an excellent choice for almost any combination of work and play.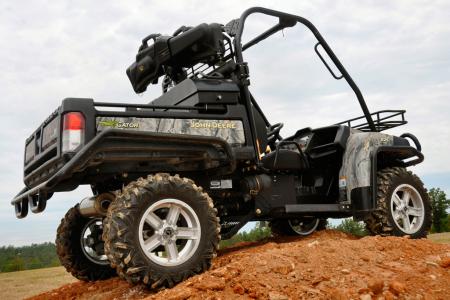 Hunters and outdoorsmen will appreciate the flexibility of the new John Deere Gator XUV 825i 4×4.
Specifications
Engine
• Type: 4-cycle gasoline with Electronic Fuel Injection (EFI)
• Cylinders: 3
• Valve: Dual Overhead Cam (DOHC)
• Horsepower: 50 (37 kw) @ 6000 rpm
• Displacement: 812 cc
• Maximum torque, ft – lb: 47 (64) @ 3200 rpm
• Ignition Type: Solid State 12V
• Lubrication: Full Pressure
• Oil Filter: Screw on Filter
• Cooling System: Liquid
• Muffler: Spark-arresting
• Battery: 340CCA
• Alternator: 75 amp @6000 rpm, regulated
• Headlights: Two 27 watt halogen
Fuel System
• Capacity: 5.3 gallons (20.1 liters)
• Consumption (half load at avg. speed) U.S. gal/hr: 0.7 (2.65)
• Fuel Pump: Electric
4WD
• System Type: On-demand true four-wheel drive
• Front Differential: Auto-locking (on/off rocker switch)
• Rear Differential: Positive locking, mechanically actuated
Transmission
• Type: Continuously Variable Transmission (CVT)
• Drive Belt: Spun top cog, 31 mm wide
• Ground Speed, mph: Hi Forward (0-44), Lo Forward (0-27), Reverse (0-32)
• Transaxle: Two speed, oil bath
• Gear Selection: Forward (hi-lo) Neutral, Reverse
• Overall Reduction Ratio: Low (86.8488:1), High (42.1430:1), Reverse (75.9333:1)
• Brakes: Front/rear hydraulic disk
• Park Brake: driveline mechanical disk, hand operated
• Bearings: Sealed, double-row ball
• Axle: 27 mm dia. forged CV-Shaft with Double Offset Joint
Suspension and Steering
• Suspension, Front: Fully Independent Dual A-Arm with adjustable coils
• Front Suspension, Travel: 8 inches (203 mm)
• Suspension, Rear: Fully Independent Dual A-Arm with adjustable coils and sway bar
• Rear Suspension, Travel: 9 inches (229 mm)
• Steering: Rack and Pinion
• Turning Radius: 12.4 feet (3.8 meters)
Hitch
• Front: Standard 2-inch receiver
• Rear: Standard 2-inch receiver
Occupant Protective Systems
• Tubular Overhead Structure: 1.75 inch (44.4mm) Steel Tube
• Passenger Grab Handles: Front OPS post, front dash
• Seat Belts: 3-point
Ground Pressure (Max.)
• With 200 lb Operator: 14 psi (0.98 kg/cm2)
• Fully Loaded Vehicle: 14 psi (0.98 kg/cm2)
Ground Clearance
• Ground Clearance: 11 inches (267 mm)
• Under Foot Platform: 12.25 inches (311 mm)
Dimensions
• Length: 119 inches (3021 mm)
• Width: 62 inches (1574 mm)
• Wheelbase: 79 inches (2007 mm)
• Height: 75 inches (1903 mm)
• Weight (including fuel/fluids): 1640 lbs (744 kg)
• Seating Capacity: 2
• Seat Type: Professional high back, bucket (tilt forward)
• Towing Capacity: 1500 lbs (680 kg)
• Payload Capacity: 1400 lbs (635 kg)
• Sound Rating (at operator's ear): 89.4 dB(A)
Cargo Box
• Material: Polypropylene side panels and tailgate, steel floor and load guard
• Dimensions: 45L x 52W x 12D (in), 1143L x 1320W x 304.8D (mm)
• Volume: 16.4 cu. Ft (0.46 m3)
• Weight Capacity: 1000 lb (454 kg)
• Dump: Manual with lift assist shock (factory installed power lift option)
• Tailgate: Hinged at bottom, removable
Tires
• Front: 26×9-12 Ancla M-T (Extreme Terrain) 25×9-12 Terrahawk AT (All Terrain)
• Rear: 26×11-12 Ancla M-T (Extreme Terrain) 25×9-12 Terrahawk AT (All Terrain)
• Available Tread: Ancla M-T (Extreme Terrain), Terrahawk AT (All Terrain) Maxxis BigHorn
• Types: 2.0 Radials (Extreme Terrain) Front: 27×9-14, Rear: 27×11-14
Color Options
• John Deere Green and Yellow
• Olive and Black
• REALTREE HARDWOODS HD Camo
Related Reading
2011 John Deere Gator XUV 625i 4×4 Review
John Deere launches high-performance Gator XUVs
John Deere builds 500,000th Gator Published October 20th, 2010 3:22 PM
Top Brands
Popular Articles