18 Views
John Deere sticks to its roots
June 18th, 2015 5:08 PM
Share
We're committed to finding, researching, and recommending the best products. We earn commissions from purchases you make using links in our articles. Learn more here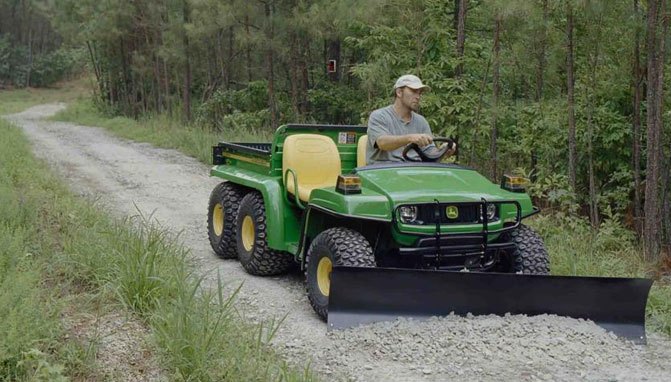 The brand best known for farm equipment and green colors focuses on what it knows best
When you think of John Deere you probably think of heavy farm equipment and green overalls. Of course, the company is huge in agriculture—and it didn't become a household name by being last to any party, and so it's no surprise it saw the potential of a vehicle such as the Gator back in 1993.
Built to capitalize on the growth of small utility vehicles in industry and agriculture, these four and six wheel utility vehicles soon became the mainstay of golf courses and city recreation and parks departments. They were multi-faceted in their applications, easy to drive and maintain and gentle on the terrain.
Refinement in the Gator lineup continued—but with a purely institutional view—until about 2001 when the obvious hook and bullet applications of the Gator became too much for JD marketing to resist. Off-road tires, camouflage graphics and racks suited to hauling gear in and game out were adapted to fit the Gator, and these models were sold to farmers and sportsmen alike. But these early Gators were still sporting the same suspension and relatively low clearance heights of their golf course cruising cousins.
In 2005, with the single-rider ATV market still hot, JD introduced the Buck. What was immediately noticeable about this ATV was that most models of what they were calling the 'Buck' looked very much like the Bombardier—with good reason—that company built them for John Deere. So started (or what turned out to be) a short collaboration.
Still, from a sales point of view, John Deere probably sold these machines better in markets where people didn't know what a Ski-Doo was. What they offered was several models that year in their green trim with Bombardier's mechanicals. These featured a gear-on-gear transmission capable of delivering high torque at lower speeds perfect for the farmer, rancher or outdoorsman, the company said.
Buck models were equipped with a 500cc, 4-stroke Rotax engine, progressively locking all-wheel-drive system, 1100 lb towing capacity, hydraulic disc brakes and top speeds in excess of 45mph. Right off the bat, JD recognized the utility aspect of the ATV market and assembled a line of utility-oriented attachments including a 60-inch plow blade, various storage bags, rack extensions and other items. The models available were the Buck, Buck EXT, Trail Buck 500, Trail Buck 650, and Trail Buck 650 EXT.
The Buck was offered through the 2006 model year but was then discontinued. It's important to note that this had more to do with what was going on at Bombardier than at JD. The new powersports division of BRP (Bombardier Recreational products) decided to take its ATVs in a new direction. The company abandoned the pass-thru designs of the original Traxter (Buck) and went with a new sport design and a new name—Can-Am.
The Buck may well have been a stop-gap measure, as 2007 saw the introduction of the Gator XUV 4×4—a vehicle much more in the tradition of what JD had been building for the past 15 years. Originally, the Gator had been all about work, but now a trail-riding element was added. The new XUV was taller than its predecessor, and offered independent rear suspension with 11 inches of ground clearance (compared to six for the turf-running HPX). The body was also sprung on a suspension with seven inches of travel. The powertrain offered true 4WD with a locking front-differential and a floor-mounted lever that locked the rear diff as well. Also, an in-dash located switch changes between on-demand (slip and grip) 4WD and one-wheel drive which won't tear up the lawn, and is an obvious nod to JD's long association with golf course requirements.
Useful features of this new design include 22 inches of water crossing ability. A cargo box that can carry 900 pounds (this box is available with an optional hydraulic lift) and heavy duty towing ability. Keep in mind, though, that with these capacities comes a machine that is larger than the norm. Its width is 60 inches and at 113 inches in length it's longer than some. It also tips the scales at a wet weight of 1,383 pounds.
Offered in both a gas and diesel version (for the coming year, the XUV 850D is probably the more interesting of the two. It's driven by a 3-cylinder, 854cc Yanmar diesel, which will tow up to 1,300 pounds using an automotive two-inch hitch receiver. The diesel pushes its power through a dual range CVT transmission that has on-demand 4WD (including that gentle turf setting). It has independent front and rear suspension, a full roll cage, 12V outlet, glove box, storage and even cup holders.
Also back this year is the old standard—the Gator, also available in a diesel version, the TH 6×4. This model is propelled by the same diesel as the XUV but with an added axle it is capable of towing 1,600 pounds. On the back of the Gator is a nine-inch deep, 43 by 49-inch box with a removable tailgate that can be equipped with an electric lift for dumping and can take a payload of 1,200 pounds. The Gator can also be outfitted with a full soft-side or hard-side cab.
A Great Outdoors Package is available for either vehicle which includes a winch, front receiver hitch, windshield, light kit, gun boot and Ops organizer. In addition to the personalized accessories, JD offers more than 50 attachments for use with the Gator. Published December 11th, 2007 5:13 PM
Top Brands
Popular Articles