1 View
2008 Kawasaki KFX450R Preview
June 17th, 2015 4:37 PM
Share
Team Green offers race-ready sport quad
Kawasaki is making a hard push into sport ATV racing, and the KFX450R is designed to make it as easy as possible for the average rider.
The company says its racing quad doesn't require extensive modifications to compete on the track and has been designed to include everything riders need to win races.
"This is race-ready right out of the box," Kawasaki's Jeff Quilty told ATV.com.
Powered by a 449cc, liquid-cooled, 4-stroke engine, the KFX450R produces more torque in the low and medium rpm ranges to improve hole-shot acceleration. The use of fuel injection helps ensure that the engine's performance remains consistent, and Kawasaki says it is virtually unaffected by changes in temperature or altitude. The machine also comes with the only reverse gear in its class.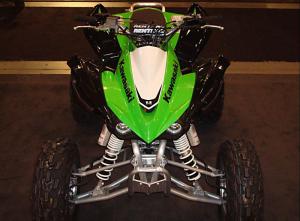 As for its chassis, the KFX450R has an all-aluminum frame, which is light weight and very stiff. The front suspension features long lower A-arms mounted to a single box-tube lower frame.
To lower the center of gravity, Kawasaki mounted the battery and coolant tank in front of the engine.
The KFX450R is also designed to be easy to work on. The two-piece front and rear fenders make it possible to replace sections separately if they get damaged.
To compliment its race-ready quad, Kawasaki has significantly increased its ATV racing contingency program. The company is offering as much as $800,000 for its riders in 2008, up from $548,000 in 2007.
All that money is available to anyone who races on Kawasaki ATV, not just sponsored riders. Riders who buy a KFX450R and place in one of the races in Kawasaki's contingency program, take home a portion of the money.
Related Reading:
Kawasaki increases ATV race purse
Published December 14th, 2007 1:53 PM