119 Views
2009 Kawasaki Brute Force 650 4x4i Review
June 17th, 2015 4:19 PM
Share
We're committed to finding, researching, and recommending the best products. We earn commissions from purchases you make using links in our articles. Learn more here
Powerful, tough and easy on the wallet
If you're just looking at a spec sheet, the Kawasaki Brute Force 650 4x4i might seem a little behind the times. After all, power steering is not an available option and the engine is still carbureted. Of course, if you talk to a Brute Force owner or climb aboard one for yourself, that perception will change in a hurry.
V-Twin Power
Kawasaki's very capable 633cc 4-stroke V-Twin powers the Brute Force. This is a proven platform and it provides ample power across the entire power band. It doesn't have quite the same throaty growl as Kawi's 749cc mill which powers the Brute Force 750 and the Teryx and mid-range power is expectedly down a notch from the larger V-Twin, but this engine is a beast just the same.
Sure, fuel injection would be nice, but it was not something we missed during our test. It started like a champ every time, including once while we were stuck in seat-high water. If you typically ride over huge changes in elevation and you're not too comfortable with re-jetting, you may want to consider upgrading to the fuel-injected Brute Force 750, but this is plenty of machine for most of us and you're saving some money.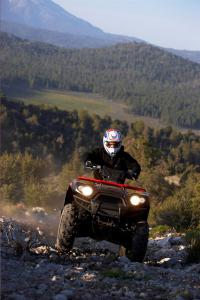 The 633cc V-Twin can power you up and over just about anything.
If you do find yourself craving more power, this engine is easily tunable. A quick trip to an engine builder and you could be screaming past the big 750 and 800cc machines on the trails without a major investment.
You won't find any surprises with Kawasaki's familiar transmission featuring High, Low, Neutral and Reverse. It did require some extra effort to slip it into neutral on occasion, but it generally worked just fine and wasn't something we had to put any thought into – pretty much exactly what you want out of a CVT. Kawasaki's famous drive-line whine was music to our ears. It takes some getting used to if you haven't heard it before, but you'll eventually forget it's even there – it's like the Brute Force's heartbeat.
Switching from two to four-wheel drive can be done on the fly, so if you're ripping along an old fire road or wide-open trail in two-wheel drive, you can flick the right handlebar-mounted switch and get power to all four wheels when you come across a rocky climb or muddy stretch, without stopping. No problems to report here as this system worked as expected every time.
Handling
Despite the fact that Kawasaki is the one of the few remaining manufacturers not offering power steering as an option, overall steering action on the Brute Force 650 is fairly light. Even while rock climbing the handlebars never felt like they were being ripped hard to the left or right. We did get a little more kickback than we felt on the EPS equipped Yamaha Grizzly 550 and Polaris Sportsman 550, but even after a long day of riding our shoulders and arms weren't too beat up. Even if Kawasaki offered EPS as an option on this quad, the current steering is good enough that we're not sure it would be worth an extra $600 or so.
Steering was smooth and consistent and we didn't get much negative feedback from the handlebars when climbing over big rocks and other obstacles.
The "i" in Brute Force 650 4x4i stands for independent rear suspension. Both the front and rear shocks are five-way preload adjustable with 6.7 inches of travel up front and 7.9 in the rear. A total of 9.7 inches of ground clearance helps you get over most obstacles in the trail. This is more than two inches less than some other utility quads, but it's enough for most riding conditions you'll come across.
With the Brute Force 650's combination of power and handling, it proved to be an adept climber. Even less-experienced climbers will appreciate what this machine can do on a steep, rocky hill. Kawasaki's Variable Front Differential Control is a big reason why. Unlike a typical diff lock you'd expect to see on an ATV, this variable system allows the rider almost complete control of the differential. To activate it, you just pull a trigger mounted near the front brake lever. Give it a light squeeze or pull it all the way in depending on how much help you need getting over a big rock or through a muddy bog. Just understand that the more you apply the differential control the more steering effort is required.
Kawasaki's Variable Front Differential Control helped us climb over just about everything.
Even a steep and muddy incline proved no trouble for the Brute Force 650.
Stopping power is provided by dual 200mm front discs and Kawasaki's excellent sealed, oil-bathed multi-disc rear brake system. The enclosed rear braking system is sealed in the aluminum swingarm where the brake pads are protected from mud and debris. It's pretty much a maintenance free system and Kawasaki uses it on an assortment of vehicles, including the Teryx side-by-side.
Helping slow the Brute Force 650 down on descents is Kawasaki's engine braking system. It won't slow you down to barely a crawl like some other engine braking systems, but it does allow you to concentrate on the trail more than on the brake levers.
The Brute Force was at home playing in the mud.
The wheels are wrapped in Dunlop tires – AT25 x 8-12 up front and AT25 x 10-12 in back. For typical trail riding and occasional rock climbing, these tires will get the job done. New rubber would be a good investment if you plan on riding in more extreme conditions; bigger tires with better grip will affect the steering effort, however.
Riding Impressions
We put the Brute Force 650 4x4i through its paces at the beautiful Mines and Meadows ATV park in western Pennsylvania. This facility offered up a host of obstacles that would test any ATV, including deep water crossings, mud bogs and challenging rock crawls. We even rode through a pitch black underground mine (more on that in a future story).
Riding in the underground mines was a blast. It was pitch black in there and the headlights showed us the way.
Most impressive was how the Brute Force 650 handled the near seat-high water crossing. We probably spent an hour playing in the water and outside of some decaying leaves and sticks hanging off the A-arms, you'd never know it. The engine kept humming along without a hint of a problem. Be sure to check out the photo gallery to see all of our water-crossing pics.
We probably wouldn't do this with our own ATVs, but it's nice to know you can.
Climbing, as we mentioned previously, was another area where this ATV showed its teeth. Whether it was short, steep climbs up a loose gravel path or a rocky, off-camber, technical ascent, the Brute Force 650 did everything we asked it to and begged for more.
Bottom Line
Kawasaki has been building powersports vehicles for a long time and you can see that experience at work in the Brute Force 650 4x4i. You can find ATVs with bigger and badder powerplants, but do you really need an 850cc engine? This quad has more than enough power and performance for almost anybody. It looks great – especially the black unit with red racks that we tested – and it has a history of reliability. Less time spent wrenching or at the dealer means more time riding and having fun.
You also get good value. At $7,399 it's $800 cheaper than the Brute Force 750. It's also $100 less than the non-EPS equipped Yamaha Grizzly 550 ($8,099 with EPS) and Polaris Sportsman 550 XP ($8,199 with EPS).
Kawasaki Brute Force 650 4x4i Specifications
2008 Kawasaki Brute Force 750 4x4i Review




2009 Kawasaki Teryx 750 FI 4×4 Sport Review




2008 Kawasaki Teryx 750 4×4 Review Lucas Cooney
I have been working exclusively in digital media since 1997. I started out with TSN.ca, spending nearly nine years creating and editing content on Canada's leading sports website. I left to join VerticalScope, Inc., one of the world's largest online publishers, to start a number of powersports publications. While at VerticalScope, I've helped create and oversee content for a wide variety of different publications, including ATV.com, Off-Road.com, ArcheryTalk.com, Tractor.com, RVGuide.com, and many more.
More by Lucas Cooney
Published April 24th, 2009 3:32 PM
Top Brands
Popular Articles