9 Views
2012 Kawasaki Brute Force 750 4x4i EPS Preview
June 17th, 2015 4:07 PM
Share
We're committed to finding, researching, and recommending the best products. We earn commissions from purchases you make using links in our articles. Learn more here
Power steering and more muscle added to Kawi's flagship ATV
We first caught wind that Kawasaki planned on adding power steering to the venerable Brute Force 750 in November, but we've finally got the full details.
Instead of merely dropping a power steering unit into the Brute Force, Kawasaki decided to give its flagship ATV major facelift. Besides electronic power steering (EPS), the 2010 Brute Force 750 also features a more-powerful V-Twin engine, new double-wishbone front suspension, six-spoke cast alloy wheels and new bodywork.
Power Steering
The hallmark of the upgrades to the Brute Force 750 is the electronic power steering (EPS). Every ATV we've ridden with EPS does a good job of enhancing handling and improving ride comfort – especially at slower speeds. Like other EPS systems, Kawasaki says its system offers greater assistance at slow speeds or when stopped and less when as vehicle speed increases.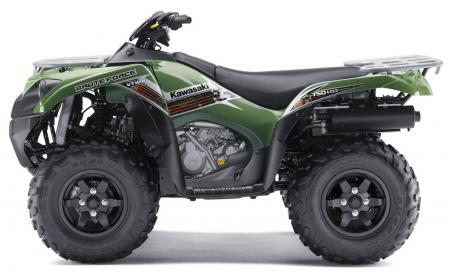 2012 Kawasaki Brute Force 750 EPS
Kawasaki explains how its EPS system works: "Turning the bars causes a signal to be sent to the electronic power steering control unit, initiating power assist. The control unit monitors inputs from the vehicle speed sensor and steering shaft torque sensor to determine the amount of power assistance required from the system's electric motor."
Additionally, the EPS assembly acts as a damping system. According to Kawasaki, even when steering input is neutral, the added inertia of the electric motor acts as a stabilizer. Bump steer and kickback to the handlebar should also be significantly reduced.
The Brute Force shows off its new EPS badge.
Here's a closer look at the power steering unit.
Kawasaki repositioned the entire steering assembly on the Brute Force 750 so the bottom of the steering shaft no longer connects directly to the front differential. Movement of the differential due to throttle inputs in 4×4 mode no longer affect the steering assembly, which Kawasaki says provides significantly smoother handling.
Revised Poweplant
Kawasaki retuned the 749cc V-Twin to make more power, especially in the lower rpm range.
As for the upgraded engine, Kawasaki hasn't offered up any specific power numbers. Kawasaki does say that revised tuning, a new cylinder head and an increased compression ratio help give the four-stroke fuel injected 90-degree 749cc V-Twin engine more power than ever – specifically in the lower rpm range. The twin cylinders are fed via 36mm throttle bodies that are controlled by a 32-bit CPU. The system monitors coolant temperature, air intake temperature, air intake pressure, throttle position, vehicle speed and crankshaft angle to deliver what Kawasaki calls optimum fuel mixture.
A new larger radiator is placed high in the chassis to provide more protection against mud and debris, while a new larger radiator fan and larger-diameter cooling hoses and pipes help maximize cooling performance. A self-repairing circuit breaker and dedicated fuse for the new fan also help keep things cool.
An upgraded fully automatic, dual-range continuously variable transmission (CVT) is mated to the the V-Twin. A new high gear ratio and a thicker belt made of stronger material are designed to contribute to longer CVT belt life and reduced maintenance requirements. Kawasaki boasts revised converter weight and drive spring tuning offers improved acceleration characteristics and increased control during low-speed operation. Also, a new layout and revised placement of the CVT air duct is more is designed to be more effective at helping keep out water and mud.
Chassis/Suspension
For 2012 the Brute Force 750 features a new double-cradle tubular steel frame featuring reinforcements at key areas like the front wishbone mounts, rear stabilizer mounts, engine mounts, and footrest mounts. This is designed to result in improved rough terrain handling and enhanced durability.
"The frame's improved ability to absorb shocks when sport riding on rough terrain boosts ride comfort and makes it easier to maintain a higher average speed in a wider range of conditions," Kawasaki says in a release.
The 2012 Brute Force 750 was given a new frame and redesigned front suspension.
Up front Kawasaki outfitted the Brute Force 750 with a new double-wishbone front suspension with shock absorbers mounted at a more splayed angle between the upper and lower wishbones. According to Kawasaki this was done to help minimize sag and allow a higher ground clearance to be maintained once a rider sits on the ATV. The front suspension works in concert with its independent A-arm rear suspension. The front wishbones feature adjustable shocks with 6.7 inches of travel, while the IRS employs a torsion bar and provides 7.5 inches of travel.
Kawasaki also chose to replace the dual rate springs in the front and rear suspension with new single-rate units. This was done to better complement the revised suspension geometry.
Styling
Beyond upgrading the performance of the 2012 Brute Force 750, Kawasaki also enhanced the styling. Gone are the pressed steel wheels seen on previous models. In their place are new six-spoke cast aluminum matte black wheels. These premium wheels help give the Brute Force its 9.4 inches of ground clearance and transfer the power of the V-Twin engine to the ground.
Finally, Kawasaki gave the Brute Force 750 some new clothes in the form of bodywork molded from scratch-resistant Thermoplastic Olefin (TPO). The hood, fenders, bumper and headlight surrounds were all re-designed to offer a wide and rugged appearance.
Other new design touches include dual wide-set 35-watt headlights which help provide excellent lighting for nighttime rides, and a new covered hood storage compartment large enough to hold two 16 oz. bottles. Also, new cargo racks featuring stronger tubing that is over 25% larger in diameter than previous versions and come equipped with tie-down hook points to help secure a load. The cargo racks can carry a combined total of 264 pounds.
The 2012 Brute Force 750 with EPS will retail for $9,999.
Brute Force 750 Choices
Not everyone wants the same thing, so Kawasaki will have several iteration of the Brute Force 750 platform available for the 2012 model year.
2012 Brute Force 750 4x4i EPS SE: The Special Edition version features Metallic Tungsten Gray automotive paint finish, unique graphics and a bright silver machined finish on the face of its cast aluminum wheels. MSRP $10,349
Bright silver wheels and Metallic Tungsten Gray paint set the 2012 Brute Force 750 EPS SE model apart.
2012 Brute Force 750 4x4i EPS Realtree APG HD: This is the same as the regular EPS model but the bodywork is covered in Realtree APG HD camouflage for hunters and outdoorsmen who require more stealth in the woods. According to Kawasaki, Realtree APG is printed using a high-definition imaging process that allows it to meld into hardwoods, pine thickets, prairies, river bottoms and other environments. MSRP $10,349
Hunters will appreciate the Realtree APH HD camouflage for more stealth in the woods.
2012 Brute Force 750 4x4i: Though Kawasaki hasn't revealed prices just yet, power steering adds hundreds of dollars to the price tag and not everybody has that in the budget. The non-EPS Brute Force still features all the new upgrades, just without power steering. MSRP $9,299 Lucas Cooney
I have been working exclusively in digital media since 1997. I started out with TSN.ca, spending nearly nine years creating and editing content on Canada's leading sports website. I left to join VerticalScope, Inc., one of the world's largest online publishers, to start a number of powersports publications. While at VerticalScope, I've helped create and oversee content for a wide variety of different publications, including ATV.com, Off-Road.com, ArcheryTalk.com, Tractor.com, RVGuide.com, and many more.
More by Lucas Cooney
Published February 7th, 2011 10:24 AM
Top Brands
Popular Articles