66 Views
June 19th, 2015 2:53 PM
Share
We're committed to finding, researching, and recommending the best products. We earn commissions from purchases you make using links in our articles. Learn more here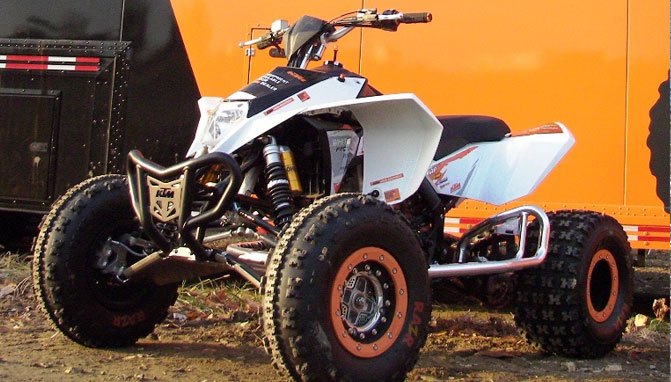 Cross-country quad ready to race
Competition in ATV racing today is fierce, particularly in the trails of the Grand National Cross Country tour.
Few manufacturers understand this better than a relative newcomer to the ATV scene – orange-clad, Austrian-based KTM. Factory KTM GNCC racer Adam McGill proved the company's 'Ready to Race' slogan by finishing third overall in this year's series on his KTM 525 XC. His teammate, Taylor Kiser, was close behind with a sixth overall in the 2008 pro class.
Both riders accomplished this feat in their first year on a first-year machine designed specifically for cross country racing.
KTM, as a multi-time two-wheeled GNCC title holder, came very close to a title during its ATV racing debut. KTM invited us for a day-long test of its 450 and 525 XC models at a recent KTM Ride Experience on the grounds of Crow Canyon Action Extreme Sports in Uhrichsville, Ohio.
Ergonomics
Seemingly everything about KTM's four-wheeler was designed with racing in mind.
Before clicking the starter button, we spent the morning looking over the test model KTM had provided us and the KTM Hard Equipment 'photo shoot' model KTM hauled in its 18-wheeler to the Crow Canyon demo ride.
First, we spent some time sitting on the machine analyzing its ergonomics. The most obvious difference when compared to most other sport ATVs is the length of the hydraulic clutch and front brake levers. The short levers are a nod to the quad's two-wheeled cousins and cater to a more race oriented style of riding in which the rider maintains one or two fingers on the levers at all times.
The wide foot pegs include a kick-up to keep your boots from sliding off. The pegs also seemed angled slightly towards the front of the quad and created a more aggressive riding stance.
The peg angle seemed to push our knees forward more so than on other quads and left us feeling as if we were hunching over the Magura tapered aluminum bars, which are somewhat lower than we prefer. But the fender location offered a lot of leg room and maneuverability, particularly with the wide seat, and encouraged a mobile rider to work their weight aggressively around the quad.
Overall, the ergonomics provide a very neutral, natural feeling with enough opportunity for fine tuning via the four-way adjustable handlebar clamps.
Austrian Engineering
The engine on the XC models is borrowed from proven KTM dirt bike models and modified for ATV performance levels. The engines in both models are virtually identical, except for the bore – 89mm on the 450 and 95mm on the 525. Innovative engine features include interchangeable cylinder heads, a curved radiator for improved airflow and the elimination of an external oil tank.
Air intake is directed through a large air box and filter located beneath the seat and designed for two things – maximum water protection and ease of maintenance. No tools are required for removing or replacing the air filter. KTM opted to avoid the complexity of fuel injection and funnels air and fuel through a Keihin FCR MX-39 carburetor.
Exhaust gases are expelled through a stainless steel head pipe and aluminum silencer with plenty of bark and aftermarket-like performance. The exhaust system performs and sounds like an expensive aftermarket unit yet emits a quiet 94 decibels while adhering to California's Green Sticker requirements. Power is channeled via a 520 X-ring chain to Maxxis Razr tires on Douglas wheels.
Chassis duties are handled primarily by two components virtually unknown to factory dealer floors. Chromoly steel, a high-strength alloy commonly used in aftermarket frames, is used in the fabrication of the XC chassis for both the frame and front a-arms. Ohlins fully adjustable shocks take the hits in the front and anchor a no-link system in the back.
Smooth Sailing
A wider first gear allows you to stay off the clutch when tackling more technical trails.
Once they were tuned to our liking, the Ohlins shocks really impressed us.
The angled position of the foot pegs does encourage a more aggressive riding position, which makes shifting and grabbing the rear brake feel very natural. The front brakes are incredibly responsive and aid in maintaining a smooth pace while making last minute corrections.
The hydraulic clutch is a nice touch, considering we were riding it a lot in the tight woods in second and third gear. Though first gear is wide enough to allow you to stay off the clutch in extremely technical trails while maintaining your speed. Grabbing gears is effortless with the aluminum shifter and 5-speed, semi-close ratio transmission.
The rear brake seemed to fade slightly a few miles in to our test loop, but KTM offers sintered brake pads through its HEQ catalogue to counter any drag created by mud and debris that may collect on the stock organic pads.
The suspension seemed set a little stiff from the factory, even for our 195 pound test rider. The rear shock had too much rebound and compression, which resulted in a pogo-like effect on large logs and trail obstacles. This bouncing kept the wheels from staying firmly planted in the dirt.
Merely softening up the compression on all three shocks immediately reduced bouncing in the rear end and improved traction. The Ohlins shocks responded marvelously to just a few clicks of compression adjustment and created a much more controllable ride.
The trails at Crow Canyon are extremely technical, and the XC handled the obstacles brilliantly without overly fatiguing the rider. Though the ride is not jarring, one nice feature on the quads is a pre-existing frame mount for an Ohlins steering damper, which would further reduce the shock absorbed through the rider's wrists, forearms and shoulders.
Overall, the KTM XC models can make even a novice rider feel like they're moving at a race pace. Clearly, these machines are meant to be raced, and the XC models perform best when ridden hard.
The MSRP for the 2008 XC 450 model is $8,798, while the XC 525 is $200 more. This is a pretty steep price compared to sport quads from other manufacturers, but these machines truly are ready to race and will save you money on costly and necessary bolt-ons.
Picture Perfect
More than 400 acres of trails and the large motocross track at Crow Canyon provided a great location for one of about 25 KTM Ride Experience events held each year.
KTM Ride Manager Mark Hyde said the Crow Canyon event is the oldest at six years.
"We have great support from the area KTM dealers and other motorcycle related companies for this event," says Hyde. "We have had great weather for this event every year and a lot of people look at this event as their last big ride of the year."
Hyde was among a dozen KTM experts wrenching on demo rides and introducing members of the public to several KTM motorcycle models and both the KTM XC and SX models via short, five minute test rides.
More than 400 people tried out KTM models on Saturday alone, which was the first day of the two-day event. Hyde spends two-thirds of his weekends rolling out the factory rig and awning for the average rider to enjoy.
"I really enjoy seeing people having fun riding, and it's really cool when they get off a bike after a demo with a big grin and just start going off on what a great bike the KTM is," Hyde said.
KTM HEQ
Even race-ready KTM has a wide selection of accessories.
KTM had a display model, outfitted with KTM Hard Equipment (HEQ) parts, but it was strictly for show only. It featured an FMF exhaust, Nerf bars, steering stabilizer and more.
Pricing and KTM HEQ parts list for photo model
FMF slip-on exhaust – $318.99
A-arm skid plates – $115.99ea
Frame skid plate – $189.99
Nerf bars with heel guards – $258.99
Ohlins stabilizer complete – $769.99
Front KTM bumper – $136.99
Orange Z-ring chain – $118.99
Carbon front wheels – $265.99 ea
Carbon rear wheels – $279.99 ea
Jared Chonko, ATV product sales manager for KTM North America, said all of the HEQ items come ready to bolt on.
"Nothing that we sell needs any modifications, no holes drilled, no cutting, no additional hardware or mounting pieces needed that are not included," says Chonko. "Everything comes ready go or 'Ready to Race.'"
Chonko said all the HEQ parts use OEM specs. If a part doesn't fit as well as the OEM piece it will not make it in to KTM's Hard Equipment line.
Which one would you rather have if you were riding on rutted-out, rocky cross-country trails?
Some interesting HEQ parts include the 'anti-hopping' clutch. The unit is a complete inner clutch system and features a hub consisting of two pieces connected by a helix profile. The clutch uses angled layers for additional friction to prevent slippage.
Under load the system generates additional pressure on the clutch plates but when 'over-running' or decelerating the clutch is able to slip, thus eliminating the rear wheels from hopping or essentially preventing engine braking, Chonko explained.
"This design, unlike other slipper clutches on the market, makes it much easier to pull in the clutch lever with 50 percent less pressure needed, which has a great impact on reducing rider fatigue," says Chonko.
A complete list of KTM Hard Equipment parts is available at http://www.ktm.com/450-XC-ATV/
2008 KTM XC 450 Specs
Engine:
Single cylinder, 4-stroke, SOHC, 4-Valve, liquid cooled
Displacement:
447.92 cc
Bore x Stroke:
89 x 72 mm
Compression Ratio:
11:1
Starter:
Electric starter / 4 Ah
Transmission:
5-speed XC semi-close-ratio + reverse
Carburetor:
Keihin FCR-MX 39
Lubrication:
Dry sump, pressure lubrication with 2 Eaton pumps
Primary drive:
31:78
Final drive:
14:38
Clutch:
Wet multi-disc clutch, operated hydraulically
Ignition:
Kokusan digital
Frame:
Chromoly
Subframe:
Aluminum 7020
Handlebar:
Magura tapered aluminum, 28 mm
Front Suspension:
Öhlins fully adjustable, twin A-arms
Rear Suspension:
Öhlins PDS mono-shock, fully adjustable, swingarm
Suspension Travel front/rear:
257 / 265 mm (10.2 / 10.4″)
Front Brake:
180 mm (7.08″) floating WAVE discs, 4-piston fixed caliper x 2
Rear Brake:
200 mm (7.87″) disc, single piston floating caliper
Rims front/rear:
5.0″x10.0″; 8.0″x9.0″ Douglas
Tires front/rear:
21″x7″-10″; 20″x11″-9″ MAXXIS Razor
Chain:
520 X-ring chain 5/8 x 1/4″
Main Silencer:
Aluminum XC w / Spark Arrestor
Wheel Base:
1280 mm (50.39″)
Ground Clearance:
290 mm (11.42″)
Seat Height:
820 mm (32.2″)
Fuel Capacity:
approx. 13.4 liters (3.54 gal)
Weight (no fuel):
163 kg (351.1 lbs)
Related Reading:
2009 KTM 450 & 505 SX Review Published November 14th, 2008 11:03 AM
Top Brands
Popular Articles