25 Views
2009 Polaris Sportsman XP 850 & 550 Review
June 17th, 2015 4:20 PM
Share
We're committed to finding, researching, and recommending the best products. We earn commissions from purchases you make using links in our articles. Learn more here
The XP models are as good as advertised
When we had our 'impressions' ride of the new 2009 Polaris Sportsman XP earlier in the year down in southeastern Minnesota, it was obvious that the 'XP' models were significant improvements over the previous best-selling Polaris Sportsman 4-wheelers.
Your riding and adventuring, however, are extremely limited at a media introduction. There are watchful eyes making certain that you don't seriously abuse their early pilot run of ATVs. It is explained that that these pre-production offerings are not finalized. Close, but not final. Okay, we buy that program, but we figured out a program of our own that will let us give the all-new Sportsman XP models a good workout. From the mid-summer introduction we jump to mid-October and our test plan.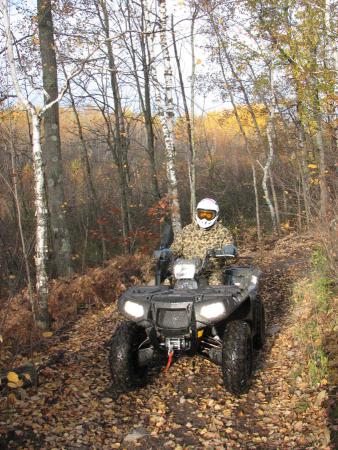 Polaris Sportsman XP handles tight trails or wide corridor trails easily.
We'll kick our test plan into gear with actual production models. It's mid-October and coming off the Polaris production line are a pair of Browning Edition Sportsman XPs. We journey over to Polaris world headquarters in Medina, Minn., to pick up a trailer loaded with an all-new 2009 Polaris Sportsman XP 850 and an XP 550.
Neither XP could be considered broken in. Total mileage was less than 10 miles when we picked them up. When we returned them a few days later, they would have accumulated just under 800 miles. They were well broken in.
Polaris loaned us two Browning 'camo' editions complete with gun rack. You had to look hard to tell the 850 from the 550. Except for the engines, these two ATVs were virtually identical, which gave us great insight into the new Polaris powerplants. We won't keep you in suspense. Yes, the 850cc Polaris-built twin is worth the extra money. Yes, the 850 would be our first choice overall. That said, the lighter weight 550 proved to be the better handling version on nasty, slow-paced, tight, off-camber trails where nimbleness counts more than big bore power.
Our Test Plan
Our plan was simple. We would trailer about 90 minutes north of Polaris HQ to Isle, Minn., a favorite riding spot for Minneapolis-St. Paul ATVers and home to the Red Top Loop and the Ten Bruin Adventure Trail. On a Tuesday morning, four of us left Isle on the southern shore of Mille Lacs Lake for a 200-mile run to the city of Cass Lake, just northeast of the Mississippi River headwaters. In addition to our two 2009 Polaris Sportsman XPs, we were joined by Scott Eilertson, an ATV sales rep for Wisconsin who rode his 2009 Arctic Cat 700, Larry Koch, former owner of one of the largest ATV and snowmobile dealerships in Minnesota, and Les Pinz, ATV club member and area guide. We would all ride each other's ATVs to draw comparisons.
The first day of our trip was exceptional by Minnesota standards. The air was crisp. The sky blue. Fallen gold leaves swirled and hung about a foot over the dirt of the Soo Line trail after each ATV whooshed by. The day was off to a great start.
Converted rail lines offer scenic overviews.
Polaris composite racks with ample tie down locations made packing a snap.
The test crew consisted of long-range riders Les Pinz, Larry Koch and Scott Eilertson (left to right).
Performance
Right away we could tell that the Polaris engines needed some break in time. As we traveled along and the odometers added miles, the engines noticeably ran freer. Where we had been lucky to coax more than 50 miles per hour out of the 550 when we first started, we had the ATV cruising at 55 by midday. Eventually we could push close to 60 out of it on long straight sections. The 850 was easily 10 miles per hour faster and could run full throttle for as long as you dared. But, be warned the front end gets a bit light and big bumps make the vehicle a little nervous at those speeds. We found cruising at 60 could work okay, but the safest speeds on the corridor trail were 50 and under. You could make good time and yet be able to stay under control in case you encountered a deer or an unexpectedly bad stretch of trail. The two Polaris ATVs squeezed more than 20 miles per gallon out of each gallon of regular fuel. The 550 averaged 22-plus mpg with the 850 about a mile per gallon less.
Even with two or three stops for fuel and munchies, we made Cass Lake by late afternoon. The Polaris XP 850 was cruising. It's amazing how turning the engine to line up with the frame improves the ride-ability of this ATV. Not having the engine and drive system jut out onto the floorboards allows you to move your feet around. You can place your feet forward, back, and side to side comfortably. We really appreciated this fact when we switched to Larry's older Arctic Cat 500. The Polaris Sportsman XP is an incredibly comfortable ATV for a long day trail cruising. The seat is cut narrow but with ample cushioning and area for the booty of an aging test rider.
Steering/Handling
Although a railroad bed converted to a main corridor trail will be straighter and smoother than a narrow feeder trail, the chatter of a dirt and gravel path can wear on you after a couple hundred miles. Fortunately, the 2009 Polaris Sportsman XPs feature new suspensions. While we always liked the MacPherson strut of previous Polaris ATVs, we like the new Polaris A-arm front end better. The suspension eats up the stutter of the gravel trail. When we hit a grueling section covered with big railroad ballast rocks, we expected steering kickback, but found none. The steering remained positive and light. We already knew from past experience that would not be the case with MacPherson struts. This rough section of trail highlighted the excellent balance designed into the 2009 Sportsman XP. Both the 550 and 850 ATVs proved sure-footed. Obviously some trail feedback came through the handlebar, but way less than what MacPherson struts would allow.
About 20 miles outside of our overnight destination in Cass Lake, the Soo Line Trail North seemed to vanish. The wide trail disintegrated into a seemingly little used and minimally maintained path. The pace slowed considerably, but the Polaris ATVs never faltered, easily switching from cruiser mode to back country mode. Once again the new suspensions showed their mettle. From absorbing irregular chatter of the corridor trail, the front suspension flexed its 9-inches of travel to pick its way over ruts and even downed tree branches.
A thumb switch activates Polaris Active Descent Control.
"Camo" hides mud splatter.
Polaris inline shifting is easy and smooth.
Steady Power
Encountering mud holes in and around one section of trail, and not knowing how deep or difficult they might be, we stopped, engaged the low range, selected all-wheel drive and simply motored slowly ahead. While we had already learned to appreciate the smooth, steady power delivery of Polaris' new 850 twin, we upped our appreciation as the bigger engine easily slogged through the mud pit. What challenge was that?
Finally we reached our hotel, after getting lost in downtown Cass Lake and rescued by a kindly Pike County police officer, who escorted us through the back streets and pointed us to our overnight home. Where we had begun the trip with some trepidation, we ended Day One with amazement. Yes, we Minnesota adventurers may have snowmobiled such a distance in a day, but long distance ATV travel was a new thing for all of us. We felt great. The modern ATV is, indeed, conducive to extended overnight travel. The new Polaris XP models make excellent traveling companions.
We won't bore you with Day Two other than to state that the day was gray and colder. We left early, reversed our direction on a trail that was now known to us, and arrived back in Isle by mid-afternoon. Total mileage ended up being somewhere between 360 and 380 miles — depending on whether you believed the modern digital instrumentation of the Polaris XPs or an older odometer on Larry's Arctic Cat. We'll stick with Polaris.
Livability
Trail cruising gave us insight into how 'livable' the XP models were. Feature for feature, there is little to separate the 550 and 850. Both powertrains work exceptionally well. In fact, re-reading Polaris' promotional brochure leads us to a startling conclusion: virtually all of Polaris' marketing points are absolutely backed up by fact. Wow, when did products truly meet their advertising hype? Well, this is one case in point.
To carry our testing out a day longer, we said good-bye to Larry and Scott as Les and this somewhat doubting test rider added a third day of riding. This time we weren't looking for miles, but for terrain. Tough terrain. Hilly. Mucky. Tight. Narrow. Steep uphills with treacherous downhills. The Ten Bruin Adventure Trail, a double black diamond of Minnesota ATV trails.
This is where we got to test Polaris Active Descent Control. This is where we learned — and appreciated — that the Polaris Sportsman XP 550 is 52-pounds lighter than its heavier 850cc sibling. This is where we learned to appreciate the anti-kickback steering of the new A-arm front suspension and the full 12-inches of ground clearance.
According to Polaris the weight difference of 52 pounds between the 850 at 784-lbs and the 550 at 732-lbs comes from the fact that the bigger engine has two cylinders and the 550 is a single. That has to be some hefty hunk of metal. Could we surmise that the 850 might be punched out to a larger displacement in the years ahead and the extra bulk is needed to accommodate a future, more powerful twin based on this one?
Weight Difference
On the adventure trail, you definitely feel the difference in weight. The 850 feels heavier over the steering wheels and took more effort to turn in real slow, tight maneuvers. As we said earlier, the smoothness of the 850 helps alleviate its extra weight as the crispness of the electronically controlled throttle lets you plod along without any surprising spikes in the power curve. It took a bit more throttle input in some slow areas with the 550 single, but nothing you'd notice if you weren't switching back and forth from the 550 to an 850 like we were.
If you are a nervous rider when encountering steep downhills, then Polaris descent control is perfect. Engage the handlebar-mounted ADC, sip into gear and head down — thumb off the throttle! This is a good feature for hunters packing out a trophy or ranchers carrying supplies to a remote line shack back in the hills.
Our test XPs came with handwarmers with easy-to-reach console mounted switches.
Our time on the Ten Bruin Adventure Trail was more typical of an ATV trip. Where we rode nearly 400 miles in two days on a cruising trail, we managed less than 30 miles in four hours on the adventure trail. It seemed that no matter the use, the 2009 Polaris Sportsman XP ATVs are equal to the task.
We especially liked the new engine layout that makes these Polaris XPs exceedingly easy to ride for long or short distances. The steering is exceptionally smooth and easy. The suspensions front and rear deliver the most comfort ever from a Polaris ATV.
Impressed
We were incredibly impressed by the big things on the XP models — engines, power, ride, and comfort. But we found ourselves actually amazed at how well thought-out the vehicles were when it came to little things.
The gas cap fits your hand, but you have to look hard to see that you enjoy greater purchase for unscrewing the cap than tightening it. The ridging on the cap differs from 'put on' to 'take off' and keeps you from over tightening the fuel cap.
The handlebars on our Browning camo editions were heated. Maybe not a big deal for Florida sales, but this is a great idea for taking the bite out of a cool fall day on the trail in Minnesota. The easy-to-reach switches have a setting for high and low.
We really appreciate the composite front and rear racks. They have an incredible amount of grip points for bungie tiedowns that made stowing gear incredibly easy.
We've come to take the transmission's ease of performance for granted, but we can't overstate how much we like the simple inline shift pattern and easy throw lever. You activate the full-action hydraulic brakes with a single hand or simply step on the rear foot brake.
We know that the 2009 Polaris Sportsman XP is all new, but we bet that if you came off the previous generation Sportsman, you'd find sitting aboard the 2009 Sportsman would be like catching up with an old friend. The XPs may be new, but they have solid Polaris DNA that was thoughtfully engineered into them. After almost 400 miles of test riding, we can't say enough good things about them. We can only say we'd pony up the extra $1,500 or so for that incredibly smooth 850 twin.
2009 Polaris Sportsman XP 850 and 550 Specs
Engine:
850 — Polaris 850cc, four-stroke, liquid-cooled, twin; 40mm dual throttle bodies, electronic fuel injection
550 — Polaris/Fuji 549cc, four-stroke, liquid-cooled, single; 42mm single throttle body EFI
Horsepower:
850— 70 hp
550— 40 hp
Drive:
Polaris Variable Transmission (PVT); All Wheel Drive with Active descent Control
Front Suspension:
Polaris short arm/long arm A-arm suspension; tube shocks; 9.0-inches of travel
Rear Suspension:
Polaris short arm/long arm A-arm suspension; tube shocks; 10.25-inches of travel
Length:
83.25 in
Width:
47.6 in
Height:
50.75 in
Wheelbase:
53.0 in
Seat Height:
37.0 in
Weight:
850: 784-lbs
550: 732-lbs
Fuel Tank:
5.2 US Gal
MSRP:
850 — Starting at $8,999.00
550 — Starting at $7,499.00
Related Reading:
2009 Polaris Sportsman : First Look Published November 27th, 2008 11:41 AM
Top Brands
Popular Articles