23 Views
2010 Polaris Trail Boss 330 Review
June 17th, 2015 4:34 PM
Share
We're committed to finding, researching, and recommending the best products. We earn commissions from purchases you make using links in our articles. Learn more here
Tame the trails with this budget-minded ATV
Being that Polaris is an American-based company it can see first hand what the economy is like here in the United States. When putting together its 2010 ATV lineup, Polaris decided to dust off some old models and give them a freshening up so cash-strapped consumers would have some choices they could more easily afford.
Polaris has four of these entry-level (read: affordable) ATVs available in 2010. Some of these units hadn't seen a significant upgrade in a decade, but for the current model year three of them received some noticeable improvements. One of these models is the 2010 Trail Boss 330 and we recently had a chance to check it out for ourselves.
At first glance we noticed the Trail Boss 330 – as well as the Trail Blazer 330 and Scramber 500 4×4 – benefited from a facelift. The Trail Boss is now a little easier on the eyes and looks just a bit more modern. It received all new plastics and bodywork and was given more powerful and stylish headlights. Polaris says the new headlights put out 25% more lighting than last year's model.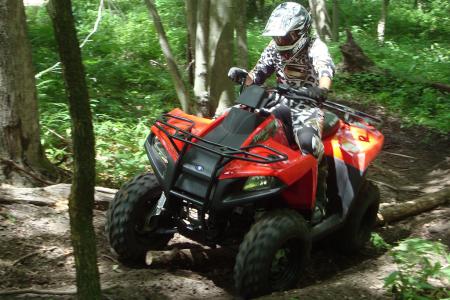 For 2010 the Trail Blazer 330 received all new bodywork and improved ergonomics.
Another key feature added to the 2010 Trail Boss is Polaris' acclaimed Lock-and-Ride compatible steel racks. The Lock-and-Ride system makes installing and uninstalling Polaris accessories like rack extenders and cargo boxes quick and easy. With rack capacities of 75 pounds (front) and 125 pounds (rear), the Trail Boss can carry most anything you'd need. In fact, the Trail Boss racks are rated to hold more than the Sportsman 400 H.O.
Suspension travel was increased on both the front and rear shocks.
Polaris also extended the front and rear shocks to help smooth out rough terrain. The front shocks now offer 8.2 inches of travel – a 15% increase over the previous model. Even more impressive is the 10.5 inches of travel available in the rear – an increase of 20%. We appreciated the updated suspension as we hit bumps in the trail and rolled over a series of large obstacles. It's certainly not Sportsman XP smooth, but for an entry-level unit the suspension gets the job done.
In addition to the enhanced suspension, the Trail Boss 330 also has improved ergonomics and a larger seat to make those long rides a bit more comfortable.
As you'd expect from an entry-level ATV, the Trail Boss 330 is very easy to ride. We rode the Trail Boss at Polaris's own R&D facility which features numerous terrain changes such as wide-open fields, tight trails, rutted out sections, and creek crossings as well as an obstacle course consisting of large rocks, hills and logs. It was a great place to test out the Trail Boss and see what it was capable of. The handling on the Trail Boss is reasonably predictable, but it's a lot more comfortable to handle at low to moderate speeds.
You'll find there's plenty of power to break the back end loose in corners when you want to slide around. Uphill climbs, as well as most large rocks and logs are not a problem for the Trail Boss 330.
Although the Trail Boss 330 still gets its ponies from a four-stoke 330cc air-cooled engine, it has enough power to get your around the woods at a fairly decent rate of speed – you can even tow a hefty load behind you. The Trail Boss comes with a standard hitch and has a claimed towing capacity of 850 lbs – enough to make small work of any job around the yard.
It's far from a racer, but the 329cc engine is still quick enough to keep you grinning.
Bringing the Trail Boss to a halt was easy and consistent thanks to new thicker disc brakes for more reliability and reduced brake fade. Front and rear disc brakes in an ATV in this class are a real bonus.
One upgrade we'd like to have seen Polaris add to the Trail Boss is four-wheel drive. This is the most utility-minded of Polaris' entry-level vehicles and being able to switch to 4×4 would make a difference when the going gets tough on or off the trails. Understand, however, that Polaris wanted to keep the price tag as low as possible and introducing four-wheel drive or any other feature would add dollars to the MSRP. Ultimately, if you really want a Polaris with 4×4, you can just look to the Sportsman lineup.
With an MSRP of just $4,299, the Trail Boss 330 is a fun, functional and affordable and comes from a company with a proven track record.
Although we did not get to spend as much time on the Trail Boss 330 as we would have liked to of, we were happy to see that Polaris made some necessary updates to keep it in the 2010 lineup. With its easy-to-use CVT transmission, low-maintenance engine and a reasonable price tag of $4,299, this ATV would be a solid choice for anybody thinking about getting into the sport. You won't be on the most powerful and full-featured ATV on the trail, but you'll have a lot more money left in your pocket.