39 Views
2011 Polaris Ranger and ATV Lineup Preview
June 18th, 2015 2:15 PM
Share
We're committed to finding, researching, and recommending the best products. We earn commissions from purchases you make using links in our articles. Learn more here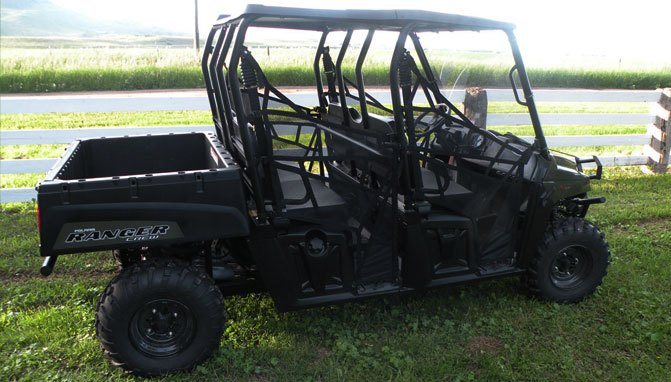 Polaris goes full steam ahead into 2011
After four straight years of churning out a myriad of new ATVs and side-by-sides and making major changes to just about every vehicle in the lineup, we think it's safe to say that Polaris employees don't have a lot of time for quiet reflection (or at least some mindless web surfing) while on the clock.
Despite a shell-shocked economy that has caused much of the industry to slow down considerably or even stop completely, Polaris keeps charging ahead like a hound following scent by improving and broadening its lineup and gaining gobs of market share in the process.
Just look at the new vehicles, never mind the dozens of updated/revamped machines and limited edition models, Polaris introduced in 2009 and 2010:
Recent Polaris ATVs and Rangers
2009
Sportsman XP 850 (+EPS version)
Sportsman XP 550 (+EPS version)
Sportsman Big Boss 6×6 800 (2009)
Ranger RZR S (2009)
Ranger HD (2009)
2010
Sportsman XP 850 Touring
Sportsman XP 550 Touring
Ranger RZR 4
Ranger RZR 170
Ranger 400
Ranger EV
That's 11 brand new ATVs and UTVs – 13 if you count the EPS versions of the XP 850 and 550 – released in a two-year period shrouded by a struggling economy. As you might have guessed, things didn't slow down much for 2011. At the model intro in Montana held in June, Polaris showed off more new models and significant changes across the Ranger and Sportsman lineups.
2011 Ranger Utility Lineup
For 2011 three new vehicles were added to the Ranger utility lineup; the Ranger Diesel, Ranger 500 EFI, and Ranger CREW 500 EFI. Additionally, Polaris made increased power to the venerable Ranger XP 800 (and EPS version), and power steering on the Pursuit Camo Ranger Crew 800. Also, all 2011 Ranger models, except for the Ranger EV, have been outfitted with new easy-buckle driver and passenger safety nets.
The Ranger Diesel ($12,999) shares the same full-size chassis as the Ranger XP 800. At the heart of the unit is a 904cc, three-cylinder diesel engine that provides a top speed of about 35 mph. The rubber-mounted engine, according to Polaris, provides better fuel economy over gas vehicles and boasts the biggest fuel tank in its class.
Polaris enters the diesel UTV market with the mid-size 2011 Ranger Diesel.
Polaris outfitted the Diesel with a fully-sealed, fixed center distance clutch driveline to keep water out of the clutches. The unit also comes with a 55 amp alternator that gives the operator the ability to run many higher electrical load accessories, such as plows, extra lights, cab heaters and fans at the same time. To help get the work done, the Ranger Diesel can tow up to 2,000 pounds and has a total payload of 1,500 pounds.
After having big success with the Ranger 400 last year, Polaris has moved the fuel-injected Ranger 500 to the same mid-size chassis for 2011.
When Polaris introduced the Ranger 400 last year it proved to be a bit hit, becoming the No. 3 seller in the entire Ranger lineup, thanks in part to its $7,999 price tag. For 2011 Polaris is now offering an alternative for mid-size Ranger fans – the Ranger 500 EFI ($8,999). This Ranger offers a lot more options and creature comforts, including a 498cc, fuel injected engine that provides 32 horsepower and a top speed of 44 mph. Other features include On-Demand True All-Wheel Drive with VersaTrac, Independent Rear Suspension, heavy duty front end protection, high ground clearance and the longest suspension travel in the mid-size class.
The Ranger 500 EFI has a 500-pound Lock & Ride cargo box with a gas-assist dumping operation to go along with 1,250 pounds of towing capacity. Along with electronic fuel injection, the Ranger 500 EFI differs from the Ranger 400 due to its standard instrument cluster that includes an odometer, fuel level indicator, and speedometer.
As Polaris beefs up its mid-sized Ranger lineup, the Minnesota-based manufacturer is also entering the value-priced, multi-passenger vehicle segment with the new Ranger Crew 500 ($9,999). With all the same features as the Ranger 500 EFI, the Ranger Crew 500 provides room for four people with plenty of room to spare. According to Polaris, the vehicle features the best room and easy cab slide-through so four adults can get in and out easily.
Polaris' mid-size Ranger family adds another new member with the multi-passenger Ranger Crew 500.
2011 Ranger RZR Lineup
The entire 2011 Ranger RZR lineup gets a revised front end and a new fuel tank that helps improve range by 30 percent.
When the original Polaris Ranger RZR was released for the 2008 model year it immediately changed the face of side-by-sides. It was the first true sport side-by-side from a major manufacturer and consumers ate it up. The Ranger RZR family now consists of the Ranger RZR 800, the Ranger RZR S 800, and the Ranger RZR 4 800. While 2011 doesn't see any brand new models, significant changes were made across the RZR family.
For 2011, the entire Ranger RZR lineup receives new front-end styling that increases cooling airflow area by 29 percent, new side protection, a new in-cab accessible glove box, and High/Low headlights for increased night visibility. Perhaps most impressive, however, is the new fuel management system coupled with a new tank that offers a 30 percent improvement in range! Other improvements include better clutch/belt cooling, improved front and rear drive durability and sealed dash switches. The units also will feature new easier-to-use side nets.
The Ranger RZR 800 got a power boost in 2011 and now pumps out 55 ponies. It also gets new trail-friendly rear rack extenders that offer as much as 60 percent more cargo capacity in the bed. Hunters will appreciate the new Polaris Pursuit Camouflage pattern.
We loved the Ranger RZR S 800 when we first saw it in 2009, but it was an expensive unit. Polaris wanted to bring the price down for 2011 so the costly Fox Podium X reservoir shocks were ditched in exchange for some beefy new Sachs shocks that have a two-inch bore but lack much of the adjustability. You'll still be able to get the Fox shocks on limited edition RZR S models, but you'll have to pay premium.
The 2011 Ranger RZR S receives new Sachs two-inch shocks, as well as ITP 900 XCT tires.
Also new on the RZR S are ITP 900 XCT tires. The new tires were built for high-performance, cross country trail riding, and feature a knobby, aggressive tread pattern than Polaris claims offers even more impressive cornering ability than the Maxxis Bighorn tires that adorned the 2010 model. With all the changes the 2011 RZR S ($12,499) comes in $1,500 cheaper than the 2010 version.
Introduced as a late 2010 model, the Ranger RZR 4 800 was the first multi-passenger sport Side-by-Side and the industry's only four-seat, high performance machine. For 2011, the RZR 4 800 will be available with a power steering option. The RZR 4 comes in an awesome looking painted black and red edition, as well as the blue and white model featuring Robby Gordon-inspired graphics (EPS only).
We love the new red and black RZR 4 for 2011.
Polaris also will offer the following Limited Editions: Ranger RZR 800 EPS Orange Madness, Ranger RZR 800 Indy Red/White, Ranger RZR 800 Sonic Blue/White, Ranger RZR S 800 Gloss Black Carbon Fiber/Orange Madness and Ranger RZR S 800 Gloss Black Carbon/Indy Red.
2011 Polaris Ranger U.S. Pricing
Name
MSRP
Full Size
Ranger 800 HD EPS
$12,599
Ranger 800 XP EPS
$11,999
Ranger 800 XP
$11,199
Ranger Diesel
$12,999
Ranger 6×6 800
$12,499
Midsize
Ranger 400
$7,999
Ranger 500 EFI
$8,999
Ranger EV
$10,999
Ranger EV LSV
$11,999
Multi-Passenger
Ranger Crew 800 EPS
$13,599
Ranger Crew 800
$12,199
Ranger Crew 500
$9,999
RZR
Ranger RZR 800
$10,999
Ranger RZR 800 EPS
$12,399
Ranger RZR S 800
$12,499
Ranger RZR 4 800
$14,999
Ranger RZR 4 800 EPS
$15,799
2011 Sportsman Lineup
The value-model Sportsman ATVs receive a new front end that offers improved sight lines from the cockpit.
While the Sportsman XP family continues to be the focus of Polaris' utility ATV lineup, the older Sportsman models have not been forgotten. For 2011 the Sportsman 500 H.O., Sportsman 800 EFI, Sportsman Big Boss 6×6 800, and the Sportsman Touring 500 H.O. all feature a new front end style that raises the front radiator, gives a smaller appearance, is less-bulky, and improves sight lines for the rider.
Also, the Sportsman 400 H.O., which used to be built around a smaller chassis, will rejoin the rest of the value line in the restyled chassis. This results in a 19 percent increase in suspension travel, as well as improved front and rear rack capacity and ground clearance.
The Sportsman 800 EFI, Sportsman 500 H.O., Sportsman Touring 500 H.O. and Sportsman 400 H.O. also have an improved drive train with a quieter, more efficient transmission. The Sportsman 800 EFI will see an improved weight bias due to the engine being moved rearward more than three inches, which Polaris says results in a lighter steering effort and better handling.
These models include a new Lock & Ride front rack that can be replaced with a Lock & Ride accessory box for additional storage (the box is standard on the Sportsman 500 H.O., Sportsman 500 H.O. Touring and Sportsman 800 6×6). They also receive a new Lock & Ride-ready rear rack, a raised and angled radiator for improved mud protection, new front lights, and a lower winch mount.
Sportsman XP Touring models now feature a removable passenger seat and an optional storage box from Pure Polaris.
Polaris also made changes to the premium Sportsman XP family. The Sportsman XP 850, Sportsman 550, Sportsman Touring 850, Sportsman Touring 550 and Sportsman X2 550 feature softened engagement of engine braking, improved splash protection, and a new vinyl seat for less slip. The Sportsman XP 850 and 550 will see an approximate 12-pound weight reduction, while the Sportsman XP 850 EPS/550 EPS and Touring models have 16-percent more fuel capacity for longer range.
Speaking of the two-up models, the Sportsman XP Touring models and the X2 feature increased rear suspension travel (10.25 in.). The Sportsman Touring 850 EPS and 550 EPS models are equipped with a removable passenger seat, a new rear seat comfort ride system with improved shock and spring control, and removable Lock & Ride passenger hand guards. For the occasional one-up rider who wants additional hard working capability from their ATV, both the passenger seat and Lock & Ride hand grips can be removed and replaced with a PURE Polaris storage box that takes the place of the removable passenger seat for added rack capacity when riding 1-Up.
The Sportsman X2 550, with its 400-pound capacity rear dump box that goes from 1-Up work mode to 2-Up play mode in three easy steps, also receives a new, more comfortable passenger seat design with almost 21 percent more foam for added comfort and durability. Additionally, the unit has improved box latching that was redesigned with a pullstrap for easier dumping.
Sportsman X2 passengers will appreciate a thicker seat.
Limited Edition models include an Orange Madness Sportsman XP 850 EPS, Browning Edition Pursuit Sportsman XP 850 EPS and Sportsman 550 EPS, Sportsman Touring 850 EPS Super Graphite Metallic, and a Sportsman X2 850 with VersaTrac.
2011 Youth Lineup
The Phoenix 200 will act as a transitional model and features three top-speed settings.
For 2011, Polaris is offering five youth models that fit into the Specialty Vehicle Institute of America's (SVIA) Youth ATV categories; the Phoenix 200, Ranger RZR 170, Sportsman 90, Outlaw 90 and Outlaw 50.
Perhaps the marquee change here is that the Outlaw 50 (Y-6+ age group) is lead compliant for 2011, even if the current CPSC "stay" expires.
Y-12+ riders will have three models to choose from: the Ranger RZR 170, Sportsman 90 and Outlaw 90. The Phoenix 200 has been upgraded to a transitional youth model for ages 14 and up. This includes speed limiting to 20 mph as delivered, 30 mph intermediate, and 38 mph unrestricted.
Also for the T-14+ group, Polaris will offer a Big Wheel Kit for the Ranger RZR 170. The kit provides bigger aluminum wheels, larger tires, different sprocket and chain for increased speed (up to 38 mph), skid plate, T-14 warning decals, and a 25 percent increase in ground clearance to 7.5 in.
2011 Polaris ATV U.S. Pricing
Name
MSRP
Full Size
Sportsman 850 XP EPS
$9,999
Sportsman 850 XP
$8,799
Sportsman 550 XP EPS
$8,499
Sportsman 550 XP
$7,499
Sportsman 800 Big Boss 6×6
$9,999
Sportsman 800
$7,499
Sportsman 500 H.O.
$5,999
Sportsman 400 H.O.
$5,599
2-Up
Sportsman 850 Touring EPS
$10,999
Sportsman 550 Touring EPS
$9,299
Sportsman 550 X2
$8,999
Sportsman 500 H.O. Touring
$7,399
Entry Level
Scrambler 500 4×4
$6,399
Trail Blazer 330
$4,299
Trail Boss 330
$4,299
Phoenix 200
$3,499
Outlaw
Outlaw 525 IRS
$7,699
Youth
Ranger RZR 170
$3,999
Sportsman 90
$2,699
Outlaw 90
$2,699
Outlaw 50
$1,999
Pure Polaris Accessories
Polaris is well aware that many consumers want to upgrade and personalize their ATVs and side-by-sides with aftermarket accessories. To keep its customers happy, Polaris has an enormous collection of Pure Polaris accessories that are built to fit its vehicles.
This Ranger XP has been decked out with a new fully enclosed cab featuring roll-down windows.
It would be virtually impossible to talk about all of the Pure Polaris accessories in this space, but Ranger and Ranger RZR owners have a seemingly endless variety of options at their disposal. Everything from lightweight cabs with automotive-style roll-down windows to thumping stereo systems to snow plows to wheel and tire kits abound in the Pure Polaris collection. Lucas Cooney
I have been working exclusively in digital media since 1997. I started out with TSN.ca, spending nearly nine years creating and editing content on Canada's leading sports website. I left to join VerticalScope, Inc., one of the world's largest online publishers, to start a number of powersports publications. While at VerticalScope, I've helped create and oversee content for a wide variety of different publications, including ATV.com, Off-Road.com, ArcheryTalk.com, Tractor.com, RVGuide.com, and many more.
More by Lucas Cooney
Published July 27th, 2010 10:10 AM
Top Brands
Popular Articles