292 Views
2011 Polaris RZR S 800 Review
June 17th, 2015 4:51 PM
Share
We're committed to finding, researching, and recommending the best products. We earn commissions from purchases you make using links in our articles. Learn more here
Sporty SxS redesigned and comes in base package
The Polaris Ranger RZR S 800 debuted in 2009 as a wide-stance SxS with a premium suspension system and proven aftermarket parts as standard equipment. Two short years later, Polaris decided it was time for a redesign and, more importantly, time for a price-point model or a base RZR S. For 2011, this model comes in a standard package that retails $1,500 less than the two Limited Edition models. We put the base RZR 800 S through the wringer at a private OHV area in Montana.
New For 2011
The entire RZR family went under the knife for 2011. The 800 S came away with new ergonomics, added convenience, more durability and a boost in performance. The new-look front end and cage configuration is the most recognizable change. A closer look reveals new front shocks and one drive unveils the new power and performance.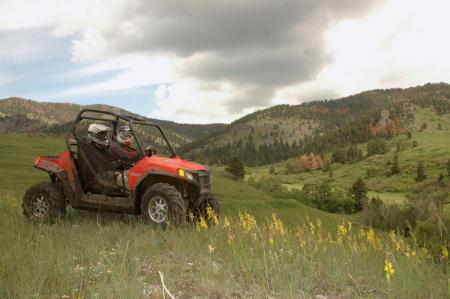 The 2011 Polaris RZR S certainly doesn't feel like a base model.
New For 2011
• New 63-mph peak speed and improved acceleration
• Improved cooling: Airflow increased by 29 percent
• Updated EFI system and fuel tank (MPG grows 30 percent, improved slow-speed agility)
• ITP 900 XCT tires
• ZF Sachs shocks (2-inch body, preload adjustable)
• Clutching changes (improved belt cooling and components)
• Beefier front- and rear-drive systems
• New side protection (improves ingress/egress)
• Glove box added to passenger dash (under handle)
• High/low headlights (60W/55W, respectively)
• Sealed dash switches
• Updated side nets for easier use
• 2 Limited Edition models: Gloss Black Carbon Fiber/Indy Red and Gloss Black/Orange Madness
• $12,499 ($1,500 less than '11 LE models)
Behind The Wheel
New cab nets make it easier to get in and out of the RZR S.
As soon as we climbed in the cab we noticed one of the new changes. The new cab nets are much better than before as unhooking one connect means an easier entry. Also, the nets extend all the way across the door opening, not just the front 2/3 of the space. While stepping in the cab, you also notice the change to the side cab rails/bars. This bar has been changed from a backwards "B" to a single diagonal bar that does the job and is more appealing to the eye. You'll also notice that the back cargo box bar that extends off the rear of the ROPS has been removed. This is also more attractive, but lets the users have easier access to rear box, which can tote up to 300 pounds.
With a turn of the dash-mounted key, the RZR's 760cc twin-cylinder four-stroke fires electronically and produces a nice rumble in its stock form. Polaris claims the EFI-fed liquid-cooled mill produces 53 horsepower and offers improved acceleration for the '11. And, according to Polaris, the RZR S can go from 0 to 35 mph in less than 4 seconds. We didn't put the 800 under the radar gun or on the dyno, so we can't vouch for those numbers, but can say it's quick to get up and go and doesn't disappoint. The new EFI system is from Bosch and, with internal changes, creates a more efficient design, improved low-end throttle control/response and also better reduced fuel consumption, according to Polaris.
In addition to 12.5 inches of ground clearance, the new Sachs 2.0 shocks offer a full foot of travel.
The automatic transmission is simple to engage and you can select between high and low range and reverse with the easy-to-operate and centrally located shifter that looks like it came straight off a Sportsman 500 H.O. We rode the RZR in open, grassy fields, on fast-paced trails, through creeks, across ruts and rocks and literally pushed it! It performed flawlessly and we'd have to agree the more precise throttle control on the low end is a welcome change. Slow speed crawls through the slippery rocks and creeks were very pleasant.
While the terrain wasn't the most challenging we've ever ridden in, it was just gnarly enough to give us an impression of the new shocks. Keep in mind the new 2-inch big-bore Sachs shocks offer a foot travel for the fully independent machine, which also has 12.5 inches of ground clearance. We didn't have too many concerns with the suspension in this terrain, as it was comfortable, plush and responsive when pushed. Polaris informed us the five-way preload adjustable Sachs shocks were selected for their cooling capacity, resistance to fading and smooth ride. They may not be the right fit for those who ride very aggressively and like to tackle gnarly rocks and big bumps (or jumps) — we'd imagine the Fox Podium X shocks (worn by the LE models) would be missed.
We often include tires with the suspension because a tire provides traction and grip and is the first to hit obstacles. The new 900 XCT tires are above average, even in tight corners. Clearly, they're not as aggressive as the Maxxis Bighorns that are on the LE models, but the 27-inch ITPs worked well during our testing session and have an inch taller diameter. The tread pattern (which extends to the shoulder and sidewall) and lugs seems to offer a well-balanced ride and nice bite in a variety of conditions. We also appreciate the cast aluminum wheels for their better fit and finish and strength. The RZR remains a stable machine. Of course its 60.5-inch width and long 77-inch wheelbase have a lot to do with that. Another key ingredient is the 800's center of gravity, which Polaris proclaims as class leading.
The cockpit of the RZR S is familiar and functional.
From its selectable, dash-mounted AWD switch to the fully functional gauge package, the RZR S has a lot of features that made us feel at home behind the wheel. We also like the three-point seat belts and bucket seats, which made bouncing around the trails that much more enjoyable. The adjustable passenger handhold is still one of our favorites and now sits above a large, 3-gallon, water-resistant glove box — a big addition for OHV explorers.
An adjustable steering wheel and driver's seat also accommodate different-sized drivers and preferences. The integrated heel pockets in the floor also help when wearing larger boots and for minor foot throttle manipulations. Heck, this thing even has a dash-mounted 12-volt outlet and twin cup holders! About the only things we think this model could have added for more convenience are a gripper floor (slippery when wet!), power steering and a 2-inch receiver hitch (as opposed to its 1.25-inch design).
One Sharp Two-Up
It's pretty clear that Polaris needed a more affordable RZR S to better appeal to its customers and also to promote accessory sales for its dealers at the time of purchase. The base 800 seems to be more appealing to the average SxS buyer than the more pricey LE models (read below). With both the standard 800 S and the LE versions, Polaris lets the buyer decide which model to buy, something that wasn't possible last year. After driving and riding in the 2011 Polaris RZR S 800, we can say Polaris did a good job of merging value with performance. This machine remains exciting to drive, no matter if you're out for a Sunday stroll or a speed-infested Saturday.
With a $1,500 savings over the previous year's model, the 2011 RZR S should appeal to a wider audience.
LE Models
The new for 2011 Sachs 2.0 shocks can be seen on the left, while the Fox Podium X shocks on the right are still available on the LE models.
If you're a big fan of the 2010 RZR 800S and its aftermarket-like package and appeal, then you'll be happy to learn that the two LE models ($13,999) are virtually the same, sans the ergonomic and convenience upgrades. Available in Gloss Black Carbon Fiber with Indy Red highlights and Gloss Black-Orange Madness colors, the 800 RZR S LEs still wear Maxxis Bighorn tires, Fox Podium X shocks and a host of other graphics and aesthetic upgrades. These models are winch-compatible, but do not include one, at least not yet.
Pure RZR Accessories
From a lightweight cab enclosure to wheel-and-tire packages to bumpers, Polaris has a growing list of its Pure accessories for the RZR lineup. Here are some of the bolt-on items that add more character to an already attractive ride.
Pure Polaris Accessories
• Full fiberglass cab: Easy-to-install fiberglass cab features sleek styling, doors and sliding window
• Flip-Out windshield
• Wheel-and-tire kits – 28 choices, including WREC, SIXr and Crusher wheels. Tires include Maxxis Bighorn, Vision Trailfinder and 15-inch Vision Outfitter
• Pre-Runner and Deluxe bumper systems: Redesigned for 2011. Feature Powder coating and integrated design for a winch and snow plow
• Rock Sliders: Also available with Cab Frame Extension for more protection and capabilities
• Redesigned Bags: Shoulder Bag, Underdash Bag and Overhead Map Bag (more pockets, softer lining and tougher)
• LED Light Bars: Choose between 4-inch and 12-inch bar options s
• Overhead Speaker system: iPod certified
Comparable Vehicles: Polaris Ranger RZR, Polaris Ranger RZR S LE, Arctic Cat Prowler 1000 H2 XTZ, Can-Am Commander 800R XT, Can-Am Commander 1000 XT, Kawasaki Teryx 750 Sport, Yamaha Rhino 700 Sport Edition
Related Reading
2011 Polaris Ranger and ATV Lineup Preview
2011 Polaris Limited Edition ATVs and Side-by-Sides
2010 Polaris Ranger RZR 4 Review
2010 Polaris Ranger RZR Review
2009 Polaris Ranger RZR S Review Published November 17th, 2010 11:51 AM
Top Brands
Popular Articles