46 Views
2012 Polaris Outlaw 90 Review
June 17th, 2015 2:01 PM
Share
We're committed to finding, researching, and recommending the best products. We earn commissions from purchases you make using links in our articles. Learn more here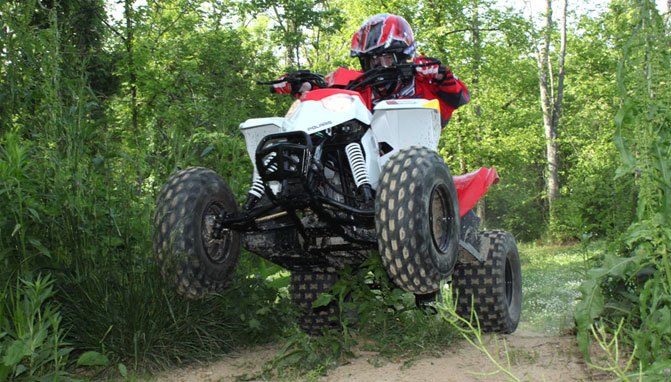 Easy to learn on, big enough to grow into
When looking for our next youth model Sport ATV to test, we turned to YouTube. There we found Go-Pro videos of Nicholas Paquette racing his Polaris Outlaw 90 in the GNCC series. Paquette made the Outlaw look fun and capable dodging trees, trail obstacles, and the competition. Based on what we'd seen, we felt the Polaris Outlaw 90 was worth a closer look.
The Test
For our test, we outfitted Ethan Wingate in Fly Racing's F-16 gear, Maverick Boots, and Kinetic Pro Trey Canard helmet. Our test took place on a private mini motocross track and woods loop we frequent in northern Kentucky. Wingate did some ATV testing with us in the past, but hasn't ridden quads much for the past year. The Outlaw 90 seemed like the perfect candidate to get him reacquainted with riding.
We thought the Polaris Outlaw 90 Youth ATV looked like an interesting machine for a young rider, so we found one to test it out.
Ergonomically, Polaris went a little larger than some of its competitors. The cockpit won't overwhelm most 13-year-olds, but it leaves a bit more room for the rider to grow into. The bars are perhaps a bit too tall while sitting, but nothing too objectionable. The seat is long and flat, offering a good amount of padding. Full floorboards, with tall, wide foot pegs, allow plenty of room for your feet to pivot; metal pegs would be nice, though. The stock kickstarter position protrudes between your ankle and the left side of the engine's lower end.
Our five-foot tall test rider felt the Outlaw 90 was a perfect fit.
At around five feet tall, Wingate felt right at home on the Outlaw, commenting "This thing feels perfect for me." After requesting some warm-up time before we started filming, Wingate hit the track and was immediately hard on the gas, obviously feeling confident aboard the 90.
Intended for riders 13 years and up, the current Outlaw 90's chassis is very similar to the original two-stroke Scrambler 90, introduced back in 2001. Its most significant update happened in 2007, when its two-stroke engine was traded for today's 89cc, two-valve, single, overhead cam, air-cooled, four- stroke mill. The Outlaw is easy to fire up, thanks to its pushbutton electric starting, with kickstarter backup. A left side handlebar-mounted lever controls the carburetor's choke mechanism for cold starts.
Though easy to use, the gear selector looks a bit outdated.
A fully automatic transmission keeps the Outlaw in the meat of the power, simplifying learning. The right side-mounted gear selector makes choosing between forward, neutral, and reverse easy, although it looks a bit outdated. Indicator lights for neutral and reverse are located on the handlebar cover.
The engine's good low RPM power and smooth low RPM CVT engagement allow the Outlaw to get rolling smoothly and easily with minimal throttle. With the thumb throttle limiter restricted down to around 7 mph, the Outlaw can take off and cruise around on flat ground easily, making it perfect for first-time riders.
Unrestricted, the 90's engine produces a good amount of power over a wide RPM range. It starts pulling right off idle and revs up well for its class. Wingate, who most recently rode a two-stroke 90, was surprised how well the four-stroke performed. There's enough performance to let an experienced rider rip through the trees or around a tame track at a fun clip. The engine and CVT transmission make the 90 a decent climber, so it transitions well from the back yard to the trails.
Don't let the 89cc, four-stroke engine fool you; the Outlaw 90 is an adept climber.
Dimensionally, the Outlaw 90 is slightly larger than most of its competitors at 36.75 inches wide with a wheelbase of 41.5 inches. Its 27-inch seat height is comparatively low when considering its length and width. Its extra size adds up to a dry weight that's a bit heavier than most of its 90cc four-stroke CVT competitors. At 274 pounds, it's around ten pounds heavier than the Yamaha Raptor 90.
We liked the generous suspension travel, but the single A-arm front suspension setup is not our favorite.
The chassis features a tubular steel frame, with the expected solid axle-equipped rear swingarm. The front end's design is a bit dated, utilizing single A-arms. Our experience tells us that single A-arms suffer more bump steer and tire scrub as the suspension goes through its travel. Suspension travel numbers are good, though, with five inches up front and six out back. Preload adjustable shocks are used at both ends.
The Outlaw's dimensions add up to a stable handling ATV. Body roll isn't a problem on the 90, yielding a planted feeling on off-camber trails and aggressive corners. High-speed, straight-line stability is also good. Steering precision is decent with a typical size rider. Taller riders will notice more front-end push.
While the front shocks felt plush, the rear shock doesn't react well to small bumps or whoops and bottoms out easily on jumps.
With its impressive suspension travel numbers, we wish the shocks offered a bit more performance. The front end was notably plusher over small bumps, roots, and rocks. The front shocks even did a better job of dealing with hard landings. The rear shock is way over dampened on small bumps or whoops, and bottoms out on jump landings. With the available travel, the Outlaw is the perfect candidate for low cost, aftermarket shocks.
Dual mechanical drum brakes up front and a single drum brake in the rear slow the Outlaw. The brakes are independently operated via the handlebar-mounted levers. Acceleration and braking forces are transferred to the ground via 18×9.5-8 rear and 19×7-8 front Duro tires, mounted on stamped steel wheels.
Our young test rider had plenty of fun ripping around on the 2012 Polaris Outlaw 90.
Braking performance was adequate, but not overly impressive. Power and feel were a bit on the soft side at both ends. They're strong enough to control your pace on downhill runs or to slow the machine from speed; however, locking the rear tires up, if desired, is nearly impossible.
The rear Duro tires kept the machine hooked up under acceleration and braking, while letting you occasionally break the rear end loose for slides. The rear tires' square profile aided stability, while the front tires' rounded shape helped provide a smoother ride.
We found the Duro tires did a good job of allowing the rear end to break loose for sliding around a corner.
A tether kill switch and throttle limiter add safety and allow you to match the performance of the machine to the rider. Working head and taillights are also welcomed safety features.
Conclusion
Nicholas Paquette made the Outlaw 90 look capable on the trail with his lightly modified machine. Wingate Wingate felt it provided lots of fun, and could obviously conquer most beginner trails in stock trim. The Outlaw is a good starter machine that leaves a little room to grow into. It would stand out more from the competition with better shocks and an updated braking system, but its strong engine, stable handling, spacious ergonomics and competitive $2,699 price tag make it a machine we'd recommend looking into. Published May 30th, 2012 11:54 AM
Top Brands
Popular Articles