159 Views
2012 Polaris Ranger RZR 170 Review
June 17th, 2015 2:02 PM
Share
We're committed to finding, researching, and recommending the best products. We earn commissions from purchases you make using links in our articles. Learn more here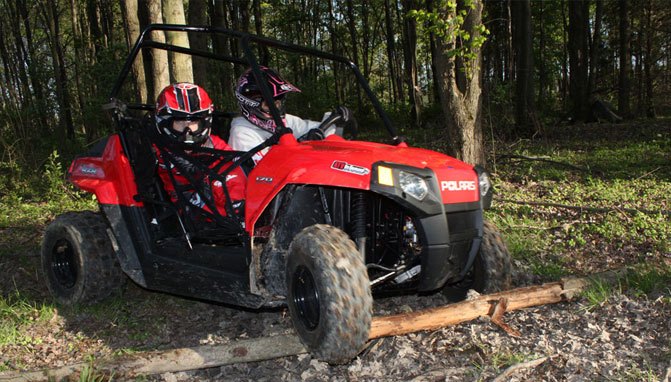 Because it sucks to let mom and dad drive all the time!
Riding in the passenger seat of a Polaris Ranger RZR XP or new XP 4 900 is better than any rollercoaster ride, but riding is never as much fun as driving. When it comes to side-by-sides, kids have been getting the short end of the stick for too long. We wouldn't recommend turning your young riders loose with an 88 hp missile, and neither does Polaris; that's why it introduced the RZR 170.
Safety First
The RZR 170 has a list of important safety features starting with its roll cage. There's a throttle limiter, which allows you to limit speeds down to around five mph. A whip flag provides better visibility along with dual front running lights. Three-point seat belts and door nets are similar to the ones found on the larger RZRs. A pull up lever between the seats activates the machine's parking brake. Polaris even includes two helmets and an instructional DVD with your purchase to help get everyone started off riding smart.
If you squint a little, the RZR 170 looks an awful lot like its big brothers.
The Test
Our young test pilot was only too happy to climb aboard the RZR 170.
Polaris recommends the RZR 170 for drivers ages 12 years and up, with parental supervision of course. We handed over the keys to 12-year-old Ethan Wingate, who was extremely eager to try the RZR out when he first laid eyes on it. Ethan's aunt Jennifer seemed happy to volunteer to supervise, but we suspect it was because she wanted to get some seat time behind the wheel.
We gave Ethan and Jen several days with the RZR to see what it could do. The first day was spent racing around on Ethan's family's property. The second day was spent trail riding at one of our favorite private testing facilities. For our testing, we suited Ethan up in Fly Racing's flashy and affordable F-16 gear, Maverick boots, and Kinetic Pro Trey Canard Helmet. The gear was a perfect match for the little red RZR, and Ethan was thrilled about having new threads to go with his new ride.
Most young riders should find the cockpit plenty roomy, but it can be a tight squeeze for anybody approaching six feet tall.
Ergonomically the RZR is on point for its intended audience. Our test drivers were both around five feet tall and found the cockpit quite comfortable. Six-foot tall adults could stuff themselves in, but getting in and out is no fun. The bucket seats are similar to those found in the larger RZRs, offering a low sit-in feeling. The driver's seat can be slid forward or backward, and the passenger grab handle, which we love, is also adjustable.
Power is provided by a 169cc, two-valve, single overhead cam, fan assisted, air-cooled, four-stroke engine. A 22mm carburetor regulates the engine's air-fuel mixture. A pull-out manual choke is located in the center of the dash, which comes in handy on cold mornings as the RZR takes a good couple of minutes to warm up.
The engine's top end is mated to a fully automatic Polaris Variable Transmission featuring forward, neutral, and reverse, selected by a lever located between the seats. Indicator lights for neutral and reverse are easily referenced, located in the center of the dash.
We were impressed with how easily the RZR 170 could climb hills. It's the little RZR that could!
As you would expect with an engine of this size, the power is very manageable with a little driver experience. Both of our drivers were surprised by how well the 493-pound RZR accelerates from a dead stop or out of corners. It will torque its way up a steep enough hill to take it trail riding, and topping out at around 25 mph, it provides a top speed that is fast enough to be fun without overwhelming the capabilities of the chassis.
When moving forward, the transmission engages low in the RPMs with virtually no feeling of lag when you push the gas. Its low RPM hookup and the engine's good low-end torque let you crawl around in tight sections; it also allows the RZR to get rolling easily, even when the throttle limiter is adjusted for lower speeds. Our testers found the clutch engages a little abruptly in reverse, a bit higher in the RPMs. This gives you a little snap with which back out of tough situations, while a rev limiter helps keep you going fast enough to lose control.
While styling is very close to the larger RZRs, the chassis's design is considerably more basic. A cage-equipped steel frame mates up to single front A-arms and a solid axle equipped rear swingarm. Preload adjustable shocks at all four corners control five inches of wheel travel at both ends.
Preload adjustable shocks are found at all four corners and offer five inches of travel.
Despite its simplistic design, the suspension works pretty well. You can hammer over small rolling bumps with the throttle pinned. The shocks do a good job of keeping the tires in contact with the ground and the driver in control. The ride is pleasantly plus traversing the obstacles you might expect to find on beginner level trails, but deep whoops and all but the smallest jumps will result in a jarring ride.
The 170 is 48 inches wide with a wheelbase of 65 inches and offers six inches of ground clearance. The RZR rolls on 19×7-8 front and 20×10-9 rear Duro tires mounted on black steel wheels.
Its dimensions and solid rear axle provide a very stable ride at any speed. Body roll is minimal and two-wheeling is almost nonexistent. The front end stays planted on any hill the engine will climb, and it handles equally well on the way back down. Its wheelbase and ground clearance do limit the machine's capabilities somewhat, as it frames out on abrupt transitions cresting hills or traversing logs near six inches thick. Polaris offers a larger tire and aluminum wheel package for the 170 that provide additional ground clearance for gnarly trails.
With its smaller wheels and limited ground clearance, the RZR 170 tends to frame out when rolling over large logs and rocks.
The front end does a good job of going where it's pointed as long as there is available traction. The rear tires offer great forward traction for acceleration and braking, yet allow you to kick the back end out exiting corners. The rear Duros will get the two-wheel drive RZR through all but the nastiest mud. While four-wheel-drive sounds good, its smaller engine is better off without the additional drag.
Our testers were impressed with the braking performance.
Braking is handled by dual hydraulic disc brakes up front and a single hydraulic disc in the rear. The brakes offer very good power and feel and will bring two occupants to a halt in a hurry. While there is no engine braking system, the engine will compression brake when you let off the gas entering corners or descending slight hills since the transmission stays engaged until very low in the RPMs. If you start down a hill with the engine at idle, the engine won't offer any braking assistance.
Details
While there is no storage in the cockpit, there is a netted basket, mounted on the back of the roll cage. We are glad that Polaris equipped the RZR with dual daytime running lights and a single rear taillight.
We agree that kids don't need a speedometer to stare at while they are driving, but the fake instrument display and large rear taillight decals are a bit cheesy for a vehicle intended for riders 12 years and up. We wish Polaris would ditch the Power Wheels instrument display, provide a fuel gage somewhere on the vehicle, replace the taillight stickers with red reflectors so they serve a purpose, and provide some kind of bumper at both ends.
The faux instrument display sticker is not becoming of a $4,300 machine.
Conclusion
Based on its specifications, we came away impressed with the little RZR. Both our drivers felt that the RZR 170 was super fun and outperformed Ethan's $1,800 Pep Boys go-cart in every way imaginable. The red RZR sells for $4,299, while the camo model will set you back $4,699. Its only competitor is the Pitster Pro Double X 150, which sells for $3,099, but is unproven thus far. We feel it's a little costly for the chassis level of sophistication, but it works well and looks every bit as good as the full size RZRs. Published April 23rd, 2012 4:02 PM
Top Brands
Popular Articles