36 Views
2013 Polaris ATV and UTV Lineup Unveiled
June 17th, 2015 4:01 PM
Share
We're committed to finding, researching, and recommending the best products. We earn commissions from purchases you make using links in our articles. Learn more here
Ranger XP 900, Ranger 800 Midsize and Scrambler XP 850 among highlights
Few things are certain in this world, but death, taxes and Polaris unveiling new models every year are pretty much guaranteed.
For 2013 Polaris has built a brand new Scrambler XP 850, made a midsize Ranger 800 EFI, and put the awesome ProStar 900 engine into the Ranger XP line, creating the Ranger XP 900 and Ranger XP 900 EPS.
Of course, Polaris may not be done yet. We wouldn't be surprised if Polaris had another machine or two hidden up its sleeve for 2013 (not counting its many Limited Edition models), but for now this is what's new.
While we welcome the opportunity to test out the new machines, it should be noted that the Ranger HD 800 and the longstanding Scrambler 500 4×4 are not in the 2013 Polaris lineup. However, you should still be able to find 2012 and prior models in dealerships across the country if you've been saving your pennies.
Ranger XP 900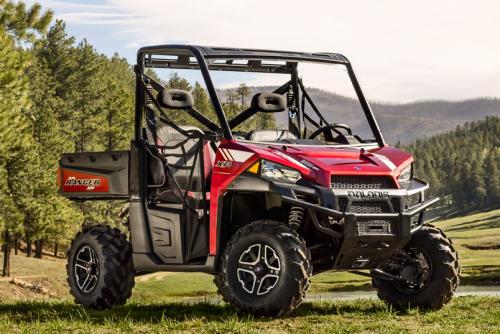 The new Ranger XP 900 features the potent ProStar 900 engine.
We don't imagine anybody's who's ever driven the RZR XP 900 has any complaints about the ProStar 900 engine that powers it. We're absolutely thrilled that it has made its way to the Ranger family in the new Ranger XP 900 ($12,999) and Ranger XP 900 EPS ($13,999), along with a new chassis, restyled cockpit, improved suspension, updated storage, larger gas tank, easier serviceability and a quieter ride.
Room for three and oozing power, the Ranger XP 900 sounds like a winner.
Polaris retuned the ProStar 900 engine for the Ranger XP 900. Instead of the trail-blasting 88 horsepower on tap in the RZR XP 900, the Ranger XP 900 mill churns out 60 ponies (a 20 percent increase over 2012 Ranger XP 800), class-leading torque and the ability to tow a whopping 2,000 pounds. Polaris boasts that the engine delivers smooth power throughout the RPM range thanks to its dual overhead cam design, 180 degree crank firing order and counterbalancing. Surprisingly, the Ranger XP 900 is quieter than its predecessor with the engine now located under the rear cargo box.
To complement the ProStar engine, the Ranger XP 900 features a new drivetrain designed to handle the unit's higher horsepower. It also boasts the strongest belt on a Ranger vehicle and Polaris says it has powerful cooling for the belt and clutches for optimal performance.
With the ability to two 2,000 pounds and carry another 1,000 pounds in the bed, the Ranger XP 900 is sure to be a capable work partner.
Polaris increased the storage of the Ranger XP 900 and made it easier to get to with new under-seat storage featuring flip-up access. Outside the cab, the Ranger XP 900 offers a new cargo box with more tie-down points, easily-inserted box dividers and a smoother gate release. The cargo box has a 1,000-pound capacity, can fit a pallet and is compatible with Lock&Ride accessories.
To help the Ranger XP 900 run more accessories, Polaris equipped it with a high-capacity battery and new stator for 30 percent more electrical power. The unit also features a new, easier to install winch mount.
To match the increased power and performance of the Ranger XP 900, Polaris restyled the cockpit and chassis. According to Polaris, the redesigned cockpit fits three people more comfortably and offers class-leading ergonomics. The lower seat (with adjustable driver's seat on Limited Edition models) and tilt steering give occupants more options in comfort and the new seat belts are easier to use. As well, new center-mounted gauges give the operator one place to look for all the necessary information.
Beyond its performance capabilities, the Ranger RZR XP 900 is also quieter than its predecessor.
Polaris looked to improve the handling of the Ranger XP 900 with an all-new chassis that is more rigid, with increased torsional stiffness. The result, according to Polaris, is a smoother ride and low vibration. Other updates include 5.0 in. more wheelbase, 1.0 in. more travel, and 12.0 in. of ground clearance. For increased visibility, the unit also features 25 percent brighter headlights that project more than 30 percent further, adding 100 feet of additional visibility.
To help make the Ranger XP 900 easier to service, it is outfitted with a wet sump engine, which offers 100 hours between service intervals, is easily accessed from under the rear cargo box, and has an easily accessible oil check and fill. The unit also features metric fasteners for most parts and grease zerks to flush joints. For driver's ease, there is fuel access on the driver's side and an 11 percent bigger gas tank that holds 10.0 gal.
A bigger gas tank will help ensure you've got enough go-juice for a full day's work.
The Ranger XP 900 is available in Sage Green and Solar Red, with or without EPS, and Polaris Pursuit Camo. Limited Edition models include Sunset Red and Orange Madness, both offered with or without EPS. A Browning EPS model and an Audio Edition in Bronze Mist with an integrated Audio System including two dash-mount speakers and will be sold in limited quantities.
Ranger 800 EFI Midsize
The Polaris Ranger 800 Midsize gives you big power in a package small enough to fit in the back of a pickup.
Also new for 2013 is the largest midsize Ranger ever made, the Ranger 800 EFI Midsize ($10,499). This model combines Polaris' 800cc engine with its midsize chassis for big performance in a smaller, two-seat package that fits in the back of a pickup truck.
With 50 horsepower on tap, you'll be able to get where you need to go in a hurry.
Like its full size brothers, the Ranger 800 EFI Midsize features On-Demand True All-Wheel Drive with VersaTrac, independent rear suspension, heavy duty front end protection, high ground clearance and the longest suspension travel in its class.
To go along with its big power (50 horsepower), the Ranger 800 EFI Midsize features 500 pounds of cargo capacity, 1,000 pounds of payload, and 1,250 pounds of towing.
Its On-Demand True All-Wheel Drive helps it tackle muddy pastures or rutted, rocky hunting trails, while the VersaTrac ensures you don't tear up the grass. With a full line of Pure Polaris products including Lock&Ride accessories, cabs and plows, the Ranger 800 EFI Midsize can be outfitted to suit just about any need.
Scrambler XP 850 H.O.
The Polaris Scrambler XP 850 LE offers XP performance in a sportier package.
Ever since Polaris introduced the Sportsman XP 850 for the 2009 model year, we've been waiting for its 850cc mill to make its way to other vehicles. While we thought it may find its way into the Ranger family of UTVs, we certainly didn't expect Polaris to rebuild the Scrambler around it.
Polaris designed the Scrambler 850 to appeal to riders who want sport performance, four-wheel drive and gobs of power.
According to Polaris, the new Scrambler XP 850 ($9,499) is geared towards riders who want more power and a sportier ride in a four-wheel drive vehicle. With 77 horsepower on tap, sporty performance from the fuel-injected mill seems a given. The Scrambler XP also features Polaris' exclusive On-Demand, True All-Wheel Drive with engine braking and what Polaris calls a sports-tuned suspension featuring Sachs shocks with 9.0 in. of front travel and 10.25 in. of rear travel. Other features include anti-kickback steering, dual A-arm front suspension, and rolled independent rear suspension, dual High/Low halogen headlights, single LED tail light, and exhaust silencer.
For those looking for a little more performance and perks, Polaris is offering a Scrambler XP 850 Limited Edition ($11,999) with electronic power steering, Fox Podium compression adjustable shocks, cast aluminum wheels, hand guards, cut and sew seat, dual LED headlights, Stealth Black paint job, and sportier graphics.
We can't wait to test out the unique looking big bore Scrambler!
Visually, the new Scrambler XP 850 is certainly attention grabbing. We're not sure how crazy we are about its overall look, but perhaps we'll feel differently when we see it in person.
2013 Polaris Off-Road Lineup
Polaris Ranger Family
Full Size
Ranger XP 900 (NEW) ($12,999)
Ranger XP 900 EPS (NEW) ($13,999)
Ranger 800 EPS ($12,399)
Ranger 800 EFI ($11,399)
Ranger 6×6 800 ($12,599)
Ranger Diesel ($12,999)
Midsize
Ranger 800 EFI Midsize (NEW) ($10,499)
Ranger 500 EFI ($9,299)
Ranger 400 ($8,299)
Ranger EV ($10,999)
Multi-Passenger
Ranger Crew 800 ($12,499)
Ranger Crew Diesel ($13,999)
Ranger Crew 500 ($10,299)
Polaris RZR Family
Trail
RZR 800 ($11,499)
RZR 570 ($9,999)
High Performance
RZR XP 900 ($15,999)
RZR S 800 ($12,699)
4-Seat Sport
RZR XP 4 900 ($17,999)
RZR XP 4 900 EPS ($19,599)
RZR 4 800 ($14,499)
RZR 4 800 EPS ($15,999)
Polaris ATV Family
Premium
Sportsman XP 850 ($8,799)
Sportsman XP 850 EPS ($9,999)
Sportsman 550 ($7,699)
Sportsman 550 EPS ($8,699)
Value
Sportsman 800 EFI ($7,499)
Sportsman Big Boss 6×6 800 EFI ($9,999)
Sportsman 500 H.O. ($6,199)
Sportsman 400 H.O. ($5,699)
2-Up
Sportsman Touring 850 EPS ($10,999)
Sportsman Touring 550 EPS ($9,299)
Sportsman X2 550 ($8,999)
Sportsman Touring 500 H.O. ($7,399)
Entry-Level/Sport
Scrambler XP 850 H.O. (NEW) ($9,499)
Trail Blazer 330 ($4,399)
Trail Boss 330 ($4,399)
Phoenix 200 ($3,599)
Youth
Ranger RZR 170 ($4,299)
Sportsman 90 ($2,699)
Outlaw 90 ($2,699)
Outlaw 50 ($1,999)
Related Reading
2013 Polaris Early Release Limited Edition Models
2009 Polaris Sportsman 850 XP EPS Review
2009 Polaris Scrambler 500 4×4 Review
2011 Polaris Ranger RZR XP 900 Review – Video Lucas Cooney
I have been working exclusively in digital media since 1997. I started out with TSN.ca, spending nearly nine years creating and editing content on Canada's leading sports website. I left to join VerticalScope, Inc., one of the world's largest online publishers, to start a number of powersports publications. While at VerticalScope, I've helped create and oversee content for a wide variety of different publications, including ATV.com, Off-Road.com, ArcheryTalk.com, Tractor.com, RVGuide.com, and many more.
More by Lucas Cooney
Published July 30th, 2012 2:53 PM
Top Brands
Popular Articles