86 Views
2013 Polaris Sportsman Touring 850 EPS Long Term Review
June 17th, 2015 3:58 PM
Share
We're committed to finding, researching, and recommending the best products. We earn commissions from purchases you make using links in our articles. Learn more here
An agile, comfortable and reliable two-up ATV
The 2013 Polaris Sportsman Touring 850 EPS is a two-up trail and dirt touring cruiser that we found to be a pleasant critter to ride.
Polaris builds its Sportsman line to be all business with very little fluff. Yet, the Sportsman Touring 850 EPS $10,999) delivers smooth riding and effortless steering.
Before getting into our report from three months of evaluation, let's give some mechanical specifics.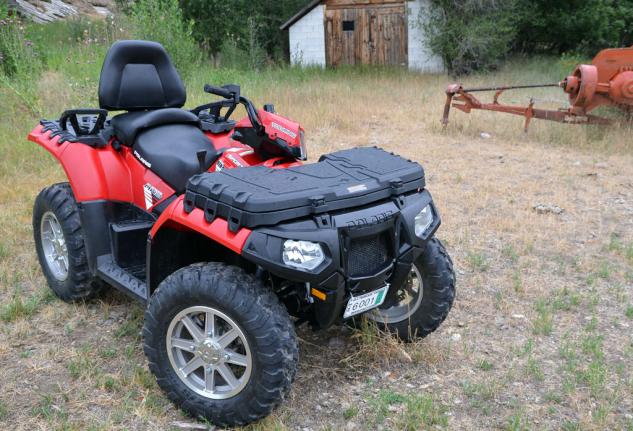 For those looking for a two-up ATV, the Polaris Sportsman Touring 850 EPS hits many of the right notes.
The Sportsman Touring 850 EPS is powered by a High Output (H.O.) four-stroke single-overhead cam two-cylinder motor. It is a liquid cooled and electronically fuel-injected motor that has an actual displacement of 850cc.
COMPARISON: Read our preview of the 2014 Polaris Sportsman 570 Touring
Both the front and rear suspension feature dual A-arms, with the front end providing 9.0 inches of travel and the rear 10.25 inches of travel. Overall ground clearance is 11.25 inches. Polaris calls the Touring's rear "Rolled Independent Rear Suspension (IRS)." What this means is the rear shocks are angled rearward which helps it gain its extra travel "and less squat during acceleration," according to Polaris. With techno speak aside, we can happily report that yes, it works. The rear suspension was not prone to kickback, and it did provide a progressive, comfortable and controlled ride.
Dual A-arms suspend the Sportsman Touring front and rear.
Maxxis 26 x 8-14 M9805 tires wrap the wheels up front, while Maxxis 26 x 10-14 M9806 tires are found in the rear. All four tires are wrapped around eight spoke cast aluminum rims. We found the tall tire and rim combo good looking and these were fully functional for our needs and wants.
The two-up Sportsman comes replete with Polaris' front storage rack which is wide and spacious. We used it to haul our food and camera equipment.
Wheelbase for the 850 Touring is 57 inches. Polaris advertises a dry weight of 798 pounds, though when we weighed it dressed out with all fluids – gas, oil, coolant – and tool kit, it tipped the scale at 860 pounds.
The 850, being a twin cylinder four-stroke motor, emits a gentle rumble unlike its little brother the 550, which sounds more diesel-like due to its single cylinder motor (look for a report on the 550 Touring model in the coming weeks).
Polaris' twin cylinder four-stroke motor emits a gentle rumble and has no trouble moving rider and passenger along at a quick pace.
Driving the 850 Touring is like driving the 550, since they share the same chassis, suspension, wheels, tires and plastic. But, when the reins are let loose and spurs hit the shanks, the 850 Touring rolls up the Rs and MPH. We are not saying it is arm-stretching, eye-watering fast, but it is sneaky, stealthy and quiet fast.
Once you get up to speed, the Sportsman Touring's steering becomes light – too light for our liking. This is the same complaint we had about Polaris' 900 RZR LE XP with EPS. We like power steering (man-oh-man, do we ever), but speed, torque and weight transfer lightens up the front end and then its electric power steering (EPS) becomes quite sensitive, even though the 850 Sportsman Touring has Variable Assist. Meaning a driver can (may) oversteer the 850 Touring and send it off trail. This is especially amplified if a passenger is tucked in behind the driver. While we had no accidents or near misses, we did have a couple uneasy moments.
COMPARISON: Read our review of the 2011 Polaris Sportsman X2 550
Given that, we applaud the Polaris-designed EPS. We own a 2005 Dale Earnhardt Jr. commemorative 700 Sportsman EFI without power steering, and the 2013 850 Touring with EPS makes Dale Jr.'s 700 Sportsman a relic. So, when traveling at high speeds, or when a passenger is hugging the back seat, know the power steering provides little back pressure to the hands, thus overcorrecting can occur.
With substantial Maxxis tires at all four corners, the Sportsman Touring rolls over most obstacles with relative ease.
The 850's tall wheels and tires delivered a nice ride over ruts, choppy rocks and small logs. Back to our old Sportsman, the 700 Sportsman of yesteryear has shorter tires and wheels (Polaris PXT 26 X 11-12), which allows it to fall into a mouse hole, as compared to the 2013 850 Touring. We found the 850 Touring to roll over obstacles with ease.
The on-demand 2WD/4WD system worked flawlessly. In most situations, we motored along in 2WD High. When moving over rocks, we flipped the toggle to 4WD and kept the tranny in High. The only occasions where we dropped into 4WD Low was when we tested the 850's crawling prowess on lava rocks or a steep incline. The clutches kept a tight squeeze on the drive belt and with proper throttle input the 850 kept its tires mated to the rocks or soil without breaking loose. Polaris' Variable Transmission (PVT) system never showed symptoms of heat fade. The 850's shift selector effortlessly moved into its many gear choices.
Both the front and rear brakes were dependable. We never encountered right- or left-side drift when the front or rear brakes were slammed. Additionally, when all for tires were given the call to bring the 850 to a stop, the driver maintained control. This machine is not weak at coming to a stop.
Handlebar controls are simple to operate and are within easy reach.
Handlebar controls are easily identifiable and simple to manipulate. The handlebar-mounted headlight is a great concept and made peering around a bend when driving at night a good safety practice. As well, securely placed in the front bumper above each front fender are two bright lights that sweep out a wide beam; trails are adequately lit for night riding.
One of our testers complained of some motor heat warming up his foot, but this was not as bad as the heat that emanated from our Can Am Outlander 1000, which we'll discuss more in a separate review and in our Shootout article between the two models coming soon.
COMPARISON: Read our review of the 2013 Can-Am Outlander MAX 1000
Polaris takes care of the passenger with its Comfort Ride Rear Suspension, which has a coil spring beneath the passenger seat providing one inch of travel for the backseat occupant. We found the stock setting to be sufficient for our lightweight passengers, but it is adjustable to suit your preferences.
Passengers get a comfortable seat and a good view of the trail ahead.
Passengers never complained about riding in the rear of the Sportsman Touring. Visibility is clear and the hand holds and foot rests are comfortable and provid a level of security. Seat padding is sufficient and offers a plush ride.
From years of snowmobiling in the Rockies, descent control off a slope is relished. Polaris builds into the 850 Sportsman Touring an Active Descent Control (ADC) and Engine Braking System (EBS). Folks, these are nice and well-wanted features. We called on ADC and EBS to slow down our descents off loose dirt trails where the ruts were deep (from those who ascended the hill) and the sandy loam soil was baking-flour light. This is a safety feature and proved to keep the ATV.com crew alive.
We found the small hand hold under the Comfort Ride Suspension to be inadequate. The grab handle is too small to leverage the 850 Sportsman Touring; two hands can't fit in it. Also, when using the grab handle, you are positioned directly behind the dual exhaust. This can be a burning experience, if the 850 Touring was recently driven. We implore Polaris to install a rear bumper system with grab handles that are away from the exhaust and its heatshield and gives better leverage. We often placed one hand on the handle and one under a rear fender to move the 850 Touring in an enclosed trailer; the rear fender flexed, thus reducing leverage.
We would have preferred a rear grab handle with room for two hands. We'd also like to see it moved away from the exhaust.
In our three months on the 850 Polaris Sportsman Touring 850 EPS, we found it to be a happy-go-lucky ATV. For you, the 2013 850 Polaris Sportsman Touring was ATV.com tested in tough high-altitude conditions. And for its $10,999 price, it delivered what we expected – smooth rides, comfortable passenger seating, good traction, sufficient storage and well-lighted pathways when the sun ducked behind the Western Rockies.
As mentioned above, our only nits are with the Variable Assist on the EPS and the rear grab handle. Beyond that, this is an impressive two-up ATV.
As stated for the price, the 2013 Polaris Sportsman Touring 850 EPS is a good product and, we believe, worthy of your time on the trail. It is agile, comfortable to drive and to ride on, and after three months of hard use, the 850 proved reliable, from the motor to the two clutches, to the on-demand 2WD/4WD system. Published August 21st, 2013 4:13 PM
Top Brands
Popular Articles