1 View
2014 Polaris RZR XP 1000 Preview
June 17th, 2015 5:02 PM
Share
All hail the new horsepower king!
Ever since BRP came to market with the 101-horsepower Can-Am Maverick 1000R, the industry has been waiting impatiently for Polaris' response. It's finally here in the form of the 2014 Polaris RZR XP 1000. If you've been paying attention, you heard about it here last week.
Polaris has owned the Sport UTV segment since the original RZR was introduced, so it's no surprise the Minnesota-based manufacturer wanted to seize control of the horsepower wars. With 107 horsepower on tap, the newest RZR stands alone in the power department. That's not to say the 88-horsepower RZR XP 900 was a slouch. In fact, we named it the best ATV/UTV of the year for 2012. We're giddy just thinking about how an extra 19 horsepower is going to feel!
COMPARISON: Read our review of the 2013 Polaris RZR XP 900 EPS LE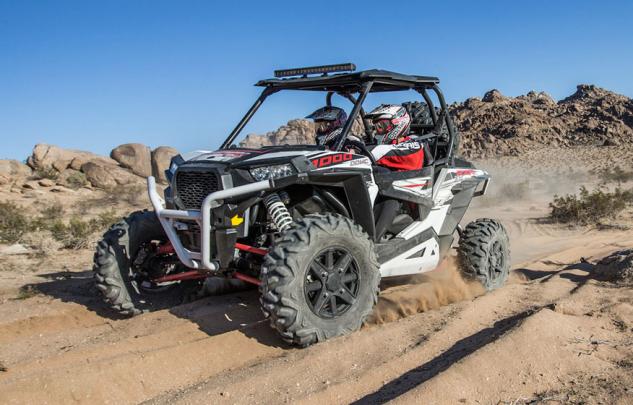 So this is what a 107-horsepower RZR looks like.
At the heart of the new RZR XP 1000 is the ProStar 1000 engine, developed with dual 48mm throttle bodies. To deliver that power to the wheels, the RZR XP 1000 has a driveline featuring a retuned, high performance PVT system. Polaris also specifically geared the transmission to optimize the power of the ProStar engine. According to Polaris, more than 80 percent of peak engine torque is available from 3500 to redline.
To accommodate the new power, Polaris updated the RZR XP' 3-Link trailing arm rear suspension in both geometry and design offering 25 percent more ground clearance at the trailing arm and giving the vehicle 13.5 in of ground clearance. According to Polaris, the new 3-link geometry improves grip as the vehicle pulls through corners from the use of optimized camber gain, and the increased length of the new trailing arm provides a better ride and additional strength.
The RZR XP 1000 conquers whoops and soaks up chatter with its 90 in. long wheelbase and 29 in. Maxxis Bighorn tires on all new 14 in. cast rims. The larger tire provides both better ride and higher resistance to pinch flats.
COMPARISON: Read our review of the 2013 Can-Am Maverick 1000R X rs
Walker Evans Position Sensitive Anti-Bottoming Needle Shocks are found on all four corners (2.5 in diameter rear, 2 in. diameter front). These shocks feature piggyback reservoirs up front and remote reservoirs in the rear that are 16-position compression adjustable with preload adjustability. Polaris says the internal needles interact with specifically-positioned chambers allowing progressively more damping deep into shock travel to improve ride performance and increase bottoming resistance. The shocks are paired on all four corners with the dual rate/dual spring coil-overs for 18 in. of rear travel and 16 in. of front travel.
Suspension travel has been increased to a massive 18 in. out back and 16 in. up front.
Polaris also revamped its On-Demand All-Wheel-Drive system to handle the load of 107 horsepower, resulting in a claimed 80 percent improvement in strength. The system features a new, close ratio final drive.
As for braking performance, the new RZR XP 1000 features dual piston calipers and larger 248mm ventilated discs on all four corners.
All this performance rides on an all-new tubular chassis featuring improvements in stiffness and durability. On top of the chassis is an all new interior.
Newly-designed seats boast improved bolstering and more hip cushioning and feature a new thin-film technology under the cover for a drier ride in wet conditions. One welcome update is new seat sliders for tool-less seat adjustment along with additional leg room. A new, stiffer steering wheel is designed for comfort and a more responsive feel. As well, the RZR XP 1000 features factory-installed quarter doors with a high-strength, easy-access latch, allowing one hand operation and no-look closing.
Polaris made significant changes to the interior. Unfortunately, adding four- or five-point seat belts was not one of them.
Inside the cockpit, RZR XP 1000 owners will enjoy LED floor lighting and a slick blue back-lighted instrument cluster, readable both in direct sunlight and at night. To accommodate the need to stay connected, the unit features sealed smartphone storage that provides visibility of the display while protecting it from the elements and a 50 percent larger glove box to take more stuff along.
COMPARISON: Read our review of the 2012 Arctic Cat Wildcat 1000i
Other updated include sealed floor seams and equipment pass-throughs to keep the occupants cleaner; while dual removable floor drains allow for easier clean out of the cabin. For faster access, the fully-sealed fuse/relay power center is located under the driver's seat. A bigger cargo box with more tie-down points enables more cargo capacity, while an integrated whip flag mount makes attachment easier. Finally, an all-new 9.5 gal. fuel tank that takes 87 Octane offers 17 percent more range.
Look for the RZR XP 1000 in Polaris dealerships in August.
The RZR XP 1000 will be offered in White Lightning and Titanium Matte Metallic, and will be available at Polaris dealerships in August for $19,999 – a hefty $4000 more than the RZR 900 (formerly RZR XP 900).
RZR XP 4 1000
Polaris hasn't officially announced a four-seat version of the RZR XP 1000, but the EPA did approve such a model. We'd expect to see something from official from Polaris in the not too distant future.
RZR 800 EPS XC Edition
We don't often get too excited about limited edition models, but one LE model really grabbed our attention for 2014. The RZR 800 EPS XC Edition is, simply put, a stunning looking machine.
With the optional doors, roof and light bar, this just may be the best looking RZR we've ever seen.
"The 55 in. vehicle will appeal to the trail enthusiast who isn't confined to 50 in. trails and wants premium features for increased performance," Polaris says in a release.
COMPARISON: Read our review of the Polaris RZR 800
A matte black color scheme looks fantastic with the custom Polaris graphics. The big features, however, are electronic power steering, Walker Evans shocks on all four corners, black-on-black PRP seats with adjustable slide, LED headlights, wide fender flares, and 14 in. Vader rims with 26 in. Maxxis Bighorn tires.
More RZR Info
Returning for 2014 are the original RZR 800, RZR 570, newly named RZR 900 (no more XP), RZR S 800, RZR 4 900 (again, no XP), and RZR 4 800.
Both the RZR 800 and RZR 570 benefit from new dual rate springs, while Maxxis Bighorn tires will now be found on all base RZR 800 S and 900 models, and all RZR limited edition models will feature electronic power steering.
Published July 29th, 2013 9:43 PM