1 View
2013 Polaris RZR XP 900 EPS LE Review
June 17th, 2015 5:02 PM
Share
Power steeering-equipped RZR stands up to our punishment
Polaris Industries builds popularity.
Take for example its line of snowmobiles, which includes the mountain-specific RMK Pro 155. For the past three winter season, this has been North America's most often purchased sled.
Moving from snow to dirt, Polaris' RZR is the most often purchased Sport Side-by-Side. This keeps the company making money while keeping an army of people employed and helping the economy recover. But that's not what we like best about it. Simply put, the RZR is a wickedly fun sand, mud and dirt buggy.
This summer season, ATV.com received a RZR XP 900 EPS LE, in stealth black and evasive green. The green on black RZR was initiated and hazed on the lava rock trails, sagebrush hillsides and sand dunes in Southeast Idaho. We punished the RZR for being good.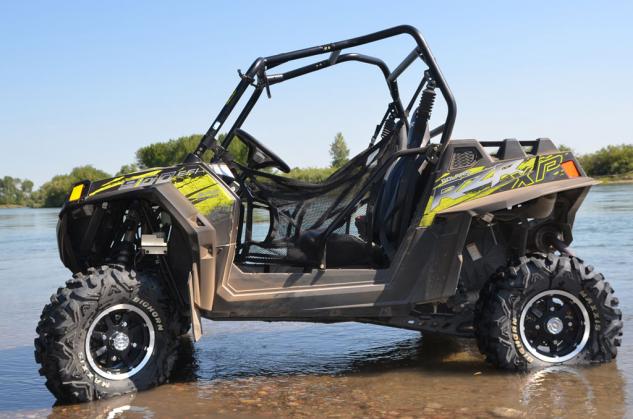 In its limited edition trim, the RZR XP 900 comes with electronic power steering. This machine is a winner.
Before jumping into our season report, let's cover a few of the 900 RZR XP EPS LE's mechanical specifics.
Burning fuel and churning dirt is an electronic fuel injection (EFI) two-cylinder 875cc four-stroke ProStar motor that cranks out 88 sea-level horsepower. The motor is a DOHC motor – duel overhead cams – with four valves that allow the motor to spin high revolutions per minute.
COMPARISON: Read our review of the non-EPS equipped RZR XP 900
Its front suspension is a dual A-arm system with Fox Podium X 2.0 piggyback reservoir shocks where the driver can adjust the shock's compression rates. Vertical travel for the front is 13.5 inches. The A-arm front is pulled along on 26 x 9-12 Maxxis Bighorn tires mounted to Black Crusher rims.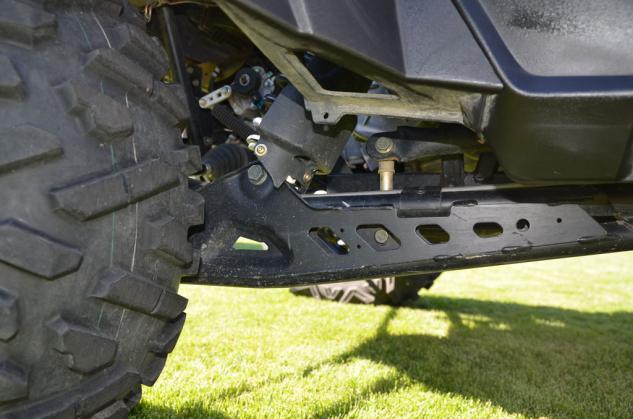 Polaris' trailing arm rear suspension supplies 14 inches of suspension travel.
Keeping the tail tracking straight with its nose is a three-link trailing arm rear suspension, which also uses piggyback Fox Podium X 2.0 shocks. Vertical travel is a half-inch greater than the front, measuring in at 14 inches . Like the front, Maxxis Bighorn tires push the chassis along, but are slightly wider – 26 x 12-12. These meats too are mated to Black Crusher rims.
For its X and Y axis, the RZR's wheelbase is 81.4 inches, with an overall vehicle size (L x W x H) of 108.4 inches x 64 inches x 73 inches.
With the Maxxix Bighorn tires, A-arms up front, trailing arm in the rear, and Fox Podium shocks, ground clearance is 13 inches.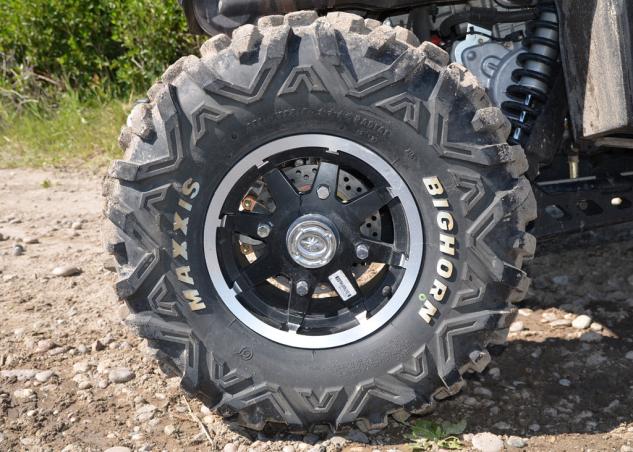 Well regarded Maxxis Bighorn tires keep the RZR XP 900 EPS LE planted on terra firma.
For its dry weight – less coolant, fuel and oil – Polaris broadcasts 1,190 pounds.
Bringing the four Maxxix tires to a stop is a four-wheel hydraulic disc brake with dual-bore front calipers.
Going through the cockpit area, the RZR has a tilt steering wheel, bucket seats with safety belts and shoulder harnesses, safety nets at both entrances, a grab bar for the passenger and a center-placed instrument pod.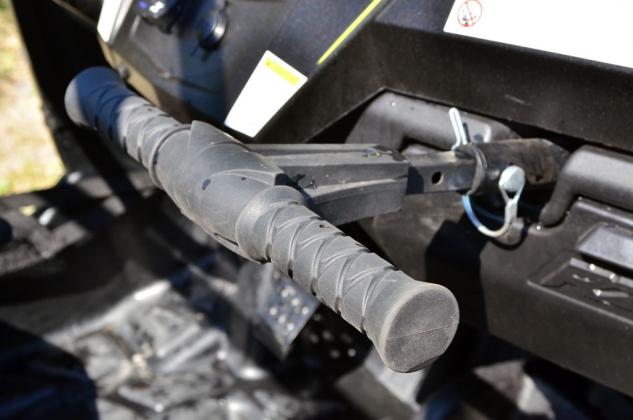 The familiar RZR passenger grab bar has long been our favorite in the industry.
The Ride
Starting the RZR XP 900 LE requires placing its shift selector in "P" (for Park), applying pressure on the brake pedal and rolling the ignition key to the right. All this snaps the ProStar engine to life. We've learned it is best to allow the fuel pump to engage momentarily to throw fuel to the motor before lighting up the spark plugs. After the motor takes to life, it likes to idle for a minute to check all computer vitals – to assure its EFI is working at full potential. On more than one occasion, after calling the motor to life, I've immediately thrown it into gear, pushed on the throttle only to have the motor engage its "limp home" mode. Knowing how EFI units work, I threw the RZR into "P" and let it idle for about 10 seconds to allow the EFI computer to complete its pre-flight checks. This 10-second idle time is only needed on the day's first ride and when the motor is cold.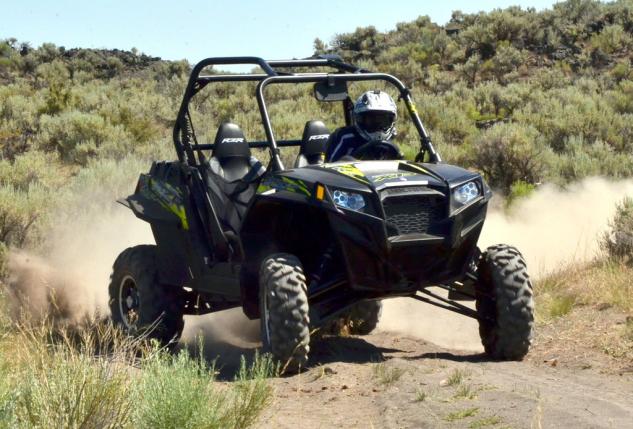 Before setting the RZR XP 900 drifting through the corners, it's best to let engine idle for about 10 seconds.
The RZR XP 900 LE on sandy and lava rock-filled trails will drift around a bend with ease. In 2WD, it will throw down wide drifts. However, if I or any driver became too happy in a sharp left turn, it lifted its ride side, disengaging the Maxxis tires from their traction surface. To minimize right-side lift, rolling up the on-demand 2WD/4WD toggle switch to 4WD H (High) allowed the front nose squat down as torque was delivered to the right front Maxxis tire. Also, calling on a buddy to occupy the passenger seat helped greatly at keeping the RZR XP 900 LE balanced and planted on all fours.
COMPARISON: Read our review of the Can-Am Maverick 1000R X rs
The RZR XP feels light in the sand, especially at low speeds. The electronic power steering gives positive feedback when engaged in sloppy terrain at low speeds. There were times, though, when hustling along at 35 mph or more that its steering was too light; we often over rotated the steering wheel when the nose became light. I would recommend Polaris to install a two-speed EPS system that gives the driver an option to slow down the steering for more feedback (pressure) to the diver's hands when traveling at moderate to high speeds. Overall, though, the EPS made the 900 RZR XP LE feel feathery light.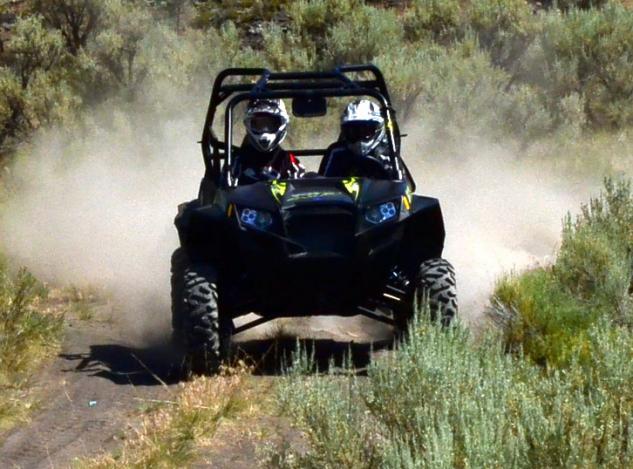 While a two-speed EPS system would be preferable, we are generally impressed with power steering adds to the RZR XP 900 package.
On a sandy trail at the famous St. Anthony Sand Dunes in St. Anthony, Idaho, we sent the RZR XP 900 LE down a trail with tall and closely spaced moguls. The RZR's front A-arm suspension and trailing arm rear suspension absorbed the peaks and valleys with confidence. Give credit also to its low center of gravity. As we became more familiar with its personality in this junk, we learned if the hard packed moguls were spaced slightly shorter than its length, it would porpoise to the point where the rear end kicked out right or left. We tamed this by reducing shock pressure and coil-over spring pressure, which sped up suspension collapse and slowed down rebound.
Back to our mogul bashing, the RZR XP 900 LE would benefit from having recaro-style seats with a five-point harness system. I believe the seats the RZR XP 900 H.O. Jagged X Edition use should trickle over to the RZR XP 900 LE. As moguls challenged me and other drivers, we floated up and down on the driver seat. When this occurred, our throttle foot would lift from the accelerator and then back down as the body floated up and down, which led to porpoising. We tried to counter this by pressing against the steering wheel to lock our body against the seat. However, by pressing against the steering wheel our steering input became erratic.
Calling upon the Jagged X RZR again, we'd like to see the RZR XP 900 LE come standard with four inches of horizontal travel; moving the seat forward and back would be boon for taller drivers.
Polaris' ProStar engine is smooth. It holds its revs with steely steadiness when baking the trails at high speeds. In complicated rock crawling situations, its transmission responds with exactness when the motor's torque squeezed the drive belt via the Polaris Variable Transmission. We found its gearing, as well as its upshift and downshift were well matched for throttle pulses in low-speed 4WD situations.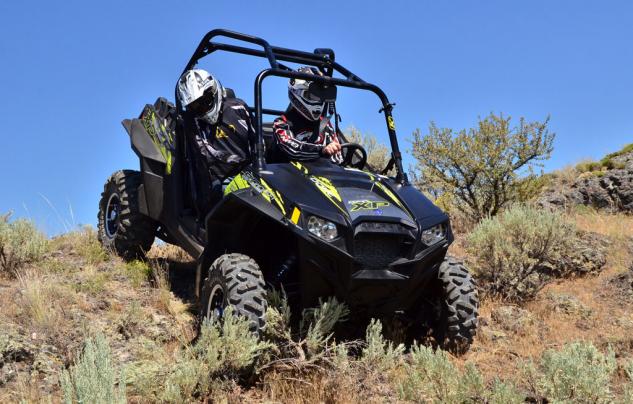 The RZR XP 900 is an adept rock crawler and its skid plate does a good job of protecting the underside of the machine.
Speaking of rock crawling, the RZR XP 900 LE's skid plate held up to under-belly beatings we subjected our test vehicle too. It's tough. However, when taking on sage brush, scrub oak and any other low-life noxious plant, its nose became bruised and battered. For the money a consumer lays down for this premium UTV, I'd expect a combo front bumper/brush guard be standard equipment to protect its nose and grill.
COMPARISON: Read our review of the Arctic Cat Wildcat 1000i
The RZR XP's LED (light emitting diode) lights are nasty bright. Nothing better, nothing brighter. We appreciated these for night-time illumination and in signaling to oncoming traffic our presence on a sunny day.
Like all Polaris RZR models, the Polaris Lock and Ride system is standard, which allows owners to stow-and-go a good day's worth of grub. But, if you want to throw in your own bag and use bungee cords, have at it – the XP has many rear compartment hooks to lock down your junk.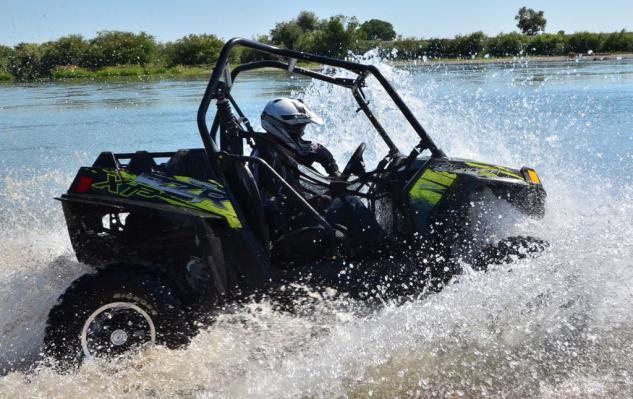 This is one way to get the RZR XP 900 EPS LE clean after a long day on the trails.
After our third outing on the 900 RZR XP LE, which included fast trail, rock climbing, and sand dune blasting, the RZR developed a squeak and a clunk in the front suspension. Before embarking on our fourth outing, we consulted with the RZR's receiving dealer to ascertain what the problem was, if one. A service technician asked if we followed the owner's manual recommendations to lubricate the front suspension's pivot points with grease. We had not. Also, the technician inspected the RZR's front suspension and found no bent A-arm rods or drive shafts. After this, we hit all the grease zerks (fittings) with bearing grease and the squeaks and clunks went away. With that said, the RZR's front end takes much abuse, and a wise owner-operator should service the front suspension after every other outing, if subjecting the 900 RZR XP LE to harsh technical rock and sand conditions.
After making glass out of sand, our RZR XP 900 LE looked like a rolling dust storm; and that's a good sign of a day well used. With a garden hose and bucket of soapy water, it cleaned up well. I never worried about damaging its instrument pod and any other electronics when washing off a day's worth of dirt. In addition, it has sufficient drain holes in the floor and cup holders that give water an escape route. Washing the RZR XP 900 LE and seeing it clean up is as fun as getting it dirty.
After giving the RZR XP 900 LE is due punishment for being a studly Side-by-Side, I can understand why so many are purchased. It is fun, quick and stable. Taking the time to adjust its FOX Podium shocks and its coil over springs greatly enhances its ability (and yours) to go places where many dare not venture. This is more than a dusty trail machine – it is a machine that likes to be challenged.
Published July 24th, 2013 1:20 PM