1 View
2014 Polaris Sportsman 570 and 570 Touring Preview
June 17th, 2015 3:58 PM
Share
ProStar 570 engine expands to ATV family
While the new 2014 Polaris RZR XP 1000 and XP 4 1000 may get all the headlines, the most important new model in the Polaris lineup may be the 2014 Sportsman 570.
What makes this machine so significant is that it replaces the Sportsman 500 in the Polaris ATV lineup. That model has been part of the Polaris family since its introduction in 1996 and a huge volume seller – Polaris calls it the best selling 4×4 ATV of all time. In our 2011 review, we called it maybe the best value in the industry. That value is retained for 2014. In fact, it may be an even a bigger bargain than it has ever been.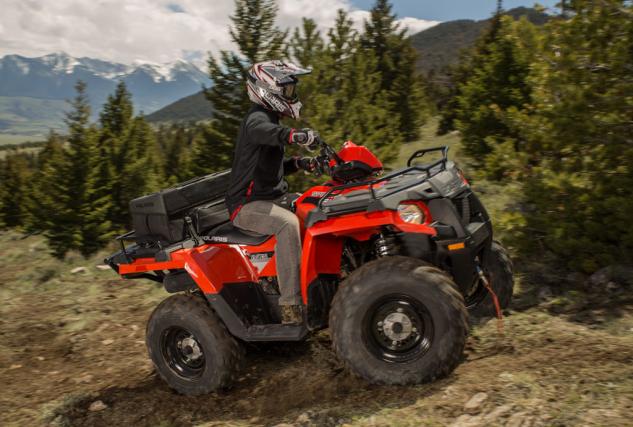 The Polaris Sportsman 570 replaces the best selling 4×4 ATV of all time and the best bargain in the industry.
At $6,499, the 2014 Sportsman 570 is just $300 more than the 2013 Sportsman 500. That may seem like a significant jump, but consider the new model has electronic fuel injection and a thoroughly modern powerplant that pumps out 44 horsepower. Also consider that when the Sportsman 500 was released as a 1996 model, it retailed for $6,449. So 18 years later you only pay $50 more and get a new engine with fuel injection. It's tough to argue against that.
COMPARISON: Read our review of the Polaris Sportsman 500 H.O.
Other features of the 2014 Sportsman 570 are integrated front storage with 6.5 gal. of capacity, newly designed racks with notched sections to make it easier to secure cargo, 90 pounds of front rack capacity of 180 pounds of rear rack capacity, 1225 pounds of towing capacity, new stator with 40% more power, analog/digital gauge, 4.5 gal. fuel tank, relocated battery and a terminal block accessible through the front storage box for easier serviceability.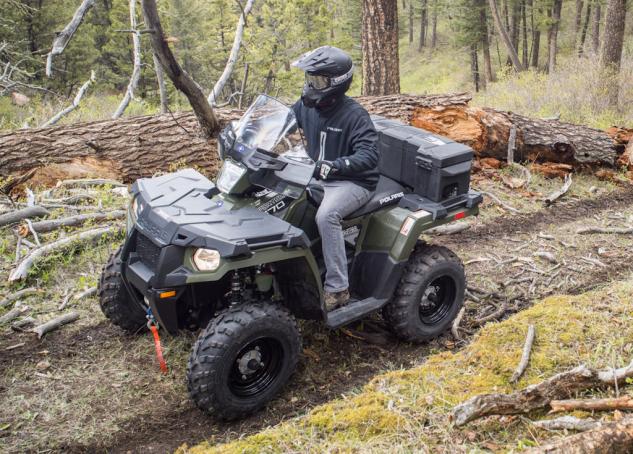 Polaris found room for 6.5 gallons under the front storage rack. Users can also carry a total of 270 pounds on top of the front and rear racks.
Polaris says rider ergonomics are improved thanks to a narrower seat and wider, longer foot wells – the mid section of the Sportsman 570 is more than three inches narrower at the thigh.
Independent rear suspension offers 9.5 in. of travel, while the MacPherson strut front suspension provides 8.2 in. of travel. As well, 11.25 in. of ground clearance is available.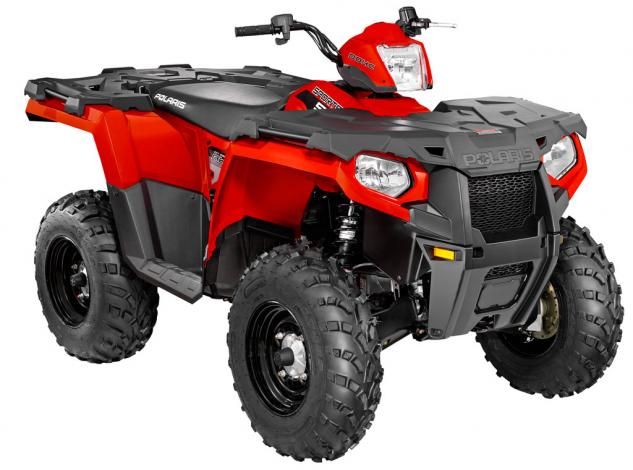 Helping keep the price of the Sportsman 570 down at such an affordable level is the tried and true MacPherson strut front suspension.
The base Sportsman 570 is available in Indy Red, Sage Green or Polaris Pursuit Camo.
Sportsman 570 EPS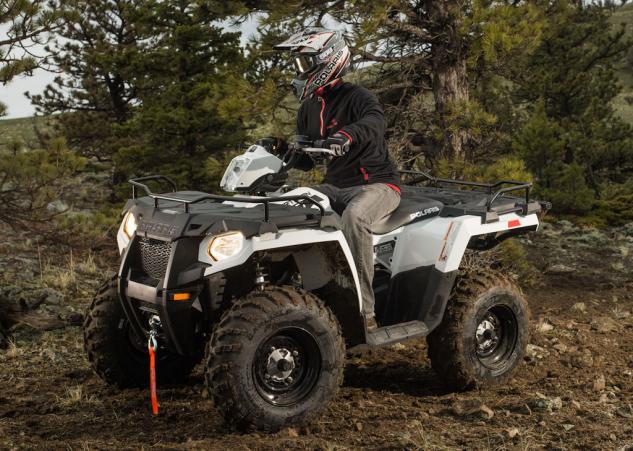 Electronic power steering is available for the first time on one of Polaris' value-priced ATVs. EPS models also come in this eye-catching Bright White color.
For those who'd like to take this value-minded model to the next level, Polaris is offering a Sportsman 570 with electronic power steering. This model is available in Sage Green, Polaris Pursuit Camo and Bright White.
Sportsman 570 Touring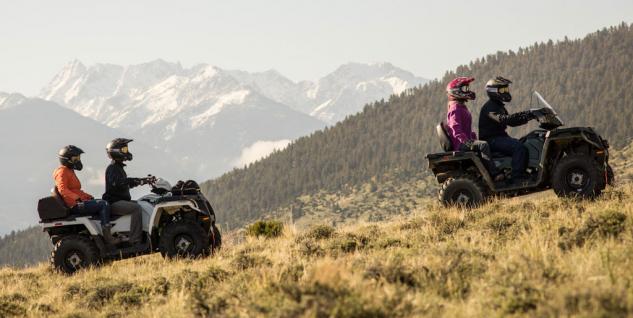 Need room for a friend but don't want to break the bank? Consider the Sportsman 570 Touring.
Polaris hasn't forgotten two-up riders. The ProStar 570 engine can also be found in the Sportsman 570 Touring. This offers all the same features as the one-up Sportsman 570, but with room for a passenger.
Premium Sportsman Lineup
For Model Year 2014, Polaris' Premium line of ATVs, featuring the Sportsman XP 850 H.O and Sportsman 550, will feature EPS as standard on all models. Also, the rear suspension geometry developed originally for the Model Year 2013 Scrambler 850 Sport ATV will be carried across the Sportsman XP 850 and 550 lines.
COMPARISON: Read our review of the Polaris Scrambler XP 850
"With a 42 percent reduction in track change (also known as scrub) than the previous version, the suspension moves more freely through its range, resulting in a noticeably more compliant ride," Polaris says in a release.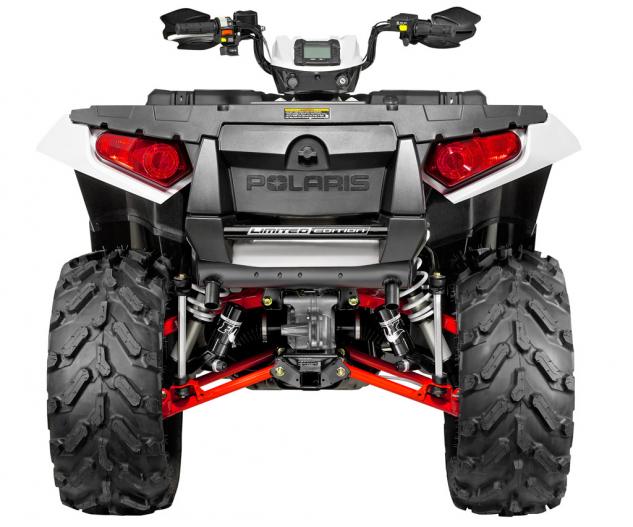 Both the Sportsman XP 850 and Sportsman 550 now come with the same suspension geometry found on the Scrambler XP 850.
Polaris also is offering several limited edition models for 2014, all including EPS, on the Sportsman XP 850 H.O. EPS, Sportsman 550 EPS, Scrambler XP 850 H.O. EPS, Sportsman Touring 850 EPS and Sportsman Touring 550 EPS. As well, the Sportsman 400, Sportsman 800 Big Boss 6×6 800 EFI, Sportsman 800 EFI, Sportsman X2 550 EPS, and Scrambler XP 850 H.O. are back for 2014.
Polaris Youth Lineup
Polaris' Youth line up will include five models based upon the Specialty Vehicle Institute of America's (SVIA) Youth ATV Categories, the RZR 170 (Y-10+ and T with Big Wheel Kit), Phoenix 200 (T), Sportsman 90 (Y-10+), Outlaw 90 (Y-10+) and Outlaw 50 (Y-6+).
Published July 29th, 2013 9:55 PM