43 Views
2008 Yamaha Grizzly 700 FI Auto 4×4 EPS Review
June 17th, 2015 4:19 PM
Share
We're committed to finding, researching, and recommending the best products. We earn commissions from purchases you make using links in our articles. Learn more here
Power steering goes a long way
Using its successful Grizzly 660 as a starting point, Yamaha improved it by redesigning the frame, enhancing rider comfort and introducing electronic power steering. The end result is the top-performing Grizzly 700 FI Auto 4×4 EPS.
Though the new Yamaha Grizzly has a lot in common with its predecessor, it is essentially a new ATV and it has a lot of minor, yet significant, changes that make it exceptional. When you ride it, it feels like a brand new machine. The edition we tested comes with outdoor graphics, making it ideal for hunters and outdoor enthusiasts.
Engine
The engine is based on the popular Yamaha Raptor 700 motor. Sharing the same bore and stroke (102.0 x 84.0) and displacement (686cc) as the Raptor, this liquid cooled, single-overhead, fuel-injected engine ensures that those who ride it are going to have some fun. This engine is tuned in order to have more power from low rpm, which is crucial for technical trail riding. An electric start gets the engine firing, but is not equipped with any alternative method so you have to make sure to keep the battery in excellent condition.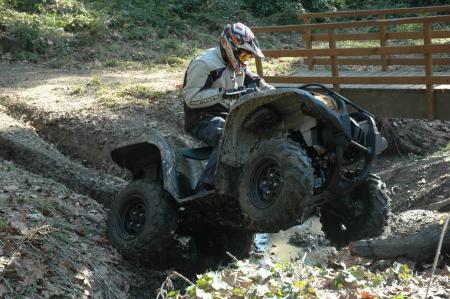 The Grizzly 700 is a true go anywhere, do anything utility quad.
Fuel is fed via the 44mm fuel injection throttle body, making starting much easier. It also keeps it running at idle speed with no hiccups even under cold morning situations. Additionally, it keeps the engine running smoothly while riding at extreme altitudes, so you don't have to worry about re-jetting.
Transmission
The transmission is very smooth, but you have to be stopped with the brake engaged before shifting.
First of all it's fully automatic. This is not exactly a unique feature, but Yamaha's transmission is exceptionally smooth and changes are made easily and quickly. Whether you like it or not you have to engage the brake prior shifting. Under extreme conditions this would be rather difficult and the shift lever would feel harder in use.
The Grizzly 700 is equipped with a selectable 2WD/4WD system with a lockable front differential. In general the use of 2WD is perfect under standard trail riding or sporty conditions. But when the going gets tough just switch to 4WD, especially when the trail becomes harder or climbing on steep, narrow sections. If you are going through mud or even more miserable terrain then you can engage the differential lock 4WD.
Power Steering
EPS just makes life easier during a long day of riding, especially over harsh terrain.
What the power steering really does is make riding easier and in general terms more comfortable. It does not operate like the systems used in cars, where it only reduces steering effort. The EPS does not only reduce steering effort but also absorbs sudden steering shock. In other words it acts like a steering damper, the ones usually found in superbikes. You really feel the difference when riding on rocky terrain, especially when you are tired. It actually protects you from sudden shock. Also, it makes life easier when you try to make maneuvers under very difficult situations.
New Frame
Yamaha developed a whole new frame for the Grizzly 700, rather than modifying the 660 Grizzly frame to the new 700cc engine. The tunnel of ground clearance is wider and taller due to the arched A-arms. The fuel tank is positioned under the seat in order to lower the overall weight and improve the overall balance and weight distribution. The shocks mount to the lower A-arms, bringing their weight lower than if they were attached to the upper A-arms. Minor alternations were made to the front end in order to accommodate the EPS system.
Ergonomics
Yamaha paid a lot of attention to what its customers said and made crucial changes to the rider's position. This new generation Grizzly feels much nicer and more comfortable during the ride. The seat and tank unit is more level and the mid section is narrower. Therefore, your feet are not too wide especially when you are at standing position. The thicker seat makes your ride more comfortable on rocky trails and the handlebars are set to the desirable level and provide good leverage.
Ride Impressions
Suspension on the Grizzly 700 is excellent and it slides around corners with ease, a rarity for an ATV equipped with IRS.
Engine braking makes heading downhill much easier as you don't even have to squeeze the brake lever on steep descents.
The first thing you notice on the ride is the suspension which is amazing for a big 4×4 ATV, possibly the best in its class. It challenges everything and the EPS filters out the ugliness of the terrain in a class of its own. Whether you pass from a hard rocky terrain or charge through nasty trails Yamaha's suspension will make your day.
This ATV feels also good in sporty, fast riding. Most ATVs that carry independent rear suspension are usually miserable sliders, but the Grizzly is a real drifter. Its flat turning manners along with the engine's broad power band characteristics make it easier to slide and with great control.
Climbing is also a real joy on the Grizzly 700. It's very stable and well balanced; two facts that make it a very surefooted climber. Its controllable power makes life easier when passing through nasty sections. Going downhill is often as tricky as going up, and the 700 Grizzly makes this task very simple. The superb engine braking system decelerates the unit and provides you with the smooth action that is needed even under extreme conditions. The brakes are great with a sure feeling and hard bite as soon as they're engaged.
In general, the Grizzly 700 provides a stable ride. It's not excessively tall and the Yamaha engineers managed to keep the weight down. As a result you get a secure ride, stuck-to-the-ground feel that makes riding during hard conditions more predictable. It remains stable when you ride at speed, since bumps do not kick the Grizzly off course. Additionally, the Yamaha turns securely when riding at a quick pace, so your heart rate should stay within safe limits. It's also good at muddy situations where the differential lock feature really pays off as well as the power steering.
Yamaha's Grizzly 700 has adequate power, lots of ground clearance and a good 4WD system that helps you to get unstuck under almost any circumstance. The Dunlop tires provide good grip and they handle well even when banking. The fine bodywork provides excellent splash protection giving you the pleasance of a dry ride. The two racks allow you to carry a substantial load of 99 and 187 lbs respectively for front and rear. Additionally it has a claimed towing limit of 1,212 lbs which we proved to be true by towing a trailer with two PWCs easily.
Locking the differential will get you out trouble more often then not.
Botton Line
The new Grizzly 700 is an outstanding quad. It's easy to use, very stable for technical and sporty riding and provides a superb grip on the trails. Whether you ride at speed or up on a hill, you're sure to be having fun on this quad. Electronic power steering is a bonus for the hard core enthusiasts and the towing capacity and ability to carry plenty of cargo makes it a great tool for professional use.
2008 Grizzly 700 FI Auto. 4×4 EPS Specs
Engine
Type
686cc, 4-stroke, liquid-cooled single; SOHC, 4 valves
Bore x Stroke
102.0mm x 84.0mm
Compression Ratio
9.2:1
Carburetion
Yamaha Fuel Injection (YFI), 44mm
Ignition
32 Bit ECU
Starting System
Electric
Transmission
Yamaha Ultramatic V-belt with all-wheel engine braking/H, L, N, R, P
Engine Braking
All wheel
Drive Train
Yamaha On-Command pushbutton; 3-way locking differential; 2WD, 4WD, locked 4WD; shaft drive
Chassis
Front Suspension
Independent double wishbone; 5-way preload adjustment, 7.1-in travel
Rear Suspension
Independent double wishbone; 5-way preload adjustment, 9.5-in travel
Front Brakes
Dual hydraulic disc
Rear Brake
Dual hydraulic disc
Front Tires
AT25 x 8-12 w/aluminum wheels
Rear Tires
AT25 x 10-12 w/aluminum wheels
Dimensions
L x W x H
81.3 x 46.5 x 48.8 in
Seat Height
35.6 in
Ground Clearance
11.8 in
Wheelbase
49.2 in
Turning Radius
126 in
Dry Weight
600 lb
Fuel Tank Capacity
5.3 US Gal.
Rack Capacity
99 lb Fr./187 lb Rr.
Towing Capacity
1,212 lb
MSRP
$8,299 ($8,649 for Realtree AT HD Camouflage)
Related Reading
2009 Yamaha Grizzly 550 FI EPS Review
2009 Yamaha ATVs: First Look Published January 21st, 2009 11:43 AM
Top Brands
Popular Articles