133 Views
2009 Yamaha Grizzly 550 FI EPS Review
June 17th, 2015 4:22 PM
Share
We're committed to finding, researching, and recommending the best products. We earn commissions from purchases you make using links in our articles. Learn more here
Yamaha brings power steering to new 500-class quad
There is a new 500-class utility quad on the market and it's a real bear – a Grizzly, to be precise.
ATV.com got a chance to spend some time on the brand new 2009 Yamaha Grizzly 550 FI EPS in the beautiful San Bernardino National Forest and there is an awful lot to like about Yamaha's latest off-road creation.
As mentioned in the 2009 Yamaha ATVs: First Look article, the Grizzly 550 fills what Yamaha considered a pretty big hole in its utility quad lineup between the Grizzly 450 IRS and the Grizzly 700 FI.
The Grizzly 550 shares a lot in common with its big brother. Yamaha isn't shy about mentioning that the Grizzly 700 FI is the top selling big bore utility ATV, and it is a great machine to try and emulate. The chassis for the 550 is based on the 700, and most of the features and styling are also borrowed Yamaha's flagship utility ATV.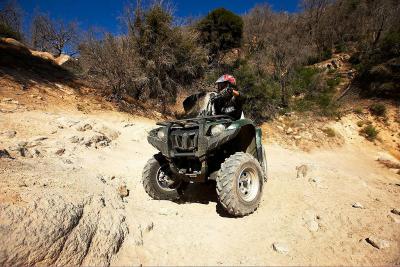 The new Yamaha Grizzly 550 is based on the popular Grizzly 700.
In looking at all the literature Yamaha gave the editors on the Grizzly 550, avoiding rider fatigue seemed to be the key focus when designing this quad. Chief among the fatigue-reducing features is the use of electric power steering. Yamaha was the first manufacturer to produce an ATV with power steering and it was smart to offer it on the 550.
Yamaha's electric power steering is pretty progressive in that it is both torque and speed sensitive. This means that when there is more torque on the handlebars, more steering assistance is provided. Also, when you are operating at slower speeds, more assistance is provided than when you are flying along the trails at higher speeds.
Electric power steering makes it a breeze to turn the bars, even in four-whel drive.
It's hard to explain how much power steering can improve your ride if you've never used it before. You simply don't have work as hard and you don't feel as much kickback from rocks and ruts. Even after a long ride – and I put more than 50 miles on the Grizzly 550 during the test day – you don't feel nearly as tired in your shoulders and arms. Even your hands aren't as sore because you don't have to grip the handlebars as hard.
Power steering on ATVs is still in its infancy, but it improves the overall quality of the ride so much that you can expect to see it on a lot more vehicles in the very near future. It does cost a fair bit more (EPS adds $700 to the price of the Grizzly 550 FI), but it sure seems like money well spent to me and I don't easily part with my money – just ask my wife.
Even in high altitude, the Grizzly 550 is a powerful climber.
The Grizzly 550 is among the class leaders in power.
Powering the Grizzly 550 is a 558cc, 4-stroke, liquid-cooled, fuel-injected SOHC engine. This engine is, not surprisingly, based on the Grizzly 700 FI and includes a ceramic composite plating cylinder and a forged aluminum piston. It's not exactly like the 700, though, as the bore has been reduced from 102mm to 92mm and it has a new intake and exhaust port and a new cylinder head. According to Yamaha, the size of the valve and combustion chamber has been optimized for a 558cc engine, improving throttle response and bottom end power.
The Grizzly 550 actually provides a lot of top-end power, perhaps equal to the 700, and it's plenty fast for a utility quad. However, I found the throttle response from a dead stop to be a little slow. I'll chalk that up to the altitude, as all of the riding was done between 5,000 and 6,000 feet above sea level. Sure, the fuel injection optimizes the flow of gas up to 15,000 feet, but there is simply not as much oxygen available when you're up that high and that will always have an impact on performance. Besides, I was a little slow to respond a few times as well during the test day, though I'm not sure I can blame that on the altitude.
If you're comparing the power and response of the Grizzly 550 to other 500-class machines, it's probably at or near the top of the list. If you just use your ATV for riding along the trails, climbing rocks and doing a little work around your property, this is plenty of engine. As enticing as the Grizzly 700 and some of the other big bore ATVs are, I don't think most people, myself included, really need to spend the extra cash for that extra low-end power.
Engine performance of the Grizzly 550 felt very smooth and Yamaha credits its Ultramatic Transmission, which features a one-way sprag clutch. Yamaha says it's a centrifugal clutch and it keeps the belt under constant tension so it never slips. The clutch takes all the abuse, so there isn't nearly as much heat or wear on the belt.
Switch from two to four-wheel drive on the fly at the push of a button.
The Grizzly 550 has no trouble rolling through deep water.
Switching from two to four-wheel drive can be done at the push of a button on the fly. Because of the Ultramatic transmission, Yamaha says you can choose to ride in whatever gear you're comfortable with. If you like to slide around the corners, keep it in two-wheel drive. If you like your back tires to help push you over all sorts of terrain, keep it in four-wheel drive.
To keep the engine breathing easier, the intake and exhaust ducts are located as high as possible, near the handlebars. I had the Grizzly 550 in some wheel-high water and it kept chugging along. Should the quad get completely submerged, it comes with a finger drain near the floorboards so you don't have to turn it over to drain out any water.
The air box is also located high and includes a water trap, which is designed to contain water before it reaches the engine. If you tend to ride in deep water and mud this could come in very handy, but it didn't come up on test day.
Another high point of the Grizzly 550 FI is the braking system. It comes standard with four-wheel hydraulic disc brakes with a caliper on each wheel. Also, hydraulic master cylinders mean there is a solid link to all four wheels instead of linkage and cables from the levers to the wheels.
Engine braking is not exactly new, but I really like the setup on the Grizzly 550. I'm a big fan of the engine braking on the Polaris Sportsman, but the system on the Grizzly 550 might be even better. Engine braking on the Sportsman won't kick in unless you are completely off the throttle and moving at less than 15 mph. That is not the case with the Grizzly. It activates at a higher speed and you can choose two or four-wheel engine braking by switching from two to four-wheel drive.
There's ample stopping power for almost any situation.
Two-wheeled engine braking works fine if you have traction and don't need to slow right down. In four-wheel drive, all four wheels engage and you can crawl down a very steep descent without touching the brake levers. It was very dusty and dry where we were riding so the rear wheels were slipping quite a bit in two-wheel drive. That never came up in four-wheel drive as using all four wheels provided the necessary traction to slow me down every time..
WideArc front suspension provides loads of usable ground clearance.
Large A-arm guards can take a lot of abuse.
As for the chassis, the Grizzly 550 has a stable feel to it, which is what you want in a utility vehicle. It features what Yamaha calls a 'WideArc' front suspension. This doesn't offer any additional ground clearance, but it does mean that a lot more of the ground clearance is usable over the width of the frame. Basically, you don't have to be quite as careful about lining up any obstacles you encounter. That 11-inch high rock on the trail doesn't have to pass directly under the center of the vehicle to avoid hitting something important. Should a rock crack into you're A-arm, new A-arm guards cover more surface area in the front and rear to help protect the vital parts.
With five-way adjustable pre-load front and rear suspension, setting up the Grizzly 550 to your liking shouldn't be a problem and the front and rear shocks are mounted to the low A-arms to help center the weight. The San Bernardino Forest offers a wide-array of terrain and the Grizzly felt fine to me all day. Overall, I didn't spend a lot of time thinking about or noticing the suspension, which is probably a good thing.
Yamaha was pretty high on its six-inch thick seat and it's not hard to see why. It was plush and comfortable and my bony butt didn't suffer, despite the long day of riding. My only complaint was that I hit the rear rack a couple of times if I was too far back on the seat. If the rack was a little lower or the seat was a little higher that likely wouldn't be a problem.
A new for 2009 gate shifter worked out just fine. Because it is on the left side, you can use the shifter, throttle and foot brake all at once. Yamaha claims it has a 10% reduction in shift effort, but I never really found that to be a problem before.
The waterproof front fender storage is a good spot to keep your valuables while you ride.
The Grizzly 550 also features the same digital meter as the 700, which includes speedometer, odometer, dual trips, clock, hour meter, four-wheel drive indicator, transmission position, fuel gauge and self-diagnostic and actuator system.
Waterproof storage (3.5L) is available in the right fender and it's big enough to hold a couple of water bottles. A larger sealed storage area (4.8L) can be found under the seat.
The Grizzly 550 FI EPS is slated to hit dealerships in August and the version I tested with electric power steering will retail for $7,799. If you don't want the power steering, you can purchase the 550 for $7,099. As an added bonus, you won't have to wait at all for accessories since it is compatible with all of Yamaha's Grizzly 700 accessories. It is available in Steel Blue, Black Metallic and Hunter Green. A Realtree AP HD Camouflage version will set you back an additional $400.
Overall, there is not a lot I didn't like about Yamaha's new 500-class Grizzly. Yamaha is expecting big things from it and with good reason. It's a very comfortable ride, it's plenty powerful and it had no trouble climbing up steep hills and over big rocks.
Yamaha set the bar pretty high, but you can expect at least one other manufacturer to respond very shortly.
2009 Yamaha Grizzly 550 FI EPS Specs
Engine
Type
558cc, 4-stroke, liquid-cooled single; SOHC, 4 valves
Bore x Stroke
92.0 x 84.0mm
Compression Ratio
9.3:1
Carburetion
Yamaha Fuel Injection, 40mm
Ignition
TCI, 32-bit ECU
Starting System
Electric
Transmission
Yamaha Ultramatic V-belt with all-wheel engine braking – H, L, N, R, P
Drive Train
Yamaha On-Command pushbutton; 3-way locking differential; 2WD, 4WD, locked 4WD; shaft drive
Chassis
Front Suspension
Independent double wishbone; 5-way preload adjustment, 7.1-in travel
Rear Suspension
Independent double wishbone; 5-way preload adjustment, 9.5-in travel
Front Brakes
Dual hydraulic disc
Rear Brakes
Dual hydraulic disc
Front Tires
AT25 x 8-12
Rear Tires
AT25 x 10-12
Dimensions
Length/Width/Height
81.3 x 46.5 x 48.8 in
Seat Height
35.6 in
Wheelbase
49.2 in
Turning Radius
126 in
Ground Clearance
Fuel Capacity
5.3 gal
Dry Weight
600 lb
Rack Capacity
99 lb Fr./187 lb Rr.
Towing Capacity
1322 lb
Other
Instrumentation
Digital LCD multifunction display; speedometer, odometer, dual tripmeter, hourmeter, clock, fuel gauge and gear position
Lighting
Dual 35W Halogen multi-reflector headlights & 21W/5W brakelight
Warranty
6 Month Limited Factory Warranty
Colors
Steel Blue, Black Metallic, Hunter Green, Realtree
MSRP
$7,799 ($7,099 for non EPS)
Related Reading:
2009 Yamaha ATVs: First Look Lucas Cooney
I have been working exclusively in digital media since 1997. I started out with TSN.ca, spending nearly nine years creating and editing content on Canada's leading sports website. I left to join VerticalScope, Inc., one of the world's largest online publishers, to start a number of powersports publications. While at VerticalScope, I've helped create and oversee content for a wide variety of different publications, including ATV.com, Off-Road.com, ArcheryTalk.com, Tractor.com, RVGuide.com, and many more.
More by Lucas Cooney
Published June 27th, 2008 11:15 AM
Top Brands
Popular Articles