1 View
2012 Yamaha ATV Lineup Unveiled
June 17th, 2015 4:07 PM
Share
Suspension and graphics among notable upgrades
Yamaha has been busy expanding and refining its ATV lineup over the past few years, offering consumers a fleet of new and improved machines. While its recently unveiled 2012 model lineup doesn't feature any completely new ATVs (at least not yet), Yamaha has made some significant changes – most notably where the machines are being built.
Coming to America
Yamaha's flagship Utility ATV, the Grizzly 700 (along with the Grizzly 550) is now being assembled in the United States at the Newnan, Ga. factory. You can read more about Yamaha's expanded U.S. ATV production here, but the gist is that Yamaha is hoping to transfer the majority of its worldwide ATV manufacturing to the United States by 2013.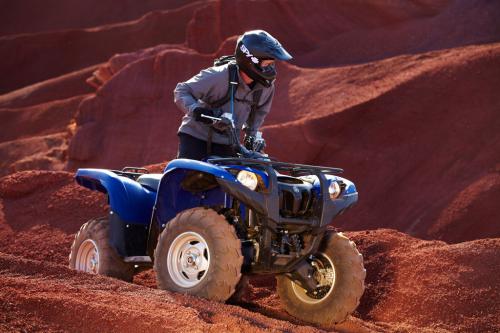 Yamaha has shifted production of the Grizzly 550 and Grizzly 700 to the United States.
To go along with their new production environment, the Grizzly 700 and 550 also feature some design and performance upgrades for 2012.
To help improve durability, both the Grizzly 550 and 700 received new textured body panels for model year 2012
Both the Grizzly Grizzly 700 and 550 receive new textured plastic body panels that are designed to increase durability and decrease wear over the life of the machines. Additionally, each of the big Grizzlies has been outfitted with new Maxxis tires with a tough, aggressive tread pattern.
Perhaps the most integral improvement for the 2012 Grizzlies is the updated suspension, which includes new gas-charged rear shocks with what Yamaha is calling a high-quality damping feel and improved bump absorption performance. The front suspension has also been updated and optimized to match the rear.
Both Grizzlies are still offered with Yamaha's Electric Power Steering (EPS). Yamaha was the first manufacturer to put EPS on an ATV – a still relatively new technology that makes for a more comfortable ride and reduces fatigue especially in rough riding and over long periods of time.
Major Graphics Choices for Yamaha Sport ATVs
The biggest news from Yamaha's Sport ATVs is the industry-first custom graphics kit option for the entire 2012 Raptor/YFZ line of Yamaha Sport quads.
For 2012 Yamaha is offering all of its Sport ATVs in all-white body work and your choice of one of 11 unique graphic packages.
Based on its successful 2011 graphics promotion with One Industries, Yamaha is extending its forward-thinking concept in graphics design and customization. For the first time ever from an ATV manufacturer, Yamaha is producing a model with all-white body work – a blank slate for each individual customer's own creativity. Offered with the all-white models are a choice of 11 unique graphics kit options that can be customized with a person's name or number. Check out our photo gallery to see some of the graphic options available to Yamaha Sport ATV customers in 2012.
Here's what the Raptor 90 looks like decked out in the Talon graphic option.
The only Sport ATVs Yamaha has unveiled so far for 2012 are the YFZ450R and Raptor 90. Outside of graphics, neither machine appears to have been changed. Both come in Team Yamaha Blue/White and the new all-white plastic with black frame and custom graphics kit options.
We've covered the YFZ450R extensively on this site, but for uninitiated it is a motocross-ready, high-performing sport ATV with long-travel adjustable suspension, a no-weld aluminum with steel hybrid frame, and a powerful fuel-injected engine. At 48.8 inches wide, it is a great machine for the track, open trails and desert riding.
For the entry-level rider, Yamaha's 2012 Raptor 90 offers a quality option with Raptor family styling and manageable features for younger riders (years 12 and older only) – all at an affordable price.
More From Yamaha in 2012?
Though we haven't been told anything else is in the works, we do find it a little odd that no other Yamaha Sport ATVs were mentioned in Yamaha's 2012 lineup. The Raptor 125, Raptor 250, Raptor 250R, Raptor 350, Raptor 700R, and YFZ450X are unaccounted for. It's possible Yamaha will simply unveil these mahines later this year, but we wouldn't be completely surprised if one of them got a facefilt in 2012. We're looking at you, Raptor 350.
2012 Yamaha ATV and UTV Lineup
Grizzly 700 FI 4×4 EPS ($9,499)
Grizzly 350 4×4 ($5,599)
Grizzly 700 FI 4×4 EPS Special Edition ($10,099)
Grizzly 125 ($3,599)
Grizzly 700 FI 4×4 ($8,899)
Big Bear 4×4 IRS ($6,599)
Grizzly 550 FI 4×4 EPS ($8,699)
Rhino 700 FI 4×4 ($11,499)
Grizzly 550 FI 4×4 ($7,999)
Rhino 700 FI 4×4 Sport Edition ($13,399)
Grizzly 450 4×4 EPS ($7,499)
Raptor 90 ($2,699)
Grizzly 450 4×4 (6,899)
YFZ450R ($8,599)
Related Reading
2011 Yamaha Grizzly 700 FI 4×4 EPS Review
2009 Yamaha Grizzly 550 FI EPS Review
2009 Yamaha YFZ450R Review
2009 Yamaha YFZ450R Review – Dune Test
2011 Yamaha Raptor 700R & YFZ450R Special Edition Review [Video]
2011 Yamaha Raptor 125 Trail Review
Published June 8th, 2011 1:51 PM