19 Views
2012 Yamaha YFZ450 Review [Video]
July 3rd, 2015 12:05 PM
Share
We're committed to finding, researching, and recommending the best products. We earn commissions from purchases you make using links in our articles. Learn more here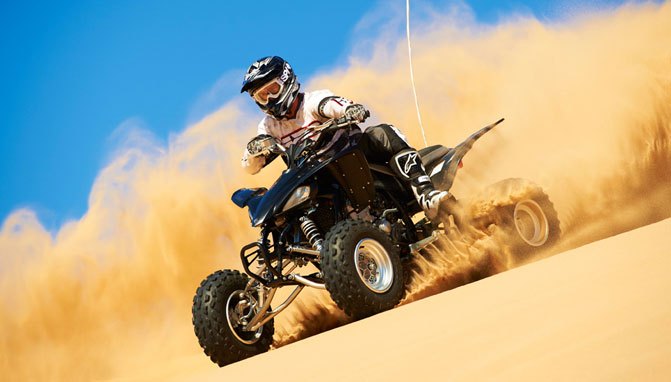 An old favorite gets a new twist
One would be hard-pressed to identify another OEM that has done more for the Sport ATV industry over the past decade than Yamaha. Not only was Yamaha responsible for jumpstarting the entire race-ready Sport ATV era, but it has continued to support this industry in many other ways, including its ongoing involvement with several factory-backed ATV racers and teams, sponsorship of the Yamaha Quad-X Championship Series on the West Coast, and awarding millions of dollars in grants in order to protect and improve riding areas all over the country. Last but not least, we can't forget the fact that Yamaha has been waging a quiet, but very important war in the courtroom over the past several years in steadfast defense of the Rhino, which has led to victories benefiting not only Yamaha, but UTV and industry enthusiasts everywhere.
True to form, Yamaha continues surge ahead despite a struggling. While other OEMs have stopped making changes to older sport models and some haven't produced a new model in years, Yamaha has been busy making sure no holes are left open in the sport quad market – and 2012 is no exception!
Yamaha designed the 2012 YFZ450 around the needs of the recreational rider who enjoys a high-performance machine.
Over the past few years we have seen a number of brand new machines released by Yamaha, including the YFZ450R, the YFZ450X, the Raptor 250, and the Raptor 125, as Yamaha continues to reposition itself for consumer benefit in an ever changing and sometimes finicky market.
Today's market is decidedly price-conscious and it's with this in mind that announced a new, economical twist to an old favorite with the release of the 2012 YFZ450. This revamped YFZ450 retains the same excellent chassis design and motor features that made the original YFZ such a great performing machine, including its 449cc 5-valve DOHC power-plant and 9.1" front/10.6" rear travel. It also keeps its efficient dual-hydraulic braking system in the front with two-piston caliper in the rear, as well as push-button ignition, tapered handlebar and cast aluminum swingarm and subframe. As a matter of fact, the new 2012 YFZ450 looks just like the previous model YFZ450, until you look just a bit closer.
So, what is the difference, you ask? The most noticeable difference is definitely the price! After its analysis of previous and current markets, Yamaha couldn't ignore the fact that these days it's becoming more difficult for many enthusiasts to afford the purchase of a new, brand-name performance ATV. In response, Yamaha took one of its most popular sport models and figured out a way to offer almost the same machine at an even lower MSRP than what we paid for ours back in 2004. The new YFZ450 retails at only $6,799, which is even less than the 2004 YFZ cost at its debut seven years ago, and over $1000 less than Honda's 2012 TRX450R.
Yamaha replaced the previous model piggyback front shocks with a pair of high quality, non-reservoir shocks.
Aside from the price, there are a few other differences between the previous YFZ450 and the new model. Taking into consideration that most consumers who are currently in the market for a sport quad are recreational riders and probably won't be racing it, Yamaha replaced the previous model piggyback front shocks with a pair of high quality, non-reservoir shocks made by KYB that are tuned exclusively for the YFZ, and designed to excel at handling a wide variety of riding situations (for those of you who were instantly aghast upon reading the words "non-reservoir", keep reading – we got a chance to test these shocks and we were very impressed!).
For the rear suspension, a highly tuned Showa piggyback shock returns on this newest model, with the only difference being found in the adjustability features. And – good news – the 2012 YFZ450 suspension components are compatible with all previous model YFZs, which means all sorts of suspension swapping is possible between this new machine and any of the previous year 450s. This is especially nice for that recreational rider who decides he does want to upgrade his suspension, but maybe can't afford the newest and most expensive shocks out there. The used parts market is abundant and affordable, and there is always someone selling off their used stuff to make way for newer components.
This revamped YFZ450 retains the same powerplant that is found in previous models, but with a redesigned cam for 2012.
As part of its continued focus on the needs of the purely recreational rider, Yamaha also made a few important changes in the power department. While the engine compression ratio remains at 11.4:1, Yamaha made a few adjustments to the camshaft profile, allowing the new YFZ the ability to produce even more power on the bottom-end and throughout the mid-range, while sacrificing very little from the top-end. This new cam grind gives the motor a stronger feel from the very start, but also improves its overall powerband comfort and rideability for the average Joe.
Along with the new cam, Yamaha also improved on one of the most common complaints we hear regarding previous YFZ models – the thumb throttle pull. The 2012 YFZ remains EFI-free (carb lovers rejoice!), and instead comes with a new, larger Mikuni 42mm BSR Carburetor with TPS. Utilizing this setup allows the motor to retain its throttle and top-end response, and also results in a much easier thumb throttle pull. This new combination should not only improve performance, but help eliminate the annoying and sometimes debilitating thumb cramp that can occur on longer rides.
One Industries has designed a number of customizable graphics kits that are included with any 2012 Yamaha sport ATV purchase.
One other notable difference found on the new 2012 YFZ450 is the wheel and tire design. The front tires are a completely new tread pattern created by Dunlop, designed to reduce steering effort and offer less weight up front. The front and rear factory aluminum wheels are also lighter and sport a new design, with a rolled inner lip that keeps debris out and adds strength to the wheel itself.
Finally, since one of the first things a new owner usually wants to do is personalize their machine, Yamaha will also be offering a free graphics kit designed by One Industries with any purchase of a 2012 sport ATV, available to new owners in a variety of designs through a specialized portal on Yamaha's website, which can be found here: Sport ATV Graphics Giveaway. For those buyers who want something even more customized, these kits can even be personalized with their name when they are ordered.
Riding Impressions
Now that we know we can purchase a brand new, 'lower-calorie' Yamaha YFZ450 for $6,799, our natural response is – that's great, but how does it handle? Obtaining the answer to that question was the reason Yamaha invited our entire group of off-road editors to see this machine in person and put it through its paces.
ATV.com contributing editor, Corry Weller, enjoyed the chance to get out of the Arizona heat and fully test the capabilities of the new 2012 YFZ450.
Not only were we fortunate enough be a part of this new release, but we were able to spend an entire day testing these machines in the stunningly scenic dunes that make up the Oregon Dunes National Recreation Area. It was breathtaking (to say the least) to crest a dune and be confronted with an expanse of ocean and coastline as far as the eye could see; only to ride in the other direction and find ourselves twisting and turning along sand paths that furrow deep into the Oregon forest. Surprises were found over and around many dunes, including some fantastic, challenging hill descents. Once we found ourselves suddenly stopped on a dune crest and staring down into the deep, blue water of an unexpected forest-rimmed lake.
The Oregon Dunes National Recreation Area was full of surprises, including this lake we came upon, tucked back into the forest.
Not only was it scenic, but the riding area that Yamaha chose for this unveil presented us with a good variety of natural terrain in which to fully test the new 450s, and we certainly took advantage of it. Since we have had considerable experience with YFZs in the past, we were very curious to see how Yamaha's changes would affect this new, more affordable 2012 model. We were curious about the suspension more than anything, especially since we thought Yamaha had done such a good job with the original YFZ450's handling characteristics.
We were impressed by how well the YFZ450 tracked through the sand. Steering was pleasantly precise.
With some quick initial runs out of the way to test throttle response and power (which were both great), we began tackling the more challenging terrain available, including some extremely tight, twisting sand trails. The steering was precise and fluid, and the ergonomics – even at factory settings – felt very comfortable. The new Dunlop front tires did a great job of tracking in the soft sand of the dunes, and the quick, powerful throttle response got us out of any tricky situation we found ourselves in.
Our biggest surprise was how well the suspension performed, even without the extra adjustability of front piggyback shocks. We were able to soak up the many whooped out trails with ease, and it was mentioned on a number of occasions how straight the YFZ tracked through the longer sets of whooped out areas, without any rear-end swapping. We also noted that the feedback through the bars seemed less harsh in the fast, rough stuff than on earlier model YFZ450s. Several times on our faster rides we suddenly found ourselves having to navigate over small logs and exposed roots laid out across the trails, and the YFZ handled those obstacles at speed with ease, without the bars being jerked out of our hands or any sudden, unexpected stops. Jumping the YFZ was also fun and, like previous models, the machine felt balanced and confident in the air and throughout the landings – we were unable to find the limits of our suspension on any of the obstacles we encountered, and we made sure to try them more than a few times!
Despite the lack of adjustability, the suspension performed surprisingly well all day.
The thumb throttle pull was a vast improvement over previous models. We rode all day and never felt that familiar ache that would plague us on long dune rides or some of our longer races. We were also able to loft the front end up easily on occasion, and there was plenty of power on tap whenever we asked for it, making the new Mikuni carb setup a welcome addition.
The YFZ450 feels great in the air, and we made sure to test the suspension frequently!
We managed to ride all day and never felt like we had to stop for frequent rests, thanks in part to a strong but easy-to-manage power delivery. The units we were riding were completely stock, and while they were plenty fun we feel that, with the simple addition of an aftermarket pipe and filter setup (and proper jetting, of course) there could be a lot more power to play with. Fortunately, Yamaha has a plethora of GYTR performance parts already available for the YFZ450, so modifying this new release can begin as soon as it's purchased.
The recreational rider on a budget will struggle to find a better machine for the price than the 2012 Yamaha YFZ450. We came away from our ride very impressed.
We spent an entire day finding out the similarities and differences of this new machine, and it seems that all of us came away with the same appreciation for what Yamaha has done, both with the quality of its new 450 and with the effort put forth to bring more consumers into an industry and lifestyle that we enjoy so much. In this day and age, when the dollar bill just doesn't go as far as it used to, it's great to see a manufacturer find ways to continue to give the customer a solid, quality product at a great price. The 2012 YFZ450 is a statement to consumers and to the industry that Yamaha is here for the long haul – that we are all in this together – and it just so happens that its statement is also a whole lot of fun to ride!
2012 Yamaha YFZ450 Specs
Engine Type:
449cc liquid-cooled w/fan; 4-stroke; DOCH; 5 steel valves
Bore x Stroke:
95.0 x 63.4mm
Compression Ratio:
11.4:1
Fuel System:
Mikuni 42mm BSR
Ignition:
DC-CDI
Starting System:
Electric
Drive Train:
2WD; sealed O-ring chain, eccentric adjustment
Transmission:
5-speed; wet multiplate clutch
Front Suspension:
Independent double wishbone; 9.1-in travel
Rear Suspension:
Cast aluminum swingarm; 10.6-in travel
Front Brakes:
127mm Dual hydraulic disc
Rear Brakes:
173mm Hydraulic disc
Front Tires:
Dunlop AT21 x 7-10
Rear Tires:
Dunlop AT20 x 10R9
Wheelbase:
50.4 in
Wet Weight:
381 lbs
Length x Width x Height:
72.4 x 46.1 x 42.9 in
Seat Height:
31.9 in
Ground Clearance:
5.4 in
Fuel Capacity:
2.6 gal
Lighting:
Dual 30W Krypton multireflector headlights & 21/5W LED brakelight
Colors:
Team Yamaha Blue/White; White w/ choice of graphic
MSRP:
$6,799
Related Reading
2011 Yamaha Raptor 700R & YFZ450R Special Edition Review [Video]
2010 Yamaha YFZ450X Review
2009 Yamaha YFZ450R Review – Dune Test
2009 Yamaha YFZ450R Review
2011 Kawasaki KFX450R Review
2010 Polaris Outlaw 450 MXR Review
2009 Suzuki QuadRacer LT-R450 Review
2008 KTM XC 450 Review
2009 Can-Am DS 450 Review
2010 450cc Motocross Shootout – Part 1
2010 450cc Motocross Shootout – Part 2 Published September 14th, 2011 8:21 AM
Top Brands
Popular Articles